The Who And Pete Townshend Offer Fans Record Store Day 2022 Treats
A 40th anniversary 'It's Hard' and Townshend's live 'Face The Face' concert will be available as limited vinyl editions.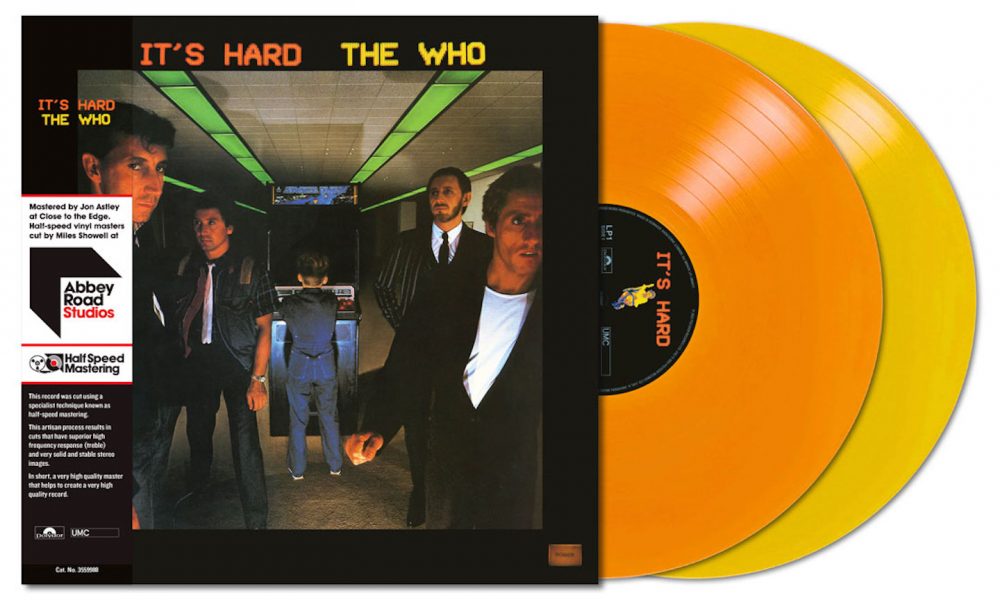 Fans of The Who and of Pete Townshend's solo career will be looking forward with particular excitement to Record Store Day 2022, with news of special releases by both for the event on April 23.
The Who's contribution is Polydor's 40th anniversary edition of their 1982 album It's Hard. The record has been remastered by Jon Astley, cut at half speed for maximum hi-fidelity by Miles Showell at Abbey Road Studios, and pressed on 180 gram heavyweight orange and yellow vinyl. It's limited to 6,000 copies.
The original album takes up three sides of the 2 LP set, and of particular interest to devotees will be Side Four on the second LP, which includes four previously unreleased tracks. One of these is the much-anticipated version of perhaps the album's best-known track, "Eminence Front," on which lead vocals by Roger Daltrey replaced those of the original by Townshend.
It's Hard, first released on September 4, 1982, was The Who's last studio album to feature John Entwistle and Kenney Jones, and the band's last for 24 years, until they returned with Endless Wire in 2006.
The four bonus tracks also include an alternative mix of "Cry If You Want," "One Life's Enough" featuring a lead vocal by Townshend, and an unedited 1997 remix of Entwistle's song '"Dangerous." The 40th anniversary edition of It's Hard will also contain a full-color poster. Only 3,500 copies of the album will be available.
Townshend's own RSD 2022 release, from Mercury Studios, is the first-ever appearance on vinyl of his live Face The Face album with his band of the time, Deep End. It was recorded at MIDEM in Cannes in 1986 and broadcast live by the German TV show Rockpalast. The album was released on DVD and CD in 2016.
Pete Townshends Deep End - Face The Face
Both discs in the new 14-track, 2 LP set are pressed on bright yellow vinyl. Deep End consists of Townshend on guitar and vocals backed by Peter Hope-Evans on harmonica, Chucho Merchan on bass, Simon Phillips on drums, John "Rabbit" Bundrick on keyboards, Jody Linscot on percussion, with a special guest appearance on guitar by none other than David Gilmour.
The Cannes show also features the Kick Horns, who included Simon Clarke, Roddy Lorimer, Tim Sanders, Pete Beachill, and Dave Plews. Backing vocals are by Billy Nicholls, Ian Ellis, Chris Staines, Gina Foster, and Coral Gordon.
Click for more information on Record Store Day 2022 US and Record Store Day 2022 UK.