George Harrison In 20 Guitar Solos
George's distinctive guitar playing can be heard on many songs from his career with The Beatles, as a solo artist and for fellow musicians.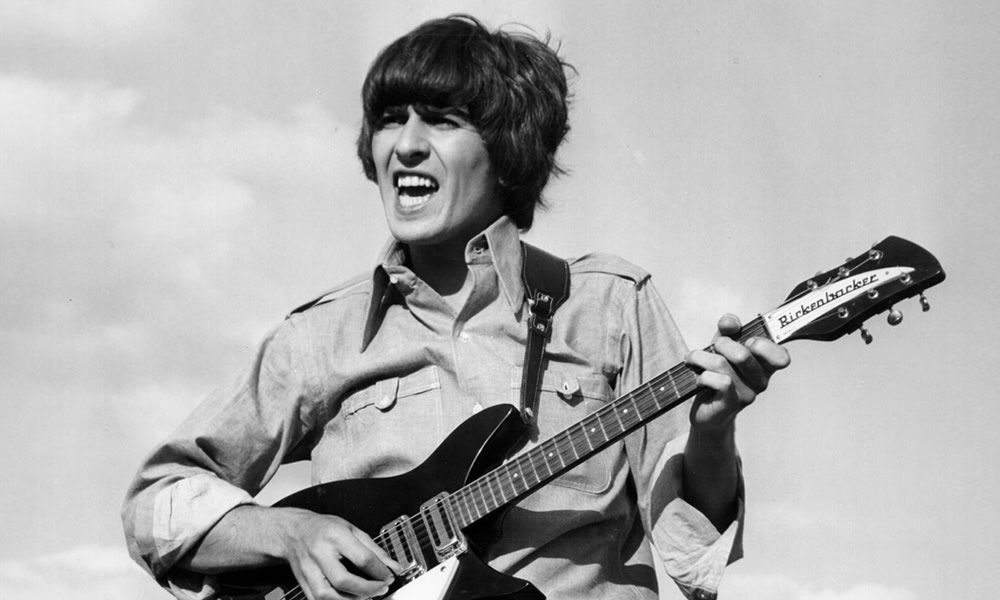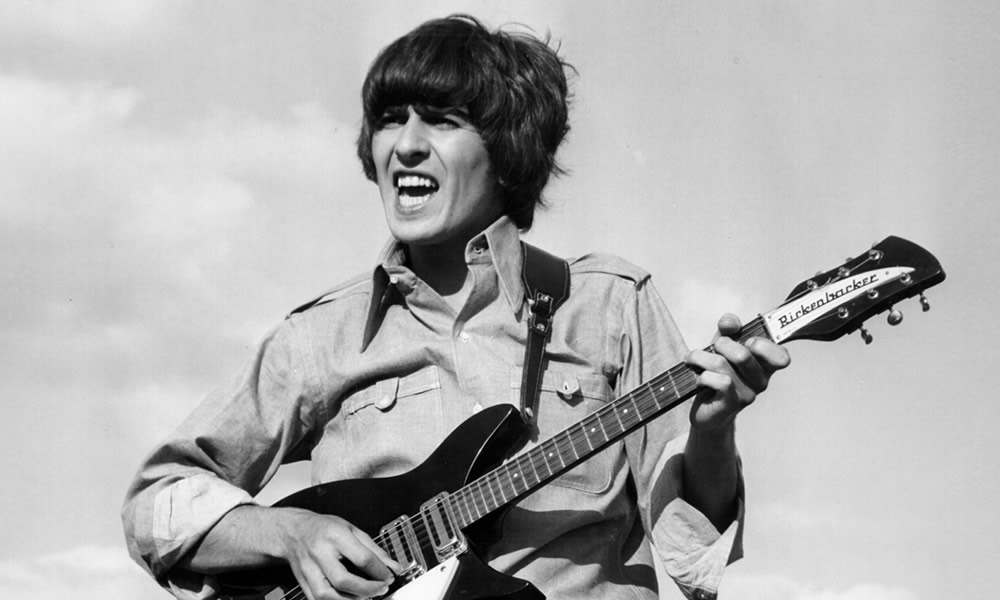 George Harrison's songwriting just got better and better over the years, as he went from contributing occasional songs to Beatles albums to crafting what for many people is one of the great albums of the rock era, All Things Must Pass. George's guitar playing is all too often overlooked by even long time fans, but the subtlety of his slide guitar work and the sheer inventiveness of his playing deserves to be put in the spotlight so here we are, George Harrison In 20 Solos.
We start with a solo that the more knowledgeable among you will immediately go, "Hey, that's not just George playing, it's also Paul." The guitar solo that appears on 'The Night Before' was recorded in February 1965 and it is such a clever idea that it could not go unacknowledged. George and Paul play the double-tracked solo, an octave apart. Genius! In October 1965, The Beatles were in the studio working on tracks for Rubber Soul, including George's 'If I Needed Someone'. Playing a 12 string electric guitar George conjures a solo that underpins the harmony vocals that according to Roger McGuinn inspired the guitar sound for The Byrds.
George began writing 'Within You, Without You' on a pedal harmonium and the song was simply labelled, 'Untitled' when it was recorded at Abbey Road Studios in March 1967; all the musicians sat on a carpet with the lights low and incense burning. George had an Indian friend playing the tabla and the Beatles' engineer, Geoff Emerick does a wonderful job of recording the instrument in a way that enhances the track so much. George was the only Beatle in the studio that day and it's him and Neil Aspinall playing tamburas with the dilruba and svarmandal played by Indian musicians from the Asian Music Centre in Finchley Road, North London. Two more dilrubas, it's similar to a sitar but played with a bow, were overdubbed a little later as well as George's sitar.
Released on Yellow Submarine, 'Hey Bulldog' is a classic that according to Geoff Emerick was "one of the few times that he nailed it right away. His amp was turned up really loud, and he used one of his new fuzz boxes, which made his guitar absolutely scream." In the promo film for the song, George can be seen playing his cherry-finish Gibson SG.
Is it a solo or is it a riff? Whatever it is George's playing on 'Here Comes the Sun' redefines beautiful. Delicate and perfect it evokes the mood and sets the scene. 'Something' is a defining song for George and his solo is so perfect that it's impossible to hear this song by anyone without wanting to hear George's solo inserted into the cover. It may only be a b-side but George's 'Old Brown Shoe' is an overlooked gem. Again it's the sheer inventiveness of George's solo that makes it worthy of inclusion.
On 'Let it Be', George's playing is the complete antithesis to 'Something' or 'Here Comes the Sun' and like so much of his playing it's so innovative. George was not happy with the solo that John originally picked to appear on the song and decided to redo it. George's guitar is played through a rotating Leslie organ speaker, which gives it a distinctive warbling sound. 'I Me Mine' was the last song to be recorded by The Beatles before they split up, yet it's included not for any reasons of nostalgia but because George shows he can rock out with the best of them.
Recorded in 1971, George's slide guitar on Badfinger's 'Day After Day' is another example of sharing the spoils because Pete Ham also plays slide, but it's George's distinctive solo that elevates this catchy song to a whole new level. Recorded the same year, 'Gimme Some Truth' from John Lennon's Imagine is the perfect foil for the venomous lyrics that John spits out.
The first solo from one of George's solo albums is 'Give Me Love (Give My Peace On Earth)' taken from, Living In A Material World. It became his second single to top the American charts. George's slide solo at the opening of the song is sublime, it makes you smile and uplifts the spirit…what greater gift can there be?
Extra Texture, George's final album for Apple Records, includes the fabulous 'This Guitar (Can't Keep From Crying)' that was written by George in response to some of the criticism he received during his 1974 North American tour. Almost inevitably it is compared with 'While My Guitar Gently Weeps' and it is unsurprising that it does not come up to the standard of George's 1968 anthem. But, imagine for a minute that there had not been the former song? 'This Guitar' would be viewed entirely differently; for it is an excellent song. George's slide guitar is to the fore, which in itself is something of a rarity for Extra Texture.
Thirty-Three & 1/3 was released on George's newly formed Dark Horse Records, and despite George being ill with hepatitis during its making, it's proved to be an enduring record, full of great songs. It includes another of George's hidden gems, the delicate and beautiful tribute to a Motown legend, 'Pure Smokey', which features two of George's most lovely guitar solos.
'Blow Away' was a single from George's eponymous 1979 album and is perhaps less well known than many of his songs, but it shouldn't be, particularly as it includes some of George's most lyrical guitar playing. A decade later George released Cloud Nine and among its tracks is the beautiful 'Just For Today' that could easily have come from All Things Must Pass. It's a beautiful song that is made even more so by an exquisite, trademark, Harrison slide guitar solo.
Two years later George was asked by Belinda Carlisle to add a solo to her song, 'Leave a Light On'. According to the singer, "Rick [Nowels, the album's producer] said we should get someone cool and with a distinctive style to play the lead guitar part. I thought for a moment and said 'What about George Harrison?' I had met George briefly a few years earlier in San Remo Italy and Morgan [Mason, Carlisle's husband] through his work on Sex Lies and Videotape" – a film Mason had produced for Harrison's HandMade Films – "knew someone who was close to [Harrison] and able to get word to him. George responded right away, saying he'd love to help out." It is by all accounts one of George's favourite solos.
George's guitar playing on 'Free As A Bird', John's demo song that the other three Beatles recorded in 1994 is just the best of the best. It could be no one else but George, simple, effective, heartfelt and perfect. George's final studio album, his twelfth, was released in 2002, a year after he tragically passed away. It includes 'Marwa Blues', that is the perfect homage to George's exceptional guitar playing. Shortly before he passed away George contributed a guitar solo to Bill Wyman's cover of Ketty Lester's 'Love Letters' for a Rhythm Kings album. When he sent his solo back to the former Rolling Stone he said in a tongue in cheek note, "It's my one note solo" – but George plays that sweet note better than anyone.
What is your favourite of George's guitar solos?
The 16LP The George Harrison Vinyl Collection is out now and can be ordered here.
Format:
UK English