Beach Boys Triumph At Elton John's Wembley Extravaganza
One of the most memorable open-air events of the decade turned into a triumph for the visiting Californian heroes.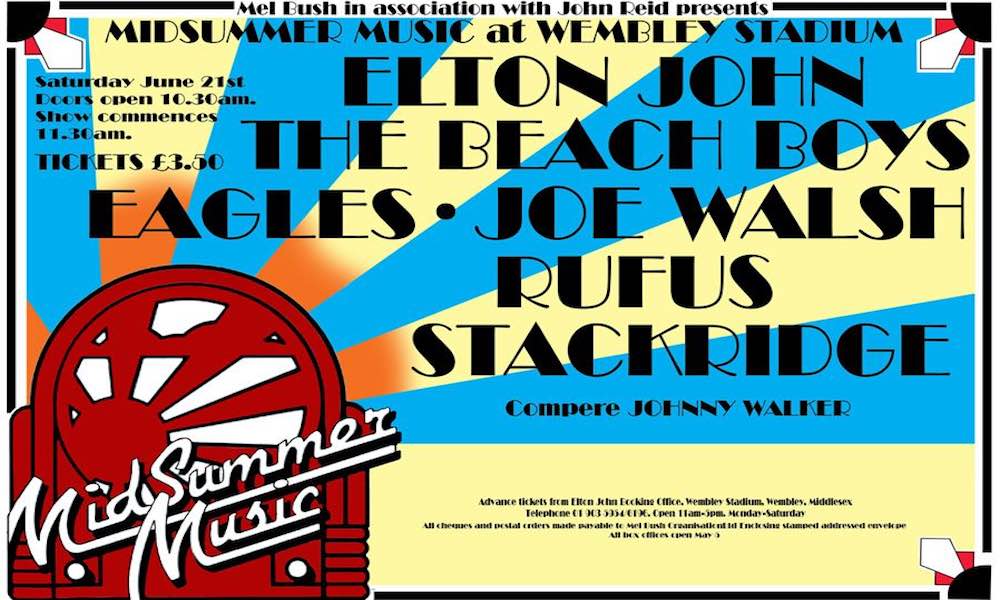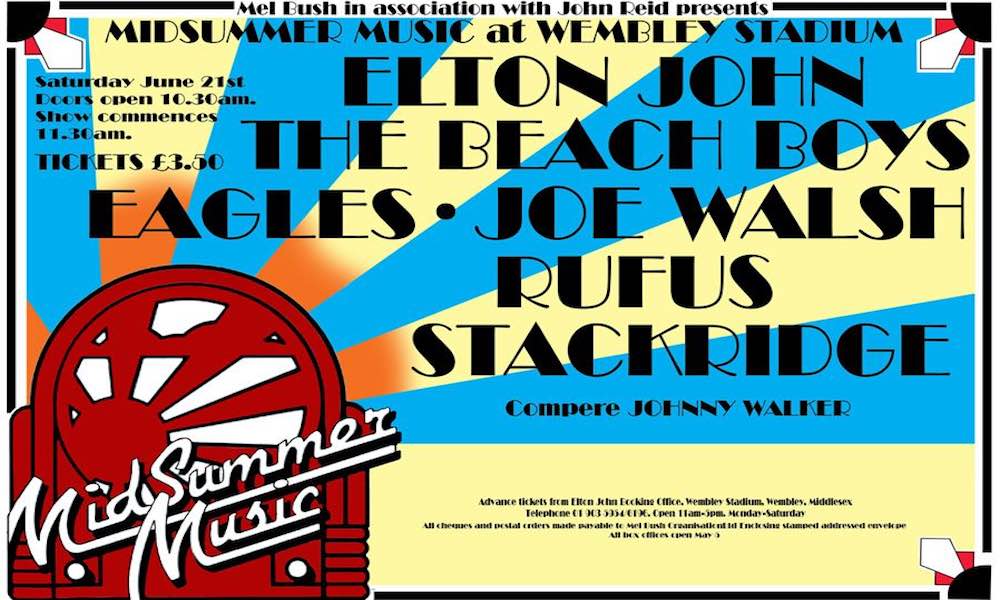 "MidSummer Music," they called it, and as you can see from the poster, it was some event. On 21 June 1975, Elton John headlined a huge, all-day concert at Wembley Stadium for a sellout crowd of 72,000 — and one of the most memorable open-air events of the decade turned into a triumph for the Beach Boys.
In a wonderful TV commercial that ran ahead of the day, here's Elton explaining all about it — and apparently playing football with Joe Walsh and Chaka Khan…
Introduced by then-BBC Radio 1 DJ Johnnie Walker, the proceedings were opened as early as 11.30am on that Saturday morning by British rock outfit Stackridge. They had recently become the first group signed to Elton's new Rocket label, for whom their fourth album Extravaganza had been released five months earlier, in January.
Next up, bringing some funky soul to the proceedings, were American R&B favourites Rufus, fronted by the aforementioned Chaka, who were touring their third album Rufusized, featuring the US hit 'Once You Get Started.' Walsh was still a solo artist at the time, but was soon to join the Eagles, who followed him onto the Wembley stage. The appearance set up their first UK singles chart entry soon afterwards with 'One Of These Nights,' and Walsh joined them for a cover of Chuck Berry's 'Carol.'
In the first half of his set, Elton played hits like 'Rocket Man,' 'Philadelphia Freedom' and 'Bennie and the Jets,' but then chose to perform the whole of his new album Captain Fantastic and the Brown Dirt Cowboy, which had been released on 19 May and was spending a third week at No. 2 in the UK as he played the show.
But many of his fans were unfamiliar with the songs, and he was widely perceived to have been upstaged, in the nicest possible way, by the second-on-the-bill Beach Boys, who came to London on a wave of nostalgic popularity in the US and seized the chance to bring it with them across the Atlantic.
With their double disc compilation Endless Summer having topped the American chart the previous autumn and a second retrospective, Spirit Of America, just going gold, the Beach Boys were well and truly back in style, if largely for their 1960s catalogue. It didn't even matter that they hadn't appeared on the UK album chart for more than two years.
In a hit-packed set that started with 'Wouldn't It Be Nice' and ended with 'Fun Fun Fun' some 22 songs later, the California vibes rang out from Wembley Stadium, and the Beach Boys enjoyed one of the high points of their international career.

Listen to the Beach Boys' set list from that amazing Wembley Stadium show.