Best Breaking Benjamin Songs: 15 Tunes That Define the Band
With lyrics inspired by various ills and neuroses, these tunes are catchy, highly melodic songs with aching, agonized music.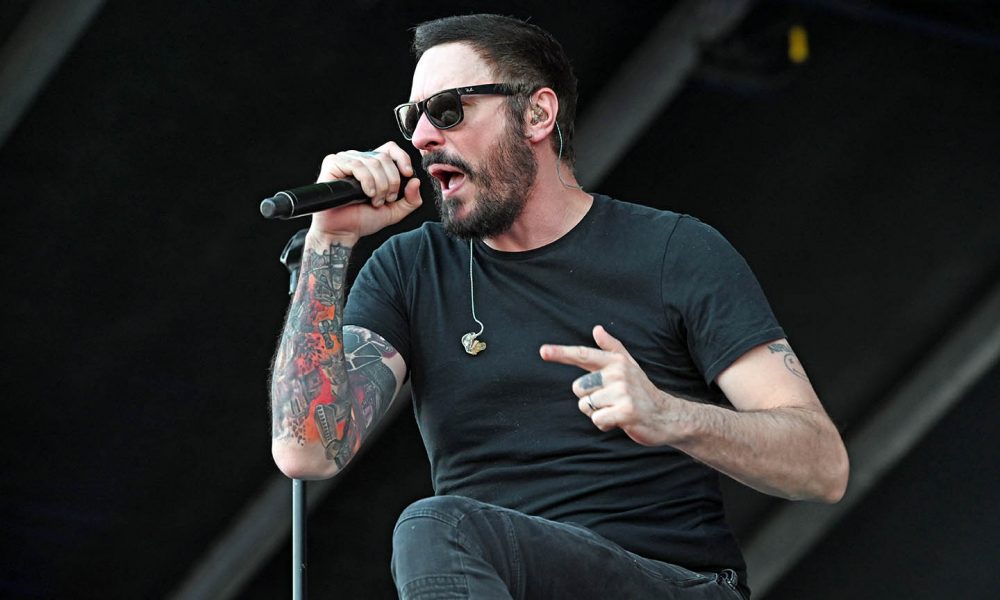 A suitable motto for Breaking Benjamin frontman Benjamin Burnley's songs is, "No pain, no gain." From the time his band surfaced in 2001, Burnley has been fueling catchy, highly melodic songs with aching, agonized music and lyrics inspired by various ills and neuroses. His battles have included alcohol abuse, bad relationships, lineup turmoil, phobias, and a debilitating, undiagnosed condition that caused him severe pain and even forced him to put the band on hiatus while he recovered.
Early on, Burnley discovered that combining commercial metal, grunge lite, and shattered lyrics were a winning combination with several demographics: listeners brimming with angst and seeking catharsis, fans of melodic metal groups such as Godsmack and Disturbed, and energized youths captivated by catchy, heavy tunes. Since his first single captivated mainstream rock audiences, Burnley has honed his craft, sticking to a traditional rock lineup to write music that ripped at the heartstrings while triggering heads to bang.
Listen to the best Breaking Benjamin songs on Apple Music or Spotify.
The Early Breakout Years
"Polyamorous"
Breaking Benjamin's self-released, self-titled five-song EP perked the ears of the music industry in 2001 and earned the band a major label contract. While all the songs were strong, it was "Polyamorous" that sealed the deal and became the band's official first single. The slithery riffs, tormented lyrics, and inviting hooks set a template for the band, which has teetered between agony and ecstasy ever since, both personally and professionally. Frontman Benjamin Burnley wrote "Polyamorous" about the emotional distress caused by giving in to temptation: "My polyamorous friend, She got me in a mess of trouble again/So just when you think that you're alright I'm calling out from the inside." Dysfunctional relationships would remain a focal point for Burnley, taking equal billing with existential angst, physical pain, and apocalyptic dread.
"Skin"
The band's second single from Breaking Benjamin's 2003 debut Saturated marked a minor change of pace from the band's career-long template. Musically, the song was more upbeat than most of the band's singles but no less appealing. "Skin" began a lot like Lit's 1999 hit "My Own Worst Enemy" then ricocheted in a pop/punk direction that likely drew more mainstream fans than the band's earlier fare. While the oblique, spiteful lyrics were hardly as tortured as most of the songs on Saturated, they suggested that even when Burnley was playfully bouncing, he was grimacing inside. "Well it's gone and it's not returning/ And your clothes and pictures are burning/Cause you're old and battered and beaten…/ I couldn't imagine why you would save yourself."
"Medicate"
Structural reminiscent of Nirvana's "Heart-Shaped Box" but with an accessible chorus more redolent of Live and Bush, "Medicate" demonstrated Breaking Benjamin's gift for smoothly combining disparate musical elements without any overshadowing another. The band work with chuggy metal, grunge, alternative rock, and pop to ensnare listeners into Burnley's tales of woe. In the band's early days, Burnley suffered from alcohol dependency, but "Medicate" suggests he also turned to casual sex to escape his demons. "Medicate, run away/Make haste and get laid."
"So Cold"
See-sawing between atmospheric vistas and dissonant staccato rhythms, "So Cold," the opening song from Breaking Benjamin's second full-length, We Are Not Alone, exhibited significant musical and lyrical growth. Burnley has said the barren, apocalyptic tone of "So Cold" was inspired by the horror movie 28 Days Later, however his vibrato-laden vocals sound equally inspired by Disturbed vocalist David Draiman, while the tribal backbeats and haunting guitars sound a lot like Tool. Yeah, "So Cold" is colored with misery ("Crowded streets all cleared away/One by one, hollow heroes separate as they run"). But there's a sense of vulnerability that makes Breaking Benjamin more relatable, or at least easier to empathize with, than other muscle-flexing metal bands: "Show me how defenseless you really are/Satisfied and empty inside."
Breaking Benjamin - So Cold
"The Diary of Jane"
One of the band's most unifying moments, "The Diary of Jane," the first single from 2006's Phobia, was edgy enough to attract fans of heavy music, and poppy rough to rally the mainstream rock community. The serpentine guitar lines and desperate vocals set the perfect tone for the lyrics of "The Diary of Jane." Burnley wrote the song after seeing a true crime story about a Jane Doe that washed up onshore and was unceremoniously buried. Since the program offered no life story for the victim, Burnley invented one about a young woman who keeps her feelings behind closed lips, and the man who tries in vain to get through to her before her untimely passing.
The Agony and Ecstasy of Stardom
"I Will Not Bow"
Like the rest of the songs on Breaking Benjamin's 2009 album Dear Agony (the cover of which depicted an MRI of Burnley's head), the singer wrote "I Will Not Bow" after suffering debilitating aches and pains multiple doctors were unable to diagnose. The track juxtaposes jagged riffing and lunging rhythms with sustained chords and emotive vocals about stoic endurance in the face of unrelenting agony. In addition to being the first single from "Dear Agony," "I Will Now Bow" was featured prominently in the sci-fi movie Surrogates, which starred Bruce Willis.
Breaking Benjamin - I Will Not Bow (Official Video)
"Lights Out"
He has been called a hypochondriac and a narcissist, but there's no disguising the fear and frustration in Benjamin Burnley's voice throughout "Lights Out." The closest Breaking Benjamin gets to nu-metal, "Lights Out" contrasts sugary vocals with down-tuned, percussive guitars, and soul-cleansing howls that replicate the phantom pain that made every day a nightmare. "I am the monster in your head…/I am the venom in your skin/And now your life is broken."
"Give Me a Sign (Forever and Ever)"
One of the less aggressive Breaking Benjamin songs on Dear Agony, "Give Me A Sign (Forever and Ever)," prioritized melancholy over rancor, and Burnley matches the gloomy tone with lyrics that should strike a chord with anyone blindsided by heartache and sure they'll never heal. "Forever and ever the scars will remain/ I'm falling apart, leave me here forever in the dark." Though he may still have been grieving when the song came out, its impressive chart position (Top 10 on both Active and Alternative) may have served as a temporary salve – at least until Burnley's inner turmoil kicked up again.
"Crawl"
Like numerous bands that have surfaced from the grunge-lite sounds of Creed and Nickelback, Breaking Benjamin have mastered the subtle distinction between brooding hard rock and commercial metal. With "Crawl," Burnley displays this tender/harsh template throughout, but is especially effective in the bifurcated chorus, which starts with the prolonged scream ("Live!/Fight!") and proceeds with a mellifluous melody ("Crawl back inside"). Then, the formula repeats: "Sick!/Blind!/Love left behind and I won't live your weak, wicked lie." It's yet another approach to the melody/masochism dynamic that serves them well album after album.
"Fade Away"
This track about being torn apart and broken parallels romantic collapse with Burnley's medical condition. Yet "Fade Away" is as much of a triumph for guitarist Aaron Fink, who always plays the right part for the song, whether he's plucking delicate arpeggios, providing ambient, hazy textures, creating crystalline tapestries of sound, or blasting away with trenchant power chords and fiery solos.
Benjamin Broken and Reborn
"Failure"
Citing relentless pain, Burnley put Breaking Benjamin on indefinite hiatus after the Dear Agony tour. By the time he was ready to resurrect the band, various issues led to the rest of the group leaving the fold. Burnley rebuilt the band, and the 2015 album Dark Before Dawn offered the same sturm und drang und melody that earmarks the rest of the band's catalog. "Failure," the first single, was anything but a flop. Chuggy guitars and soaring hooks accompanied predictably nihilistic lines: "Tired of feeling lost, tired of letting go/Tear the whole world down." But when hopelessness began to creep in, Burnley injected a glimmer of hope: "The war will carry on/Look for the light that leads me home."
Breaking Benjamin - Failure (Official Video)
"Angel's Fall"
Starting with an ominous keyboard line, "Angel's Fall" soon builds into a heartrending balance of distortion and decay that ultimately balances caustic angst with gloomy tunefulness. Again, Burnley imbues the cut with a hint of positivity and a message of perseverance: "When angels fall with broken wings. I can't give up, I can't give in/When all is lost and daylight ends I'll carry you and we will live forever." With occasional references to angels, light, and other religious metaphors, some have assumed Breaking Benjamin were becoming (or always were) a Christian rock band. Burnley has said his belief in God made the band successful, but he has never wanted to preach.
"Red Cold River"
The first single that wasn't almost entirely written by Burnley, "Red Cold River" marked a new era for the band. Though Burnley was still very much the frontman, he loosened the reins and relied on the rest of Breaking Benjamin for seven of the 12 songs. From the start, "Red Cold River" expands both ends of the band's sonic spectrum. The atmospheric parts feature near-ethereal vocals and more upfront keyboard programming, while the heavy passages are more musically dense – drawing from three guitars instead of two – and displaying a broader palate of playing styles, no doubt due to the contributions of rhythm guitarist Keith Wallen and lead guitarist Jason Rauch. Burnley's lyrics, however, are predictably bleak: "I can't feel anything at all/Try to find a reason to live."
"Torn in Two"
Driven by a surging, barbed guitar riff that cuts in and out of a tumbling beat, "Torn in Two" draws from four distinct musical passages to provide diversity and create and release tension. Lyrically, there seem to be references to child abuse, which were magnified for the song's video. When "Torn in Two" was released the band partnered with Prevent Child Abuse America and donated portions of ticket sales to the organization. While most of the lyrics shiver with desperation, the verses end with a quasi-positive message: "Let the dawn of love survive/Broken, I crawl back to life."
Breaking Benjamin - Torn in Two (Official Video)
"Far Away"
To prove Breaking Benjamin songs didn't need blaring volume to impact listeners emotionally, the group released Aurora, an album of acoustic versions of many of their most popular songs. The record also included the previously unreleased "Far Away," a duet with Cold vocalist Scooter Ward. Propelled by melancholy keyboards, stirring strings, and winsome vocal harmonies, "Far Away" displays a different side of Breaking Benjamin, one touched by heaviness, but driven by sentimentality. Without accompanying distortion, the band's vocals are weightier and the music sounds more spiritual. Still, violence reigns through the apocalyptic song, which appears to be about the rapture: "When the broken fall alive, let the light take me too/ When the waters turn to fire, Heaven, please let me through."
Think we missed one of the best Breaking Benjamin songs? Let us know in the comments below.