'MP Da Last Don': When Master P Ruled The World
The No Limit giant's commercial pinnacle, this double album was a capstone of the label's incredible 1998 run.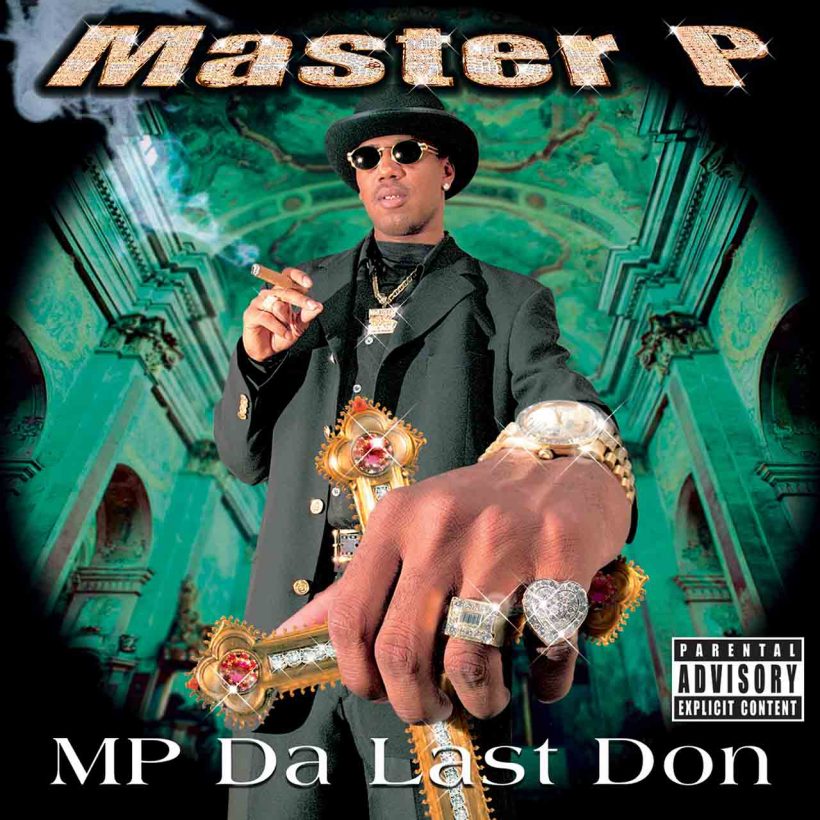 What did success in the 90s smell like? A double disc album, that's what. It was the ultimate flex in the era of excess, reserved only for the biggest of big willie's. It was a right of passage for hip-hop royalty. 2Pac kicked it off with All Eyez On Me in 1996, an album that changed the genre forever and would eventually be certified Diamond by the RIAA. Biggie followed up a year later with the posthumous, Life After Death, which would also strike Diamond. To most, these stand as the greatest rap double albums of all time – rare instances when an artist could drop 30 great records in one sitting, successfully running the gauntlet of varying themes and ideas.
Later in 1997, Wu-Tang Clan and Bone Thugs-N-Harmony – the two biggest rap groups at the time – followed suit with double albums to multi-platinum results. Proving that if you had the clout, dropping a double disc was way more beneficial to your bottom line than a solo shot. This was the height of the super-size craze – Americans wanted more bang for their buck – and the double album made cash-strapped teens feel like they were getting a better deal. And from the artist standpoint, a double disc commanded a bigger advance from the record label. But the true finesse of the double disc craze was that sales counted as double. So if you sold two million copies, it counted as four. An industry cheat code if there ever was one.
Listen to Master P's MP Da Last Don now.
So it was only right that Master P, the biggest rapper in the world in 1998, threw his hat in the ring. He wasn't a rookie to the double disc craze. In fact, he pioneered it. Rap's first double CD was actually a compilation called Down South Hustlers – Bouncin & Swingin, which dropped on Halloween of 1995 – four months before All Eyez On Me would hit shelves. Pac is rightfully credited as the first solo rapper to drop a double disc, but Percy Miller actually beat him to the punch.
But this wasn't just any ordinary double disc. It was MP Da Last Don – Master P's final album. Yes, the multi-millionaire mogul was going to hang it all up at the old age of 28. Instead, he'd focus on running his label, rolling out blockbuster major motion pictures, and chasing his NBA dreams. He had a full plate, and rap just wasn't in his future. Too $hort pulled a similar retirement stunt two years prior to much fanfare, so Percy doubled down with the double album and decided to go out with a bang. He was already selling an insane amount of records, so why not see just how far he could push it? The retirement card was a proven slam dunk, after all.
MP Da Last Don hit shelves on Tuesday, June 2nd, 1998. Just six months into No Limit's 1998 reign, a year in which the label released 23 albums. That equates to almost an album every other week. Keep in mind this was not the digital era. These albums had to be physically pressed up and shipped to stores across the world. It was an expensive operation, but P was selling so much he could drop whenever he wanted to. A true independent within the major label system, and with his 80/20 split with his parent company Priority, P was printing money. Due to the success of his straight-to-video debut film, I'm Bout It, P made a movie to accompany the album's release: MP Da Last Don the movie. It was a campy hour-long shoot-em-up flick that featured P as the only son of an Italian mob boss. It was completely over the top – and it had every right to be. It appeared P could put a gold Rolex and a tank chain on a corpse and they'd go platinum. He was literally turning artists with no buzz or presence into stars overnight on brand name alone. Master P was a marketing genius, and MP Da Last Don was his biggest caper yet.
The album came just 10 months after his breakthrough project, Ghetto D, which put him atop the rap food chain and made him a household name. P was a man possessed, who wasted no time giving us new product to consume. In fact, the biggest single of his career "Make Em Say Uhh!" from Ghetto D was still climbing the charts when he dropped MP Da Last Don. He also had two other songs on the Top 40 pop charts – "I Got The Hook Up" – the title track from his recently released soundtrack of the same name, and "Let's Ride" where he was featured alongside R&B star Montell Jordan and his brother Silkk The Shocker. He also had one of the top movies in the country with I Got The Hook Up, which hit theaters just five days before the release of MP Da Last Don. Master P hysteria was in full effect, and the colonel was omnipresent.
It might be hard to believe now, but on June 2nd of 1998, MP Da Last Don was the most anticipated album in the country. This writer skipped school to ensure he had it first. Despite the flak P received for being a subpar rapper and going against the cherished values of traditional hip-hop heads, he couldn't miss. He had fans in big cities and small towns alike, and his army of supporters were loyal – blindly loyal. If it featured the tank logo, it was an automatic purchase.
While most would argue that Ghetto D was his magnum opus, I tend to side with MP Da Last Don. It was his highest high. His most bloated, yet most confident release. No Limit's album covers were always outrageous, but MP Da Last Don upped the ante with a hologram cover; a first in rap if I'm not mistaken. Content-wise, the generic ideas ran rampant: the bad Scarface impersonations, the rehashed ideas from Ghetto D (did the world really need a "Make Em Say Uhh! # 2"?), the tracing of 2Pac's blueprint (the mama song, the dead homie song and a remake of Pac's "Dear Mr. President"). P was the boss, so his in-house production outfit, Beats By The Pound, were giving him the best batch of beats, so the production throughout was on point.
Tracks like "Thinkin Bout U" had pop appeal and the video ran nonstop on MTV and BET, while songs like "Hot Boys & Girls" showed just how talented and creative the emcees on the tank were, and introduced the world to the term Hot Boys well before the world had caught wind of Cash Money Records. Feature-wise, he mainly stuck to his No Limit family, where the now-problematic Mystikal shined the brightest (there was a subset of No Limit fans who would buy their albums strictly for the Mystikal appearances.) Usual suspects such as E-40, UGK, and Bone Thugs also showed up to aid and assist on P's swan song.
The album came just three months after No Limit had acquired the hottest free agent in the game, Snoop Dogg, who had pledged his allegiance as a No Limit Solider, and subsequently appears on 20 percent of the album. Snoop had a lot to prove, and P's album was his true coming-out party. Silkk and C-Murder had just released high-profile and higher-selling albums a few months prior, and were all over the charts, so even though the album was touted as a retirement release, it felt more like a celebration. It also dropped at the perfect time, as the album soundtracked the summer months, and set the tone for No Limit's summer run of 98, which included releases from Soulja Slim, Fiend, Mac, Kane & Abel, and their new blue-chip player, Snoop Dogg.
MP Da Last Don would go on to sell over 4 million copies, making it Master P and No Limit Records highest selling album ever. By 1999, though, the tank would begin to run out of gas. P's NBA attempts, Hollywood aspirations, and WCW wrestling antics had some fans jumping ship to other hip-hop movements such as crosstown rivals, the Cash Money Millionaires. This harsh reality cut P's retirement short, and he was back on shelves by June 1st of 1999, reunited with his brothers Silkk and C-Murder for a new TRU album. In October of 1999, he came back swinging with his Only God Can Judge Me solo album, which only managed to go gold.
But in June of 1998, P was a force of nature. Changing the rules by the day and playing the game on his terms. MP Da Last Don was the pinnacle of the No Limit era. And a time capsule of the moment that Master P stood firmly on top of the world.
Listen to Master P's MP Da Last Don now.
Editor's note: This article was originally published in 2018.