Best Romantic Comedy Songs: Genre-Defining Tracks
Cannily deployed to create touching moments and forge connections, the best romantic comedy songs have defined iconic romcoms.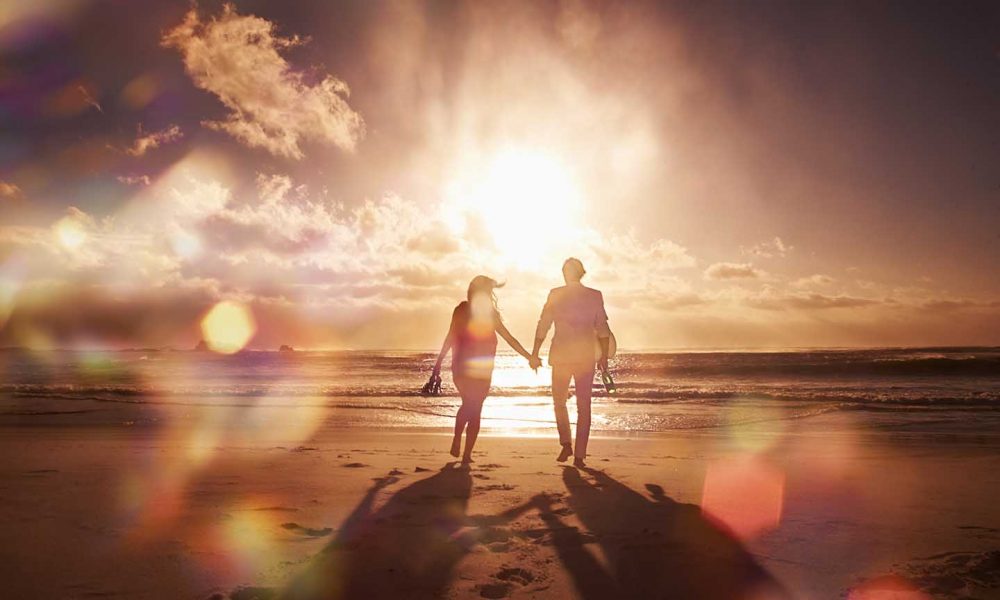 The best romantic comedies or "romcoms" are defined by their touching moments, and one of the most convincing ways to creating these connections with the two romantic leads is through music. Romantic comedies dominated the box office in the 80s, 90s, and early 00s, but some of them are more memorable for the music, rather than the film itself. While the genre's popularity has waxed and waned over the years, we're primed for a romcom renaissance on the small screen, with new romantic comedies shedding the usual boy-meets-girl formula. In this list, however, we take a look back at some of the romcoms that defined the genre, and the best romantic comedy songs that made us fall in love.
Follow the Best Love Songs Ever playlist here.
12: Spiderbait: Calypso (10 Things I Hate About You, 1999)
Released during the second wave of teen romcoms, 10 Things I Hate About You turned a Shakespeare adaptation into a feminist statement. There are so many great musical moments in this coming-of-age film that it's hard to choose just one, from Heath Ledger bounding across bleachers singing "Can't Take My Eyes Off Of You" to Letters To Cleo jamming out at the prom and Julia Stiles' iconic dance to Notorious BIG's "Hypnotize." But no better song summed up the film's ethos than Stiles' character, Kat, reading Sylvia Plath's The Bell Jar and listening to Spiderbait's indie-rock gem "Calypso."
11: Shout Out Louds: Very Loud (Nick And Norah's Infinite Playlist, 2008)
Michael Cera and Kat Dennings star as two lovestruck young things fumbling their way around New York City in search of their favorite band. The film offers a time capsule of mid-00s indie rock – both the soundtrack and the people devoted to the genre. Featuring all the favourites of the day – Vampire Weekend, The National, Ratatat and Devendra Banhart, to name a few – the mixtape soundtrack also features this jangly cut by Swedish indie-pop outfit Shout Out Louds.
Shout Out Louds - Very Loud
10: Frou Frou: Let Go (Garden State, 2004)
You only need to glance at the Garden State poster before getting The Shins' "New Slang" stuck in your head. Few soundtracks have reached the level of cultural ubiquity that Zach Braff's quasi romcom has achieved. When Natalie Portman's character swore, "You gotta hear this song. It'll change your life," we believed her. While the soundtrack is chock-full of earnest indie-pop and classic 70s singer-songwriters such as Nick Drake, it's also best remembered for the closing scene featuring Frou Frou's effusive electronica: a collaboration between producer Guy Sigswoth and the dynamic vocalist Imogen Heap.
9: Erykah Badu (featuring Common): Love Of My Life (An Ode to Hip-Hop) (Brown Sugar, 2002)
Hip-hop not only dominates the Brown Sugar soundtrack, but it's the defining force of the film, bringing the two main characters together. Starring two heavyweights of the genre – Sanaa Lathan and Taye Diggs – the soundtrack sees Common reworking his iconic love letter to hip-hop, "I Used To Love HER," into one of the best romantic comedy songs of the early 00s, "Love Of My Life" (there's also a version by The Roots). The link between love and hip-hop was part of The Soulquarians' ethos, so it makes sense that they're gathered on this soundtrack, which features tracks by Blackalicious, Hi-Tek, Erykah Badu and Raphael Saadiq.
Love Of My Life (An Ode To Hip Hop)
8: Cast: I Say A Little Prayer (My Best Friend's Wedding, 1997)
Thirty years after Dionne Warwick turned the Burt Bacharach and Hal David song into pop gold, "I Say A Little Prayer" was back in the zeitgeist after being featured in a famous singalong scene in My Best Friend's Wedding. The film stars Dermot Mulroney and Julia Roberts, but it's Rupert Everett who steals the show as Roberts' real best friend, and "I Say A Little Prayer" takes its place among the best romantic comedy songs by providing the impetus for the countless people who mimed the Dionne Warwick classic into their hairbrushes.
7: Jimmy Durante: Make Someone Happy (Sleepless In Seattle, 1993)
In the 90s, it was hard to find a romcom not starring Meg Ryan, but for screenwriter Nora Ephron, Ryan provided a neurotic avatar. Ryan and Tom Hanks would continue their courtship through countless films, but Sleepless In Seattle remains one of their finest. The soundtrack is filled with classic standards by the likes of Nat King Cole and Carly Simon (the latter covering Sinatra's "In The Wee Small Hours"), but it's Jimmy Durante's "Make Someone Happy" that stands out. Durante's delightful New York accent counteracts any schmaltz and the song speaks to all the relationships that populate the film, not just the romantic ones.
6: Louis Armstrong: La Vie En Rose (French Kiss, 1995)
From the opening glide of the piano, we're instantly swept away to the streets of Paris, thanks to Louis Armstrong's sumptuous cover of Edith Piaf's "La Vie En Rose." This movie's absurdity is only surpassed by Kevin Kline's "French" accent, and yet its charming soundtrack, filled with Charles Trenet standards and Cole Porter, will eventually win you over. Did French Kiss also convince us that you could teach yourself to become a sommelier with a box of spices? Sure!
5: Roy Orbison: Oh, Pretty Woman (Pretty Woman, 1990)
It's held up as the gold standard of Hollywood romcoms, and yet, on paper, Pretty Woman sounds like anything but. Thanks to Gary Marshall's thoughtful directing, the radiant beam of charisma that is Julia Roberts, and Roy Orbison's iconic guitar licks, Pretty Woman turned an improbable love story into a modern fairy tale, and "Oh, Pretty Woman" lives on as one of the best romantic comedy songs of all time.
4: Chaka Khan: I'm Every Woman (Bridget Jones's Diary, 2001)
The film adaptation of the wildly successful novel understood what people want out of a good romcom: a relatable protagonist. Her British accent aside, everything about Renée Zellweger's Bridget seemed more grounded. When she's down on her luck, she does not settle for "permanent spinsterhood" but instead chooses "vodka and Chaka Khan." Khan's empowerment anthem has become shorthand for character growth and became her first solo hit, post-Rufus.
I Choose Vodka | Bridget Jones's Diary | Screen Bites
3: Wet Wet Wet: Love Is All Around (Four Weddings And A Funeral, 1994)
One sure-fire way to get a No.1 single is to be featured in Britain's most successful romantic comedy of all time, Richard Curtis' Four Weddings And A Funeral. Wet Wet Wet hit pay dirt with their cover of The Troggs' 1967 single "Love Is All Around," which hit No.1 the end of May 1994 and stayed there until October – more than earning its place among the best romantic comedy songs. Along with skyrocketing Wet Wet Wet to fame, the film became a cultural phenomenon, introducing US audiences to a bumbling, affable actor named Hugh Grant and launching 1,000 floppy haircuts.
Wet Wet Wet - Love Is All Around
2: Bill Medley And Jennifer Warnes: I've Had The Time Of My Life (Dirty Dancing, 1987)
It's hard to imagine a world in which Dirty Dancing and its subsequent soundtrack weren't chart gold, yet the story behind the film and its biggest single is an unlikely one. A low-budget movie with a controversial storyline and unknown leads, it wasn't an obvious cultural juggernaut. Thanks to the electric chemistry between Patrick Swayze and Jennifer Grey, however, and the couple's pivotal dance scene, the Dirty Dancing soundtrack would sell 11 million copies and give Bill Medley (one half of The Righteous Brothers) his first hit in years.
Bill Medley, Jennifer Warnes - (I've Had) The Time Of My Life (Official HD Video)
1: Peter Gabriel: In Your Eyes (Say Anything, 1989)
By 1986, So had already turned the ex-Genesis frontman from an art rocker into one of the biggest pop stars in the world. But it wouldn't be until a trenchcoat-sporting John Cusack held a boombox over his head that Peter Gabriel would become part of cinematic history. You know something has become a cultural touchstone when it's been parodied for decades, yet it remains the most memorable scene in the Cameron Crowe film.
Say Anything... (3/5) Movie CLIP - Boombox Serenade (1989) HD