The Thunder Still Rolls: Garth Brooks, The All-Time Country Champion
America's top-selling solo album artist of all time goes from strength to strength.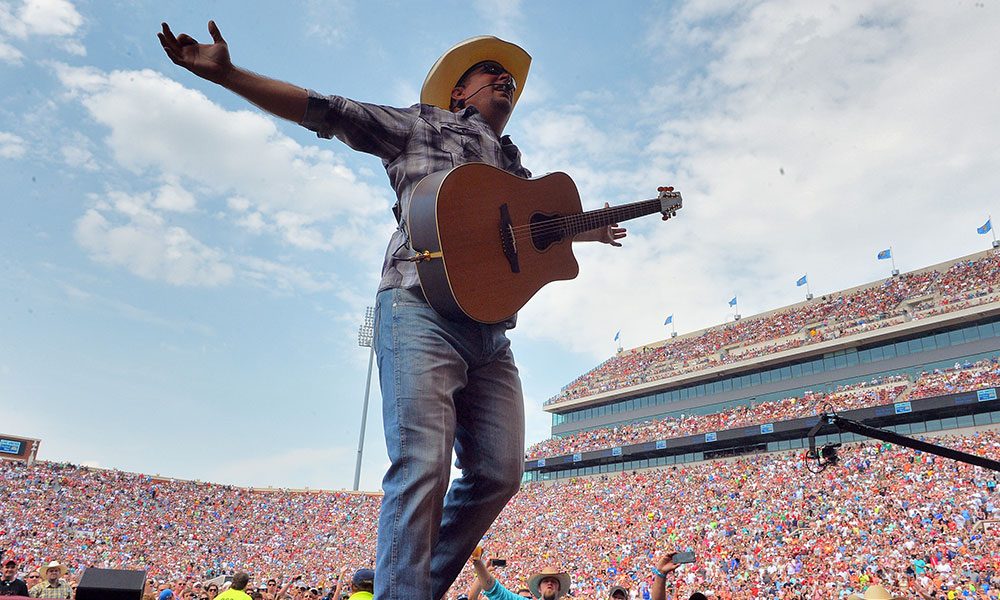 Garth Brooks is not only the top-selling album artist of the digital era, but the bestselling solo album act in US recording history, with sales of well over 150 million album units. That's before you even start talking about his gargantuan achievements as a live attraction.
Even in a lockdown, those were restated by his stirring performance of "Amazing Grace" at the inauguration of President Joe Biden on January 20, 2021. He has become a country music statesman and elder, lending his presence to numerous Nashville occasions, as well as receiving his own Kennedy Center honor in May 2021.
"There's country music, rock, gospel, honky-tonk …and then there's Garth Brooks," said actor Bradley Cooper, introducing Brooks on that occasion. "Garth is a power hitter who swung for the fences and shattered the barriers between music genres, forever expanding the vocabulary of country music and changing American culture."
Recognized as the first country music artist to amass more than one billion plays on over 2,500 digital radio services, Brooks was back in the album charts late in 2016, with his studio release  Gunslinger, the Ultimate Collection CD set and the Christmas Together record with his wife and fellow star, Trisha Yearwood. The phenomenal ticket sales of his first world tour in 13 years, from 2014 all the way into 2017, underlined that he remains a massive live draw. The Garth Brooks Stadium Tour which began in 2019 was another sensational success.
In February 2018, just before his 56th birthday, Brooks took to the smallest stage he'd played in some 30 years when he and his band appeared at Layla's, a club amid the honky-tonks of Lower Broadway in Nashville. The event was an invitation-only show for programme directors during Country Radio Seminar. Summer 2018 brought the Triple Live collection, recorded on the road between 2014 and 2017, and 2020 saw him shaping up for the new Fun album. Previews have included the single "All Day Long" and "Stronger Than Me," which Brooks introduced at the 2018 CMA Awards.
Nostalgia and joy
In November 2020, he released his 14th studio album Fun, previewed by the Top 10 country airplay success of the single "Dive Bar," a duet with Blake Shelton. In the enforced absence of the ability to get on the road, there was the simultaneous appearance of the Triple Live Deluxe collection. NYCountrySwag.com said that the live collection "not only brings nostalgia to the table, but it simultaneously carries notes of joy, excitement, anticipation, and loss."
The man from Tulsa, born on February 7, 1962, burst onto the country scene with the 1989 single "Much Too Young (To Feel This Damn Old)," and a self-titled album that went on to diamond certification for 10 million US shipments. Those sort of telephone-number sales have been a recurring feature in Brooks' unique career, as his record and touring achievements have rewritten the record books. When his sophomore album No Fences came out in 1990, there seemed almost no limit to his commercial potential, as it stormed to 17 million sales in America alone and made him an international star.
In 2014, Man Against Machine – his first LP recording since his last studio set for Capitol Nashville, 2001's Scarecrow – became another country No.1 and another million-seller. Then late 2016 brought Gunslinger, introduced by the lead single "Baby, Let's Lay Down And Dance."
Permanent weekend
Trisha was on hand to provide backing vocals on one of that album's strongest tracks, "Whiskey To Wine," and Brooks himself co-wrote all but one of its ten new songs. The Independent newspaper remarked: "Garth here sensibly celebrates simple good times in songs like the twangsome 'Honky Tonk Somewhere' and its cutting-loose continuation 'Weekend,' where copious location namechecks enthuse that 'It's weekend all over the world.'" With his shows continuing to define the live, modern-day country music experience, including at his 2023 Las Vegas residency, that weekend isn't due to end anytime soon.
Listen to the All Time Greatest Country Hits playlist.