"It's All Rebel Music": How Janette Beckman Documented The Early Days Of Def Jam
In Def Jam's docu-series 'Through The Lens', photographer Janette Beckman talks documenting the early days of hip-hop.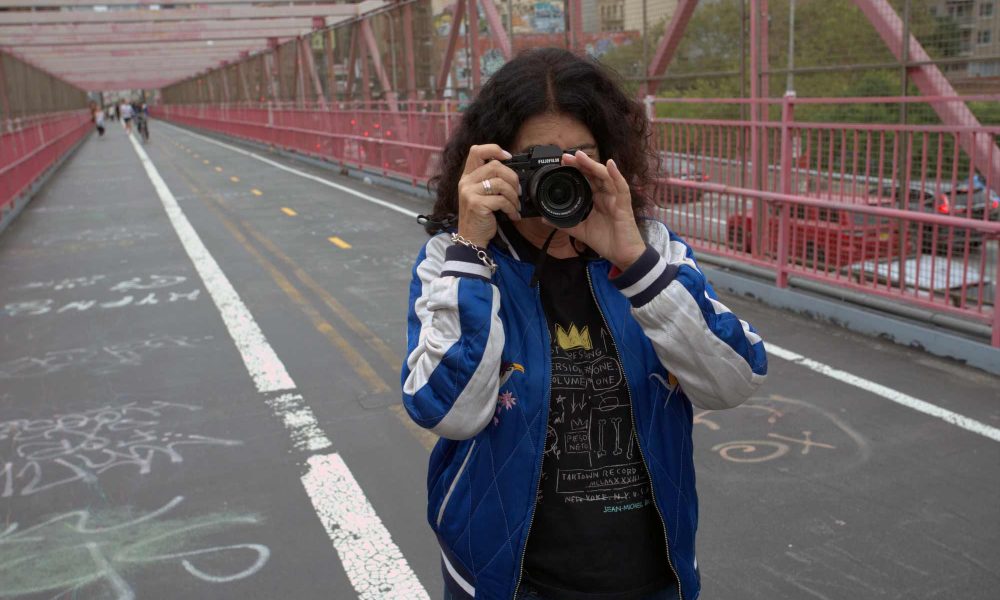 For more than four decades, photographer Janette Beckman has been behind the camera documenting the most influential countercultures of the modern era. There is a through-line between punk and hip-hop, and Beckman's work serves as connective tissue in their visual identities. Having been the only person to photograph both Sid Vicious and Big Daddy Kane, she is automatically in the upper echelon of cool and has an arsenal of fascinating stories as a result.
Beckman also appears in the new documentary series, Through The Lens that celebrates the iconic photography that became synonymous with Def Jam and its biggest stars. The series focuses on three distinct eras that span Def Jam's 35-year history to date, following three post-modern titans of photography: Janette Beckman, Ricky Powell and Jonathan Mannion.
"The thing about Janette's photography that is so special is that she has this amazing technical ability, but there's also something about the way she communicates a message with her camera," says Cey Adams, the founding creative director of Def Jam Recordings in the new docu-series.
Def Jam Presents: Through The Lens – Janette Beckman (Episode 1)
"It was just a mind-blowing experience for me"
Raised in the middle-class neighbourhood of Hampstead in northwest London and educated in the bohemian environment of King Alfred School, Beckman found herself swept up in London's punk movement, followed by the underground hip-hop scene coming out of New York in the 80s.
She's worked with The Police but also the group responsible for 'F__k Tha Police'; she documented the band that was assaulted for their song 'God Save the Queen', while also chronicling Queens rappers Run-DMC, Salt-N-Pepa and LL Cool J.
After teaching photography at Johnny Rotten and Sid Vicious' alma mater Kingsway Princeton College, Beckman landed her first gig shooting Siouxsie and the Banshees for Sounds magazine with Vivien Goldman, thus beginning a lifelong collaboration with the music journalist.
The year was 1977 and the punk scene had exploded in London. Beckman and Goldman defected to rival music mag Melody Maker, which at the time was overwhelmingly male and rock-centric. "I used to go in wearing a pair of Converse, pyjama bottoms and like a Madness t-shirt, and they would be like, 'Hey, you forgot to get dressed today!'"
As a second-string photographer, Beckman was given assignments nobody else wanted to take, which fortuitously included punk bands like The Undertones and The Clash, and soul groups like Earth, Wind & Fire. Then came the day in the fall of 1982 when she was given the opportunity to cover a concert in London that was part of the first-ever international tour of a New York phenomenon recently christened "hip-hop". Beckman knew nothing about it, but enthusiastically volunteered her services.
"That afternoon I photographed Fab 5 Freddy, Rammellzee, Futura, DONDI, Afrika Bambaataa, the Rock Steady Crew, Double Dutch Girls and Grand Mixer DST, but I didn't know who they were. Then in the evening, I go to the concert and on the stage, there are artists drawing on backdrops, people DJing, scratchers, rappers and breakdancers. It was just a mind-blowing experience for me."
Beckman visited a friend in New York that Christmas and never left. "You'd go out on the street and there would be kids breakdancing on pieces of cardboard, people walking around with boomboxes rapping, trains covered in graffiti, wherever you went it was New York and exciting and I loved it," Beckman recalls in the doc.
Having photographed Boy George, The Clash and The Police's debut album cover for Outlandos d'Amour – all of whom were enormous rock stars by 1983 – she thought work would come easy.
"Nobody would hire me because they said my work was too gritty. They wanted everything to look really slick and airbrushed," says Beckman. With its gritty, street style aesthetic – which felt akin to punk – hip-hop became her saving grace. Beckman started to get gigs shooting press photos and record covers for rap artists, starting with Harlem rap group The Fearless Four.
The work snowballed, and by the mid-80s, Beckman was one of the go-to photographers for record labels like Next Plateau (Salt-N-Pepa, Antoinette), Sleeping Bag/Fresh (EPMD, Just-Ice) and the most successful of them all – Def Jam Recordings, home to LL Cool J, Beastie Boys, Slick Rick and Public Enemy. It was like déjà vu; having photographed the Sex Pistols standing in a rubbish bin on the trash-strewn streets of London circa 1977, Beckman was now capturing Ultramagnetic MCs standing in the burned-out wreckage of the South Bronx for the cover of their debut album Critical Beatdown circa 1988. The similarities were not lost on her.
"To me, it's all rebel music"
"To me, it's all rebel music coming from kids who come from poor backgrounds," says Beckman. "They don't see a future. London was really economically depressed in the punk era. When I came to New York it was the same thing. Both of these genres of music gave them a voice and they could finally say what they were thinking in different ways. Look at somebody like Dapper Dan. People wanted luxury goods. They wanted to have Gucci and so on, so he printed his own fabric so people could have it. That's genius. In London I had just come from that, where people wanted to look cool and they were just taking their mum's old sweater, ripping the sleeves off, cutting it up and adding some safety pins to make new types of clothes. Someone like Vivienne Westwood and Dapper Dan are probably running in parallel lines there."
Beckman, who at this point had shot for downtown culture mag Paper, was given a fashion column in the New York Daily News, describes her photography as "documentary portrait style". There's a certain specificity to her photographs; they tell stories by showing the subjects in their natural environments. Each photo comes with a revelatory story, which pour out of her.
There's the time EPMD asked her to meet them at a Long Island cul-de-sac overlooking the water and they showed up several hours late because they were getting their rims detailed. Just as the sun was setting, in a span of fifteen minutes, she captured all four of them – Parrish Smith, his Mercedes, Erick Sermon and his Camaro – for the album cover of their gold-selling 1989 album, Unfinished Business.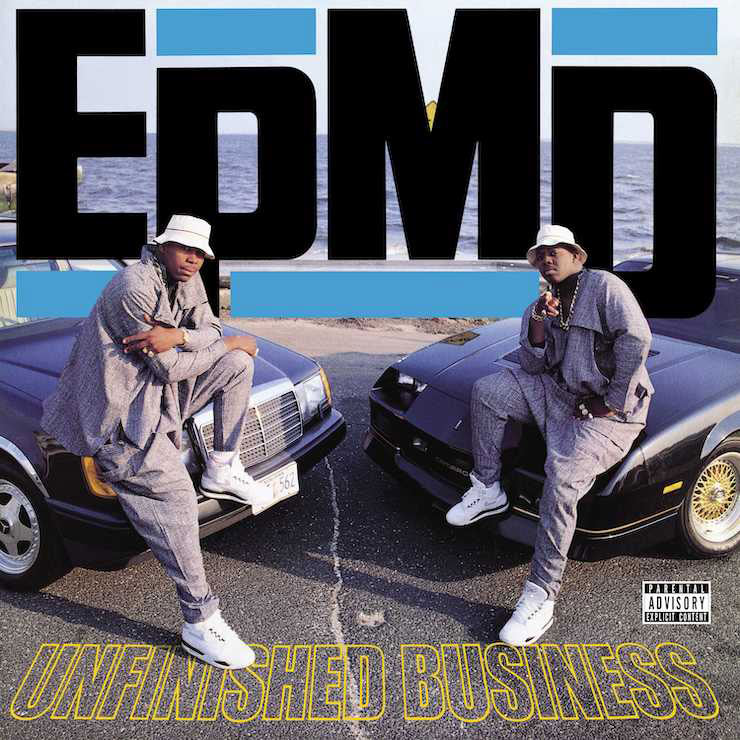 For every hip-hop milestone, Beckman was there to shoot it. When a 16-year-old Kangol-clad LL Cool J got his very first press photo taken, Beckman was there to immortalise the uniform. When Melody Maker commissioned her to shoot the ever-controversial Public Enemy in 1987, Beckman was up to the task.
"Someone had told me, 'You're gonna have a really hard time with them', but Chuck D is the nicest man on earth. He's so smart and thoughtful. And then Flav's there goofing around and telling jokes. I just had a great time with them. Maybe they look at me like I'm their kid sister or something."
It's my most precious possession'
Beckman's disarming nature has served her well. Even "The World's Most Dangerous Group" was kind to her during one of her more eventful photo sessions that took place at Audio Achievements recording studio in Torrance, California. At the time, NWA had already dropped 'F__k The Police' and were in the middle of recording their 1990 EP 100 Miles And Runnin', when Beckman visited their studio
"As they came out, I saw this cop car coming down the street. I jump in the middle of the street and I'm waving my arms. He stops and I'm like, 'Excuse me officer, I have this band, do you mind if we just take a picture in front of your car?' I get them lined up in front of the car and we take a picture, and Eazy-E says to me, 'I really love your accent, would you be interested in reading something for our album? I'm like, 'Oh okay!' I trot in there behind them and they go, 'Okay, here it is, this is what we want you to read'. They give me this piece of paper and it is a – excuse the pun – blow-by-blow description of how to give a perfect blowjob (which later appeared as 'She Swallowed It'). I'm just like, 'Ah, well . . . I really can't do this. I'm sorry. I just can't read it.' It was just so . . . descriptive shall we say. My feminist self in the middle of Torrance with NWA . . . I can't. I actually had to turn them down, but now I sort of regret it. I got a Polaroid from that shoot and Eazy-E signed it. It says, 'Stay sweet Janette. Love, Eazy'. It's one of my most precious possessions."
Explore the iconic work by photographers Ricky Powell (26 June) and Jonathan Mannion (10 July) on Def Jam's Through The Lens series.
Listen to the music of Through The Lens on Apple Music and Spotify.
Format:
UK English