How John Singleton's Soundtracks Brought The Black Experience To The Big Screen
Director John Singleton left behind more than just a cinematic legacy; his soundtracks brought the black experience to life on the big screen.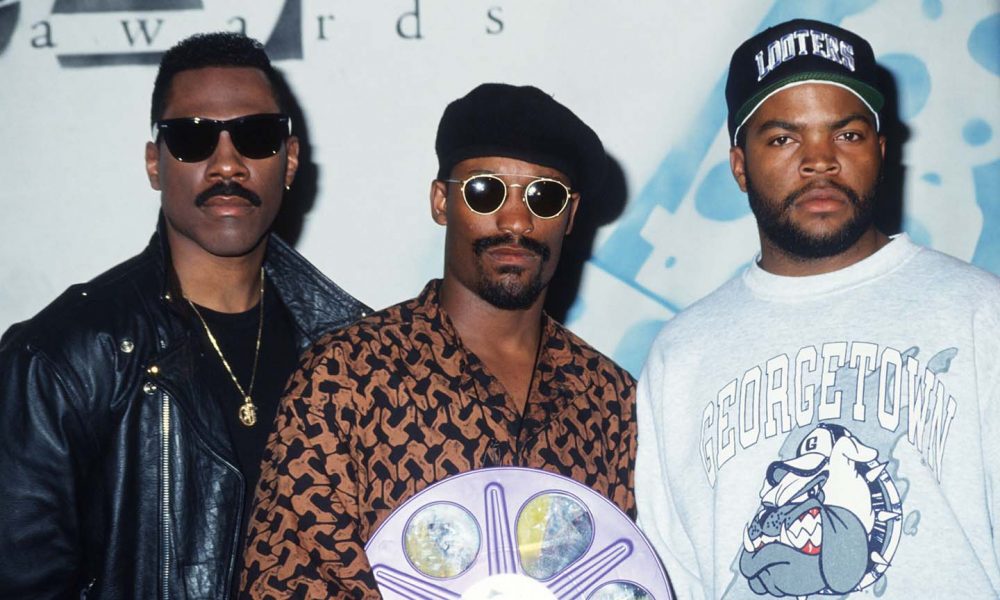 "Music has always been a huge influence on me," celebrated filmmaker John Singleton told record producer Arthur Baker at the International Music Summit in 2016. "I put certain music cues in the scripts… I have an idea of exactly what I want." When Singleton passed away, on April 28, 2019, at the age of 51, he left us with a body of work that married storytelling with music, usually set in gritty urban landscapes.
Boyz N The Hood
Singleton grew up in the South Central neighborhood of Los Angeles before graduating from USC School Of Cinematic Arts in 1990. The 22-year-old Singleton wasted no time in launching his career, quickly selling a semi-autobiographical script with the caveat that he would also have to direct it. The result was Boyz N The Hood, a coming-of-age story about a group of friends attempting to navigate the harsh realities of life in the ghetto.
Named after Compton native and NWA member Eazy-E's debut single, Singleton gave the song's lyricist, Ice Cube, a supporting role in the film, as the character Dough Boy. The gangsta persona Cube had cultivated through song became fully realized on the big screen, and music was integral to capturing the mood. As in Jaws, when someone is about to get eaten by the shark, the audience hears John Williams' fear-inducing cue, in Boyz N The Hood, "Before someone's gonna get shot, you hear the bumping 808 bass from a car," explained Singleton.
When Boyz n The Hood was released in 1991 to great acclaim, not only did it make Singleton the first African American to be nominated for an Academy Award for Best Director, but its accompanying soundtrack helped bring the filmmaker's tale of the black experience to life.
"How To Survive In South Central" captures Ice Cube in his prime, though it wasn't initially included on any of his own releases. Cube's female protégé Yo-Yo comes correct with "Mama Don't Take No Mess," while fellow West Coast gangsta rappers Compton's Most Wanted and Kam also contribute tracks.
How To Survive In South Central
"Whenever I'm trying to do something that is endemic of a certain environment, I have to use that music from that environment," Singleton revealed, with regard to the Boyz N The Hood soundtrack's heavy reliance on LA-based hip-hop. However, a handful of East Coasters thrown into the mix. New Yorkers Main Source's "Just A Friendly Game Of Baseball" uses America's pastime as a metaphor for police brutality to great effect. The soundtrack version is a remix of the original, which had appeared on their groundbreaking debut album, Breaking Atoms. Perhaps the most historically significant track on the soundtrack, however, is "Too Young" by Hi-Five, featuring a teenaged MC named Prodigy, who would soon make a name for himself as one half of the Queensbridge duo Mobb Deep.
Poetic Justice
John Singleton followed his cinematic debut with Poetic Justice in 1993, which, like Boyz N The Hood, sees renowned musicians cast in key roles. This time Janet Jackson and Tupac Shakur star as an unlikely couple who fall in love over the course of a road trip after finding commonalities in their painful family situations. The Poetic Justice soundtrack is an intermingling of hip-hop (Mista Grimm, Pete Rock & CL Smooth, Naughty By Nature, Dogg Pound, Nice & Smooth) and R&B (TLC, Babyface, Tony! Toni! Toné!, Terri & Monica, Cultural Revolution, Stevie Wonder and the first-ever appearance of Usher – then going by Usher Raymond), with Pac contributing "Definition of A Thug N__ga."
Definition Of A Thug Nigga
Baby Boy
Tupac was also set to star in Singleton's next coming-of-age hood film, Baby Boy, before his murder in 1996. The role of Jody, a 20-year-old who lives with his mother and small child in South Central LA, then went to R&B singer Tyrese Gibson. Released in 2001, Baby Boy saw the intermingling of hip-hop and R&B within many of the tracks themselves. Snoop Dogg (who plays ex-con Rodney) pairs up with Tyrese and Mr. Tan for "Just A Baby Boy." Singer Raphael Saadiq and Houston rapper Devin The Dude collaborate on a track, as do D'Angelo and Marlon C. And who can forget the slow jam opus "Straight F__kin" by The Transitions, featuring Charles "Gator" Moore?
Snoop Dogg featuring Tyrese and Mr. Tan - Just A Baby Boy
Four Brothers
When it came to creating a soundtrack for 2005's Four Brothers, starring Mark Wahlberg, Tyrese Gibson, André Benjamin (aka André 3000 of OutKast), and Garrett Hedlund as adopted siblings in Detroit on a mission to avenge their mother's death, the studio wanted Singleton to make it hip-hop. He refused, insisting that it needed to reflect the kind of music their mother would have listened to – late 60s and early 70s soul meets R&B and Motown.
Four Brothers holds true to the director's vision, and includes classic Motown tracks by Jackson 5, Marvin Gaye, Four Tops, The Temptations, The Undisputed Truth, and The Miracles. "Knucklehead" by Grover Washington, Jr, while not originally a Motown release, fits the mood. "This is the music that got us through hard times," John Singleton said of this specific era of R&B, speaking from the personal experience of growing up in the 70s.
Straight to the "scource"
For his films, Singleton often employed what he coined "scource music," a combination of source music and the score. Source music refers to what the audience can visibly see a character listening to in a given scene that then transitions into the background score of that scene. Singleton would also play the music on set in order to capture the correct emotion from the actors.
The director firmly believed that black representation in film was often corrupted by studio execs from outside the community meddling with art. This made music a generally truer form of expression than cinema. "In terms of African-American aesthetic, the purest images we have is only through music," said Singleton. "If music is used very well through film, it lifts and adds a whole other emotion."