'Rock Follies': Remembering The Groundbreaking Feminist Music TV Show
Scripted by Howard Schuman, with music by Roxy Music's Andy Mackay, 'Rock Follies' was a radical TV show.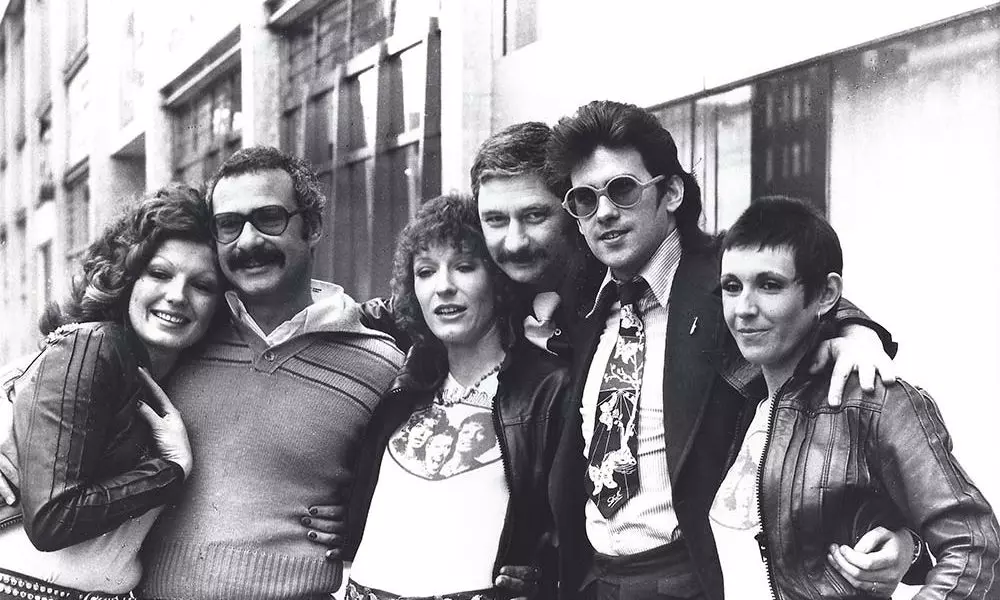 "There had never been anything like Rock Follies," said singer and actress Julie Covington, praising a groundbreaking feminist television show that ran for 12 episodes and two seasons on British channel ITV from February 1976 to June 1977. It won three BAFTA awards and spawned a No. 1 album that went platinum, and a second album that reached No.13 in the charts.
Rock Follies, which was written by Howard Schuman, starred Charlotte Cornwell (as Anna), Julie Covington (Dee), and Rula Lenska (Nancy "Q" Cunard De Longchamps) as the all-female rock band The Little Ladies.
The show, which was supported by the newly-arrived head of drama at Thames TV, Verity Lambert, was a huge success and was also syndicated in the US by PBS, becoming a cult hit among American audiences. It was praised as "bitingly convincing" by The New York Times.
"It was about the use of male power"
In the plot, a future rock trio meet while auditioning for a revival of a 30s stage musical called Broadway Annie. When that show flops, the women embark on an odyssey into the world of rock, forcing them to encounter the seedy, manipulative side of the music business in the 70s. "The programme was terribly daring for its time," said Lenska, who later appeared on Celebrity Big Brother.
"Rock is about power," says Cornwell's Anna in one episode. Cornwell, a former Royal Shakespeare Company actress, believes this was the message at the heart of the show. "The important thing was that Rock Follies dealt with three women in a world dominated by men," said Cornwell. "It was about the use of male power and that was what was different and fresh about it. It was the first TV series that looked seriously at how women in a media situation can be manipulated."
"I saw that men controlled the industry"
So when did Schuman first consider writing about the exploitation of women? "Back in New York in the 60s, my then writing partner and I were signed with a music publisher (Hill And Range). We were writing an off-Broadway musical and also producing would-be pop singles," Schuman told uDiscover Music. "I saw then that men controlled the music industry and women were treated with a mixture of condescension and contempt. As a gay man, I seemed to empathize with so many of my women friends, who seemed tied to men much less capable than they were. Arriving in London and breaking into television, once again I saw that most women were held back from the powerful jobs – not least at the BBC. I guess all that affected the writing of Rock Follies."
In the show, the three singers were constantly manipulated by men, who also objectified the women. The supporting cast featured quality actors such as Bob Hoskins (as the obnoxious entrepreneur Johnny Britten), Tim Curry, and Michael Angelis – who was later in Boys From The Blackstuff. Angelis played the creepy agent Stavros, who runs Pleasure Promotions. He assumes the struggling girls' debts and uses that financial hold to control their lives. "I have you…" he warns sinisterly.
"Many of the 'old guard' were overtly hostile"
Schuman says it took time to understand the impact the show was having on the public, even though there was an immediate buzz around a program that was attracting up to 15 million viewers for each episode. "Rock Follies portrayed aspects of modern Britain that other dramas weren't dealing with," said Schuman. He vividly recalls the reaction when one of the musicians on the show asked his own mother – who was an office cleaner – why she related to Rock Follies. "Because I understand all the s__t those women are going through,'" she replied.
The plotlines were gritty, especially those based around Covington's spiky-haired, commune-dwelling Dee. She mixed with characters who complained about the "s__thouse society" that Britain was at the time. The depiction of alternative lifestyles – there were characters who were ambisexual, and black youngsters studying sociology – was progressive and controversial for mainstream television.
"They can't say that on television!"
The reaction to the show was not entirely positive. "Younger men and women in television were incredibly excited by Rock Follies, but many of the 'old guard' were overtly hostile," says Schuman. When it was nominated for its first BAFTA, 56-year-old BBC producer Cedric Messina, who was part of the awards committee, said, "If you give this award to Rock Follies, I'm emigrating to South Africa."
There were comic moments during production, too, especially involving ITV's on-set censor. "In episode four of the first series, The Little Ladies star in a soft-porn musical called Hot Neon," recalls Schuman. "At one point the dim-witted stud asks the producer, 'How many orgasms do you want?' The censor found that line very upsetting. So I replaced it with, 'Why can't I just grease up my pectorals and poke her one; you know, the usual…' which the censor found far more acceptable! Aside from that, tribute must be paid to Jeremy Isaacs, then the Controller of Thames TV, who fought to keep in everything I wrote, including, I believe, the first use of the word 'wank' on British television. A taxi driver once told me he watched that episode with his mum and when she heard it, she said to him: 'They can't say that on television!' and he replied, 'They just f__king did, luv.'"
"The music is imperishable"
At the core of the show, too, was the music, with songs composed by Schuman and Roxy Music oboist and saxophonist Andy Mackay, who brought an authentic rock quality to the music.
"Andy's music is imperishable. The rock songs for The Little Ladies – during their earthy pub and touring period – have a distinctive, timeless sound," said Schuman. "But it's often forgotten that Andy wrote in many other styles for the show: from the brilliant pastiche of 30s American musical comedy in episode one, to The Andrews Sisters' big-band sound ("War Brides") in the final episode of the first series. Working with Andy was one of the great joyous experiences of my career."
It was a frantic, exhausting schedule for everyone involved. "It was very much seat-of-the-pants stuff. Once we got going we were, in effect, writing an hour-long musical every month or so," the 73-year-old Mackay told uDiscover.
"Everything was as close to real as possible"
"One of the key decisions about Rock Follies was that everything was going to be as close to real as possible," Mackay recalls. The girls did their own singing, with no overdubs, and they were going to do their own dancing. The real band are the ones in shot. We were all in rehearsal rooms, like we were doing a real musical. Someone would be learning a tap dance in one corner and we might be doing backing vocals in another, side-by-side with costume designers and Howard making script changes. Some of that energy does come across."
It was Mackay's idea to release a bespoke album of Rock Follies. "The idea of an album was so outside the experience of Thames TV," says Mackay. "But as a working musician in a band with a good profile, they left it to me. We recorded a basic mono soundtrack at the six-track Thames studio, which was not ideal, and the Musician's Union at the time would not clear it for use on an album. So I said, 'I will get a record deal and we will re-record the songs.' The first album came out on Island Records and the second on Polydor. We managed to get a budget and brought in some good musicians [including Van Morrison's percussionist Peter Van Hooke and Yes pianist Brian Chatton], and they were very quick. Looking back, if we had thought about it more, we might have got more nervous – but we just went for it."
"The record went straight to No.1"
So how did it go down with his Roxy bandmates? "At that time, everyone in Roxy Music was doing their own side projects," explains Mackay. "Bryan Ferry was doing solo covers and Brian Eno had his individual work. When Rock Follies came out, people were wondering whether it was going to fall flat on its face. The music press didn't like it. I was doing an interview with the actresses when a PR came up and whispered to me that the record had gone straight in at No. 1. I think then Bryan Ferry sent someone out to buy a copy and have a listen."
Mackay believes some of the songs have stood the test of time. "The track 'Glenn Miller Is Missing' has been covered a couple of times. The songs on the first series were designed to work in context. As standalone songs, 'The Road' works pretty well, and I liked 'Biba Nova.'"
"By the second series, our methods were more established and I had a little more time," says 73-year-old Mackay. "The way we worked was that Howard wrote the lyrics first, which was the complete opposite of the way that I worked with Bryan Ferry and Roxy. We would record the music first and Bryan would go away and carefully put lyrics to it. The fictional Little Ladies band were trying to have hits in the plotlines of series two, so we had to write songs that might sound convincing as hits. In fact, the single from that run, 'OK?,' which was supposed to be a flop, went to No. 7 in real life. It all got a bit confusing. They are more polished and I think the track 'The Things You Have To Do' could become a good song for covers. Julie Covington around that time was on the verge of being a pretty big star."
So how realistic was the bad treatment of women in the music industry at the time? "The music business, particularly touring bands in the 70s, was a kind of macho, sexist general environment – not with Roxy, I would add, because we always saw ourselves as a little bit more refined – but the whole thing with bands on the road and groupies and partying was evident," says Mackay. "Now, I think, we would find that attitude to women really, really difficult. There were a lot of great women players around in the 70s but somehow they had to become one of the lads to stay there. Now you expect at least half a band to be women and living in a civilized environment. But definitely there was a lot of stuff going on in that era."
The show's odd history
The Roxy star says it is hard to evaluate Rock Follies, partly because of the show's "odd history", which meant that the second series, in 1977, was not shown in sequence because of a strike at Thames. There was also the issue of a court case in the 80s. The original story of out-of-work actresses turned bandmates was inspired by a band called Rock Bottom. The group, led by singer Annabel Leventon, later won substantial damages from Thames TV over the use of her idea.
"There was a court case about the concept from three singers from a band called Rock Bottom who successfully took the production to court and said the original idea was theirs," added Mackay. "I wasn't involved in that at all, and it didn't affect the music or the release of the record, so I have always stepped aside from that. But because of the court case it didn't get shown again so it was never transmitted in the UK after 1977, though it later came out on DVD. It was shown in America, was a success in Australia and dubbed into Italian and German.
And what would people make of it now? "It may be that we are far enough away from the 70s to look like a historical costume drama, rather than out-of-date," Mackay says. "It is interesting to see how much of that era, the clothes and political situation and strikes and sexual politics, is reflected in the show. Along with women's issues and gay issues."
This article was first published in 2019 to celebrate a screening of Rock Follies at the BFI London. We are republishing it today in celebration of the show's first airing on the BBC in 1976. Looking for more? Discover the best music biopics of all time.