'Melodrama': Lorde's Sparkling Farewell to Adolescent Emotions
At once a surrender and a farewell to adolescent emotions, 'Melodrama' renders Lorde's fears and desires as vividly detailed as her portrait on the album's cover.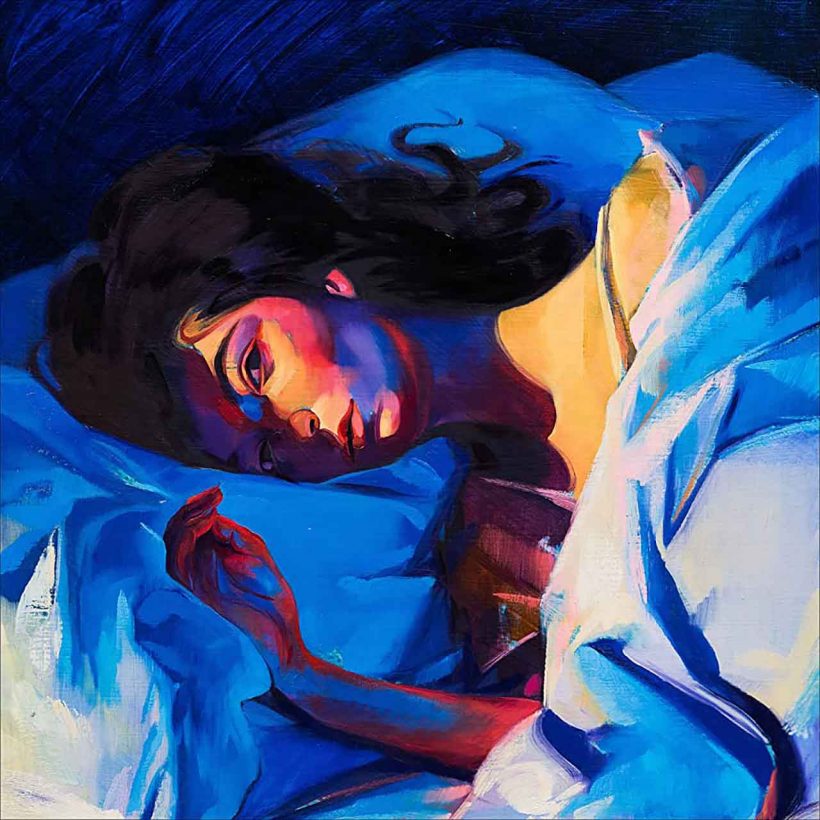 As the title of Lorde's luminous sophomore album, the word "melodrama" is almost too perfect. After all, "dramatic" is just another word people use to dismiss teenage emotions, particularly those of young women. Melodrama is, at its core, a study in teenage emotions, written by a young woman in her final years of being a teenager. It's insufficient to say that Lorde merely sings about her feelings on Melodrama – she paints them, as vivid and richly detailed as her portrait on the album's cover.
Listen to Lorde's Melodrama on Apple Music and Spotify.
Buoyed by the smash "Royals," Lorde's debut, Pure Heroine, sold over five million copies worldwide and transformed the husky-voiced New Zealand teen into a pop superstar. She became a member of Taylor Swift's "squad," walking the red carpet with the likes of Selena Gomez and HAIM. She appeared as a guest vocalist (alongside Joan Jett, Kim Gordon and St Vincent) at Nirvana's Rock and Roll Hall of Fame induction, singing "All Apologies." She curated and executive produced the soundtrack to The Hunger Games: Mockingjay, Part 1, assembling an impressive roster that included Ariana Grande, Grace Jones, and more. For a while, it looked like we were going to be seeing Lorde everywhere.
Stepping out of the spotlight
Instead, Lorde largely took the time between Pure Heroine and Melodrama to step out of the spotlight and grow up. The girl who once sang "it feels so scary, getting old" hid from the public eye and partied at her friends' houses instead of nightclubs. She also underwent two profound changes in her personal life, moving into her own home and ending a three-year relationship –something she described as her "first major heartbreak." However, Lorde was determined that the songs she was writing would be more than just breakup songs: As she told The New York Times Magazine two months before Melodrama's release, "It's an album about being alone. The good parts and the bad parts."
Lead single "Green Light" is the closest Melodrama gets to a breakup song, but Lorde doesn't exactly sound heartbroken. She sounds defiant, almost vengeful when she spots her ex at the bar with his new girlfriend, wanting to scream at them that he was the one who ran when things got serious, and that, no, he actually hates the beach. But she doesn't – she doesn't want to waste any more time thinking about this fool. She wants to find someone else to kiss and dance with, someone else to fall in love with and write songs about. She wants to make music to the brand-new sounds she hears in her mind. And then comes the chorus, which explodes like a fluorescent firecracker: "I'm waiting for it, that green light, I want it!"
"Green Light" was the lone track on the album co-written by Joel Little, who had co-written and produced every track on Pure Heroine. On Melodrama, Little's role was filled by Jack Antonoff, Bleachers frontman who'd recently branched out into production. In contrast to the dark electronic throb of Pure Heroine, Antonoff's production on Melodrama is brilliant in the truest sense of the word, practically shimmering with light and color. If Pure Heroine was the first 20 minutes of The Wizard of Oz, the chorus on "Green Light" marks the moment when Dorothy steps out of sepia-toned Kansas into the Technicolor Land of Oz.
Transcendent and cathartic pop
In the last few years, Antonoff has become one of pop's most versatile producers, collaborating with Taylor Swift, St Vincent, Lana Del Rey, and more. Melodrama was, amazingly, the first album that Antonoff produced that wasn't one of his own and it features some of his most impressive work behind the boards. Just when you think "The Louvre" will burst into another chorus like that of "Green Light," it dives into a pool of glitchy, ghostly voices.
There's a moment on the first part of "Hard Feelings/Loveless" where another producer might have put a guitar solo, but Antonoff throws in a synthesizer that sounds, in his own words, "like metal bending," and it makes for one of the most jarring, thrilling moments on the album. And on the songs where he does go for a conventional climax – the aforementioned "Green Light" and the album's closer "Perfect Places" – it delivers some of the most transcendent and cathartic pop of the last decade.
But Lorde is always the focal point of these songs, as she should be. Her voice, already one of pop's most distinctive, is a thing of wonder on Melodrama – unvarnished and vulnerable on tracks like "Liability" and "Writer in the Dark," multitracked and aloof on others. In those moments, when she's effectively singing along with herself in a higher register, it's as if the voices in her head become a Greek chorus, urging her to act on her fears and desires.
Cinematic grandeur
It's Lorde's own words, more than Antonoff's production, that renders those fears and desires with the cinematic grandeur of a John Hughes film. Months before "Look What You Made Me Do" declared the old Taylor dead, Lorde wrote two perfect Taylor Swift songs: A fond but firm farewell to a former flame, "Writer in the Dark" is full of Swiftian lyrical knife-twists, while "Supercut" puts a nocturnal spin on 1989, looking back on the relationship and realizing that the highlights are only part of the story. Sometimes she's just describing the scene around her in such detail that you can imagine yourself at the party with her ("Oh God, I'm closing my teeth / Around this liquor-wet lime," she sings on "Sober"), while other times she's writing about intimacy, that tantalizing subject, in tactile and evocative ways ("My hips have missed your hips," she opines on one song, "Half of my wardrobe is on your bedroom floor," she murmurs on another).
Lorde - Writer in the Dark (Vevo x Lorde)
Seven months before Melodrama was released, Lorde turned 20, and to celebrate the occasion she posted a letter to her Facebook page. She touched on the experiences that shaped the songs – the heartbreak, the solitude, the exhilaration – and promised her fans that they would be able to hear those songs soon. "Even when I was little, I knew that teenagers sparkled," she wrote. "I knew they knew something children didn't know, and adults ended up forgetting." On Melodrama, Lorde surrendered to her teenage emotions one final time before saying farewell.