'Portrait Of An American Family': Marilyn Manson's Picture Of Hypocrisy
The short in the arm that rock music needed, 'Portrait Of An American Family' introduced Marilyn Manson to the world while skewering mainstream culture.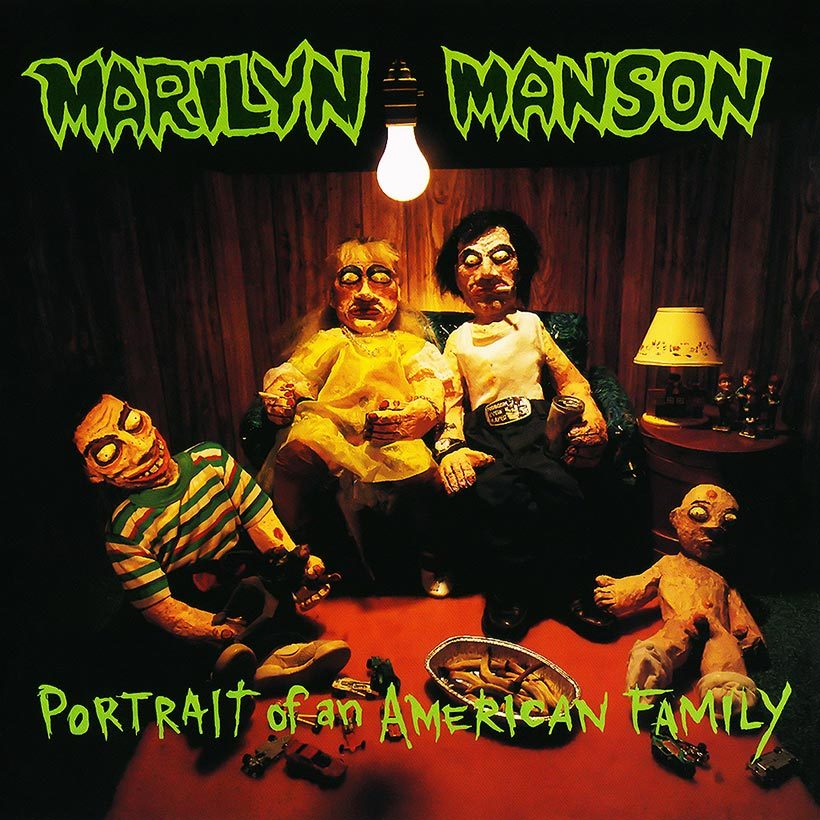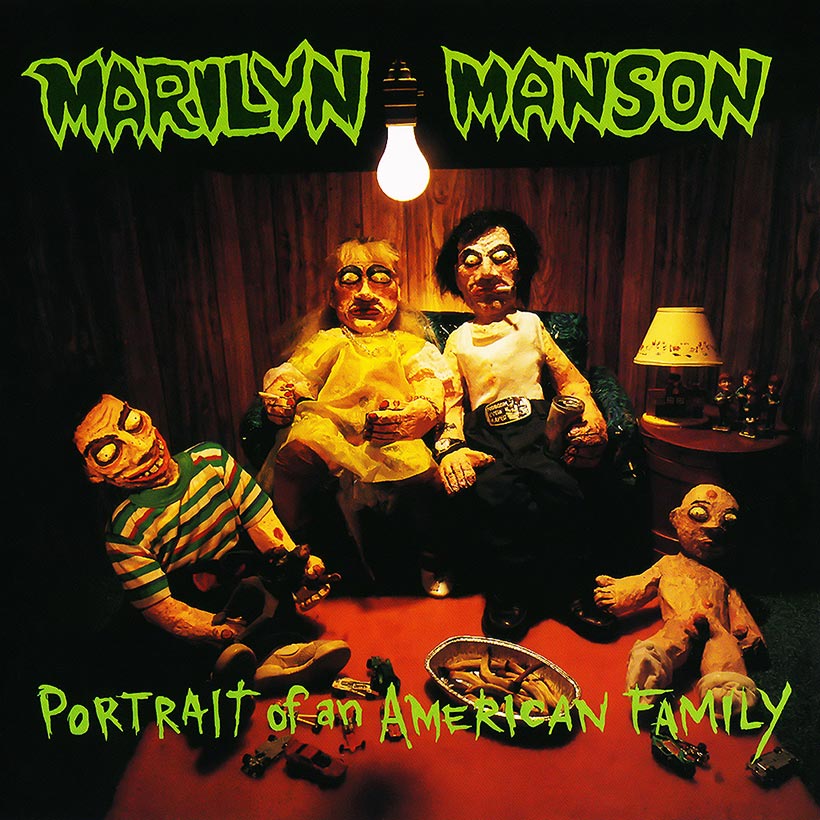 When Marilyn Manson dropped the "Spooky Kids" suffix from their name, they soon followed with their debut album, Portrait Of An American Family, on July 19, 1994. The band had been kicking around the Florida punk and hardcore underground for five years and thrived on notoriety. Their live shows featured nude women on crucifixes, caged children, bloodied animal parts, sadomasochism and DIY pyro, and their reputation was enough to sell out 300-capacity venues before they even had a record deal.
Listen to Portrait Of An American Family right now.
As a music journalist named Brian Warner, Manson had befriended Trent Reznor while writing for lifestyle magazine 25th Parallel. The meeting ultimately led to Marilyn Manson becoming the first signings to the Nine Inch Nails frontman's Nothing imprint. An early recording titled The Manson Family Album was scrapped due to its poor production quality, and, in an effort to better capture the grit of their live shows, they recruited Reznor as producer. The scrapped album's songs were remixed, reworked and re-recorded, and out popped Portrait Of An American Family.
An appraisal of hypocrisy
Thematically, the album is a wry appraisal of the hypocrisy that exists in mainstream culture. References to popular kids' films and TV shows a juxtaposed with dialogue from controversial movies and quotes from serial killers in a sardonic mash-up of lyrics and samples. It's an extension of the good-versus-evil conveyed in the band's name: playing on the idea that even sex symbols have a dark side and convicted murderers can foster warmth and intelligence.
So, too, there is a darkness present in the most seemingly innocuous children's books (album opener "Prelude (The Family Trip)" reworks a passage from Roald Dahl's Charlie And The Chocolate Factory), movies ("Organ Grinder" samples the Child Catcher's dialogue from Chitty Chitty Bang Bang) and TV shows ("Misery Machine" is a play on the Scooby-Doo gang's van, Mystery Machine). Conversely, "My Monkey" and "Snake Eyes And Sissies" feature samples of interviews with serial killers Charles Manson and Richard Ramirez.
Marilyn Manson - Get Your Gunn
Elsewhere, the title of the song "Wrapped In Plastic" is a direct reference to Twin Peaks and how the body of its primary character, Laura Palmer, was discovered in that show's pilot episode, while "Get Your Gunn" examines the murder of abortionist Dr. David Gunn, who was shot and killed by a pro-life advocate. Manson would later say the homicide was "the ultimate hypocrisy I witnessed growing up: that these people killed someone in the name of being 'pro-life'".
Equally disturbing music
The themes, then, form a narration for equally disturbing music; a dark and eruptive cocktail of buzzing guitars, throbbing bass and off-kilter synths, peppered with jarring samples. It's gothic electro-rock with a punk heartbeat that's as savvy as it is potent. The singles 'Get Your Gunn', "Dopehat" and "Lunchbox" captured the imaginations and dark hearts of disaffected youth who had been led into the murky waters of self-doubt by the grunge scene in the years leading up to Marilyn Manson's arrival. Portrait Of An American Family was an empowering mix of conformist ridicule and a dark visual dynamic that was the shot in the arm rock music needed in 1994.
Ultimately, Portrait Of An American Family is not Marilyn Manson's best album. Nevertheless, its release marked the coming of a new era of artistic controversy and the emergence of the most identifiable rock star of a generation. The God Of F__k had arrived.
Portrait Of An American Family can be bought here.
Listen to the best of Marilyn Manson on Apple Music and Spotify.