'You Have To Trust Your Instinct': Miles Copeland On I.R.S Records And 50 Years Of Artist Management
The London-born American music mogul's new book, 'Two Steps Forward, One Step Back' is out now.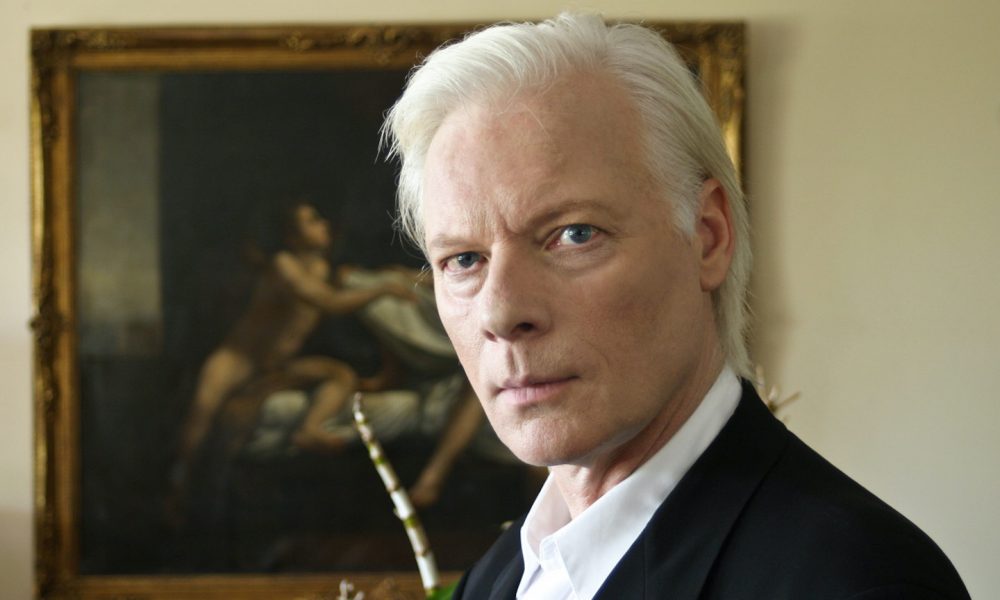 If they're going to survive in the entertainment industry, an artist needs a manager. Yet, what traits set a really great manager apart from the pack? Should they be a media mastermind such as The Rolling Stones' Andrew Loog Oldham? Or a force of nature like Led Zeppelin's Peter Grant? Or maybe a volatile wild card such as Joy Division/New Order figurehead Rob Gretton? Or maybe they need elements of all the above?
"Well, the first job for a manager is to get somebody, somewhere, believing 100 percent that your artist – or whatever you're promoting – is the greatest thing since sliced bread," says Miles A. Copeland III.
"If you can get one person, you can get two. If you can get two, you can get four. If you can get four, you get eight. You can then get 60…and it goes like that. Ultimately, the job is to get somebody to believe, to get them noticed. That's really what it comes down to."
Copeland has put this theory into practice with great success many times over the years. This London-born, American music and entertainment executive describes himself as "Mr. Straight" and he may be the antithesis of the aforementioned larger-than-life figures, but make no mistake – Miles Copeland is right up there with the music industry's most substantial movers and shakers.
Miles' remarkable CV includes his lengthy stints managing The Police (and latterly Sting's solo career) and founding the pioneering I.R.S imprint which launched the careers of R.E.M., The Bangles, The Go-Go's, The Cramps, Wall Of Voodoo, The Alarm, and many more.
As you might imagine, he has a seemingly limitless well of anecdotes from the business end of showbiz and many of them can be relished in his new book, Two Steps Forward, One Step Back: My Life In The Music Business, now available through Jawbone Press.
While Copeland hasn't only survived, but thrived for 50 years on the industry frontline, it might surprise some to discover that he became involved in the business almost by chance. His childhood was nomadic, with his family following his CIA operative father to the Middle East where Miles and his siblings grew up in Syria, Egypt, and Lebanon.
Copeland promoted his first gig at his alma mater – the American University of Beirut – after he received his economics degree in 1969, but he only became directly involved with the music industry after he moved to London in the early 1970s. London wasn't swinging anymore, but Copeland soon got his feet on the ladder, forming BTM (British Talent Management) in 1974 and signing several respected progressive rock acts including Renaissance and Curved Air, in addition to the pre-punk Squeeze.
'I think I needed to learn that things can go down just as easily as they can go up'
In the summer of 1975, Miles also organized a multi-band tour of European music festivals, named Star-Trucking, which featured several BTM bands as well as Soft Machine, the Mahavishnu Orchestra, and Lou Reed. In retrospect, the venture can be seen as a blueprint for modern-day events such as Lollapalooza, but while Copeland was years ahead of his time with Star-Trucking, his ambition almost destroyed him. Reed's failure to appear at any of the shows and other irreconcilable logistical issues resulted in significant losses for Star-Trucking – and ultimately to the failure of BTM – with Copeland himself sailing close to bankruptcy. These days, he's philosophical about the experience.
"Well, it was still early days for me and I think I needed to learn that things can go down just as easily as they can go up," he reflects. "Better to have done it early on in my career than much later on when the disaster would have been more pronounced. I'll admit it was very painful for me at the time, but it turned out to be a good thing. In fact, I would say that Star-Trucking was the beginning of the change for me."
The change he refers to is the rise of punk rock which coincided with Copeland rebuilding his empire out of an office in London's Dryden Chambers. As it happened, Sex Pistols' manager Malcolm McLaren also ran his operation from the same building, so Copeland had the opportunity to observe him at close quarters.
"In retrospect, I question whether Malcolm could actually be called a manager," he says. "I mean, for me, a manager works for the artist. Malcolm was not really thinking in those terms and, as we've seen, he later turned out to be an artist himself and made records."
"Malcolm understood the media, which is something one could learn from, and I respected his ability to get press," he adds. "But he was much more interested in the notoriety and being the center of attention than he was working for the band."
"The Pistols went along with the whole outrage thing because they got a lot of publicity, but I went to Holland with them [in January 1977, shortly after the notorious Bill Grundy TV incident and it was obvious they were in it to play gigs and be a band first and foremost."
'I think punk scared the major labels'
Punk did, however, help re-establish Miles Copeland's career. He was all over the era's DIY explosion and instrumental in setting up several small, but influential independent imprints. Across 1977-78, he helped establish Illegal Records to release The Police's first single, "Fall Out". He also introduced Deptford Fun City to issue Squeeze's first EP, the John Cale-produced 'Packet Of Three,' and he co-founded Step Forward with Mark Perry – releasing early titles by Chelsea, The Cortinas, and Manchester's The Fall, featuring Mark E. Smith.
"I think punk scared the major labels, at least to a degree," Copeland says of this time. "They tried to write the whole scene off, but the reality is that it really was a generational change. It was younger people wanting to express themselves their own way and not follow in the footsteps of their parents."
The Police - Fall Out - 11/29/1980 - Capitol Theatre (Official)
"I could relate to that and the punks did pay attention to me, so we became sort of natural allies," he continues. "I helped Mark Perry's Sniffin' Glue fanzine get to 20,000 circulation, but Mark really impressed me. Here was a guy who just believed in what he was doing and wanted to say something – and did! It didn't matter that it was on some crappy bit of paper which was mimeographed and stapled together. I got enamored with the whole punk thing because it was kind of thumbing your nose at the establishment who had already thumbed their nose at me. In a way, I was championing the punks partly as a rebellion myself."
Copeland's association with Mark Perry did, however, lead to him funding the recording of Perry's band, Alternative TV's divisive second album, Vibing Up The Senile Man. Echoing some of the record's critics down the years, he pointedly refers to it as "the worst record ever recorded by anyone at any time."
"The only other record to compete with it was Lou Reed's Metal Machine Music – and he did that to get out of a record contract, so there was a purpose to it," Copeland says.
"Mark, however, actually made Vibing Up The Senile Man as a record that was seriously going to be released as the follow-up to Alternative TV's very successful first album, The Image Is Cracked. He made me stay out of the studio and then I went in and heard this utter crap. I was telling my kids about it and they didn't believe me to begin with, but then they looked it up on the internet and discovered it really was the sound of moving chairs and farting and just nothing. It's literally the worst record ever – and I recorded it!"
'A picture is worth a thousand words'
Fortunately for Miles, his brother Stewart had co-founded another embryonic punk/new wave outfit with both the talent and drive required to survive – and thrive – as the music industry dealt with the curveball thrown by punk.
"The Police totally understood the energy of punk and the era's can-do attitude," he reflects. "They understood that you could fly to America for 500 bucks and get out there on a shoestring.
"But at the same time, The Police could play their instruments and Sting could write hits. That made the difference. Because they had the chops, which they combined with the energy of punk – that meant they could take it right to the top."
On the back of five mega-selling albums and constant touring, that's exactly where The Police took their career. By the time they went on indefinite hiatus (they never officially split up) in the mid-80s, they'd sold an estimated 75 million albums, with their final studio album, Synchronicity, moving 8 million copies in the US alone. Miles Copeland was there to oversee every step of their career and he was tireless in his pursuit of publicity for his charges.
"One of PR's great lessons is that you learn a picture is worth a thousand words," he says. "So imagine yourself working at Sounds or Melody Maker or NME in those days and you're thinking, what can I write about this week? Most of the pictures you're seeing are of yet more groups in Spandex trousers, just the same as thousands of others. Then all of a sudden, there's a picture of this guy, Sting, looking like Lawrence of Arabia, galloping on an Arabian stallion with the pyramids in the background. That gets in the paper because it's interesting and it's different. It's why KISS painted their faces or why The Rolling Stones wanted to get busted for marijuana. As I said, it's about getting noticed, that's a big part of the job."
The Police's stratospheric success enabled Miles Copeland to start his influential I.R.S label through a deal with A&M Records in 1979. Arguably the venture with which Copeland is most associated, I.R.S remains one of the industry's key left-field imprints, with a roster featuring the likes of Buzzcocks, R.E.M, The Cramps, The Bangles, The Go-Go's and Fine Young Cannibals that now reads like a Who's Who of alt-pop during the 1980s. Inevitably, a hefty chunk of Two Steps Forward One Step Back zones in on the label's history.
"It was a wild time," Copeland freely admits. "I had a couple of artists, I think, who could never quite come to grips with the fact I really liked what they were doing. The Cramps were one – I was always 'Mr. Straight' to them and they never quite trusted me for that reason – and [Wall Of Voodoo frontman] Stan Ridgway was another. I don't think he ever really recognized the fact I always thought what he was doing was brilliant."
The Go-Go's - We Got The Beat
'I've always felt if everybody rejects but I still like it, then it must be a hit!'
I.R.S did, however, chalk up some remarkable achievements, not least with The Go-Go's, whose I.R.S debut "We Got The Beat" topped the Billboard chart – a (still-unequaled) first for an all-female band writing their own material and playing their own instruments. Copeland's imprint also famously signed the nascent R.E.M., though strangely they're the one band he was never especially in tune with.
"If you look at R.E.M., especially in the beginning, they were pretty much the antithesis of what we were doing," he remembers. "I mean, The Go-Go's, Oingo Boingo, Wall Of Voodoo, Skafish, Lords Of The New Church, they were all on edge and The Cramps, Buzzcocks – they were all really image-conscious and there was an energy to them, whereas there was never any drama with R.E.M."
"However, when I hired [future MCA Records President] Jay Boberg as the vice-president of I.R.S, he fell in love with R.E.M," Copeland furthers. "So I let him concentrate on them. At the same time, I'm very thankful to R.E.M. Sure, it would have been nice if they'd resigned to I.R.S (after five albums with I.R.S, the band went to Warner Brothers for 1988's Green), but I look upon them as one of the label's greatest achievements. And it wasn't just me, either – they had everybody at the label fighting for their success. They were the darlings to many people at I.R.S, so I can take some credit, but certainly not all."
Another thing that Two Steps Forward One Step Back makes abundantly clear is that for all his hard-headed business acumen, Miles Copeland is ultimately very much a music fan. Indeed, if his radar hadn't been so tuned in with the times, it's quite possible that a fair number of songs now recognized as classic pop hits may never have reached their full potential.
"There was a lot of music I got off on – but to a lot of people it was strange and weird," he says..
"For example, I was far more enthusiastic about [The Police's breakthrough hit] 'Roxanne' than the band or their label were and later the same thing happened with Sting's 'Desert Rose.' I was told by the record company, 'that's not a single, forget it, we're not going to put it out' and then it became Sting's biggest hit in years. Also, The Bangles' 'Walk Like An Egyptian' – to me that just smacked of a huge hit, but again the record company thought it was too quirky, so I had to force them to release it – and it went straight to No.1. I've always felt, well, if everybody rejects but I still like it, then it must be a hit!"
Copeland of course, readily admits that his rule of thumb doesn't always work out. However, his ability to go with his gut has rarely let him down in a post-I.R.S career which has seen him form another well-respected company, CIA (Copeland International Arts).
"I thought, hell, I've got 50 years in the music business, so there's enough to look back on," he says, explaining why he wanted to write his new book. "There's some pretty crazy stuff in there, seeing as how I've also worked with everyone from [US industrial outfit] Genitorturers, to [actor] Steven Seagal and [maverick singer-songwriter] Hasil Adkins, so there's plenty of stuff that went down that's funny in its own right."
"Part of the reason I titled the book Two Steps Forward One Back was because I had to admit I made mistakes as well, but sometimes you learn from them as much as your successes," he concludes.
"My career wasn't made because I was smarter than anyone else, but because I've had the courage of my convictions. I trusted my own instincts and always signed stuff I liked and mostly that seems to have paid off for me, I'm very glad to say!"
Check out the best of I.R.S. Records on vinyl and exclusive merch.