'You Cannot Stop Listening': Miles Showell On Dire Straits, Mark Knopfler Remasters
Miles Showell of Abbey Road describes his work on the half-speed remasters of 'Brothers In Arms' and 'Local Hero.'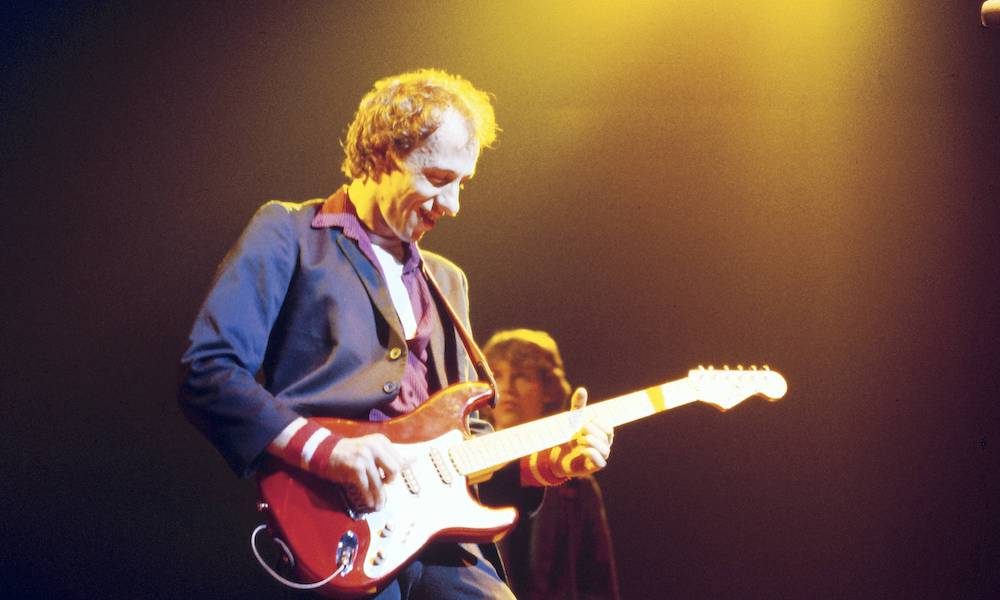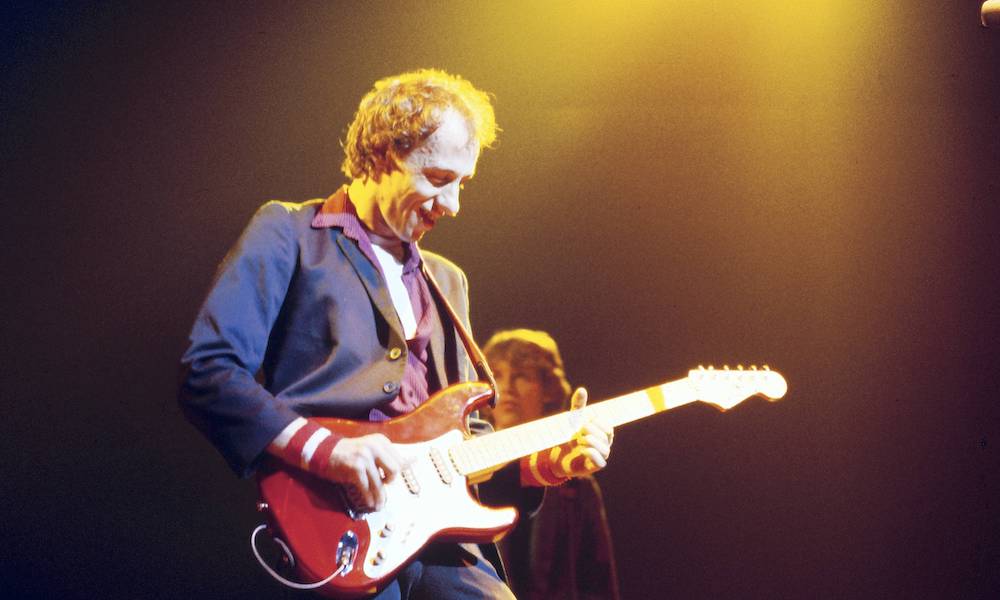 The responsibility of creating new, super high resolution vinyl editions of time-honored albums is one that Miles Showell carries with modest pride. With the growing popularity of the half-speed mastering system that is giving more and more classic albums new and definitive hi-fi distinction, the Abbey Road engineer is ever more the spokesperson for this coveted and meticulous sonic restoration process.
Indeed, it's Showell's name on the certificate of authentication that comes with every new release, explaining the procedure by which the album's source master and the cutting lathe run at half-speed on a specially-adapted Neumann VMS-80 lathe to produce a master of the highest quality, "and enables the pressing plant to produce a superlative record."
After a previous rendezvous to share his remastering technique for the Creedence Clearwater Revival catalog, Showell spoke again to this writer to discuss his newest labour of love: the much-anticipated half-speed editions of Dire Straits' epoch-making 1985 record-breaker Brothers In Arms, and the film soundtrack that had provided Mark Knopfler's solo debut two years earlier, Local Hero. Both are available now from UMC/EMI on 180 gram black vinyl.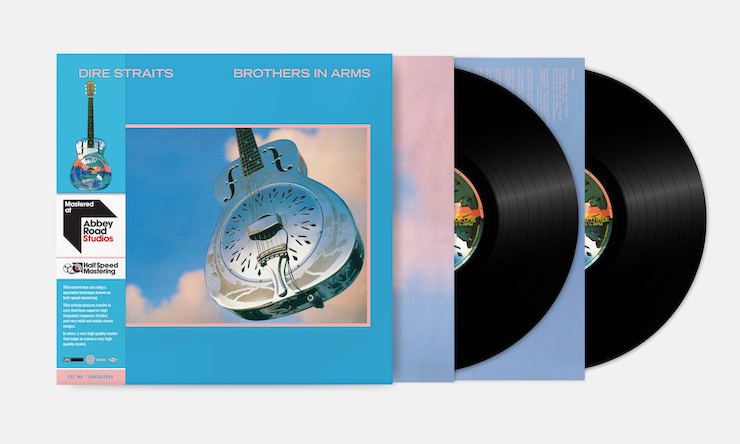 Miles, you were well on the way to this status when we met to discuss Creedence, but now you're the king of half-speed.
[Laughs] Well, it's the thing I do a lot of. I've spent probably 18 years trying to perfect it. There was literally one other guy, Stan Ricker, who wrote the book on it, in California. I contacted him via email and said 'Inspired by your amazing work, I'm giving this a go, any tips?,' thinking he would just say, go away, but he was really helpful.
I think I played you some stuff when you were here for Creedence. It's not a lot of fun to listen to at half-speed when you're cutting it, but when you get the records back, it's kind of 'Wow!' It's probably the biggest string on my bow, but it's not the only string. I do enjoy cutting records, I always have.
Was there extra pressure this time, working on records by such hallowed artists?
I've been a fan of Dire Straits for a very long time, since I first heard "Sultans Of Swing," when I was still at school. Mark is rightly regarded as a legend. There's a reason people still want to buy this music 40-odd years later: because it's bloody good. In another 40 years, people will still be acquiring it, whatever the medium is. You'll probably just think about it and it comes into your brain, by then. It's classic material, and I was chuffed to be invited.
When did this process start, and was it hampered by lockdown?
We had the early conversations in January 2020, and the first tape to turn up was the original tape for Brothers In Arms. The next day, we locked down. Abbey Road closed its doors for the first time in its history, for five weeks last year. It had never closed, even in the Second World War. But we had 24-hour security, so we said don't worry, we'd resume when we were back, and that was kind of how it started.
Let's take Brothers In Arms first, and how you approached that.
The real challenge, because it's a digital recording and quite famously one of the very first all-digital recordings, was persuading the old machines to work. And if you can get the machines to work, is the tape still ok? With analog tape, as it gets older and degrades, you might get the odd click and crackle here and there, or a bit of noise. Normally, you can recover something, or you can fix it. With digital, once the errors get too serious, you drop off a cliff and it's gone, there's no way back.
Thankfully, when they put together the masters for Brothers In Arms, they used Sony tape. In those days, there was no easy digital medium to play it on, so what they would do was convert the digital signal into a video picture, and the video recorded had enough bandwidth to capture the signal. Sony tape is standing up to the test of time really well. So I put it on, and it sounded really good.
That must have been quite a relief.
I mean, it sounded like the 80s, that really in-your-face, hard, bright sound, but I wasn't going to try to change that, because that's what we know and love. I mastered that and sent them to [Knopfler's west London studio] British Grove, just to check that they were happy with the sound. Once I got the nod, I went ahead and did the cuts.
Do you have a favorite track from Brothers In Arms?
The standout tracks always were "The Man's Too Strong" and the title track. Everyone always goes for "Money For Nothing" or "So Far Away." They're great, but those two I've picked are incredible. When you listen to the full-length version of the title track, it's incredible. There's almost nothing going on, but you cannot stop listening to it. It draws you in as only the best music can.
Was Local Hero a similar mastering process?
It was actually more fun trying to get Local Hero to work. There was quite a saga there. The messages I was getting from Universal were, 'It's locked on a really esoteric format, we don't think we can get the masters.' I said 'Tell me what you've got in the archive, we'll have a look.' We've got lots of machines here including some really weird, prehistoric digital stuff. By prehistoric I mean 1980 technology. In the world of digital, that's stone age.
So they just sent scans of the box, and it was a rival system to Sony's digital format made by JVC. Sony won that war. We had a JVC machine here, but it wasn't working. But I managed to find a studio in Japan that took JVC, and they were willing to transfer it for us, with no guarantees. The label said 'Copied from 3M 32-track,' which is a multi-track format. I thought, that doesn't make any sense, because you'd mix it from that, but you wouldn't copy it.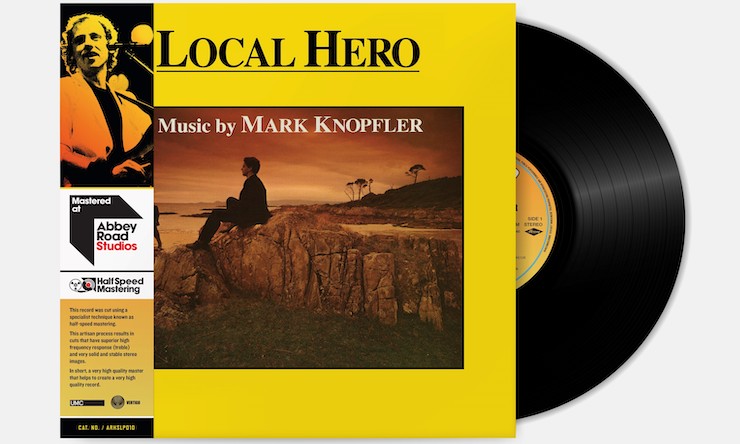 Something was nagging at me, so I said to [the] Universal [archive team], can you send me the scan of the 32-track tape? Lo and behold, on four tracks of this multitrack reel is side A and side B [of the album]. So incredibly, this classic album has been locked on two obsolete formats, for which there are hardly any working machines to recover it.
I then set about finding somebody who could copy the 3M, because that's the original. The JVC tape is an inferior copy. I thought, let's go back to the real source if we can, and I found a company in Germany that were able to recover it. The tape played perfectly.
The Local Hero half-speed plays at the usual 33rpm album speed, but Brothers in Arms is at 45rpm on two discs.
Yes, it's going round faster so it sounds better, and we've gone for the full-length version. The original vinyl LP was edits. There was one track missing, and all the others have got bits snipped out of them just to make it shorter, so you can get it on.
I didn't want to go crazy with the equipment, because Neil Dorfsman who recorded and engineered it did a great job. Both albums are done by Neil [as co-producer with Knopfler and engineer of Brothers In Arms, and engineer of Local Hero]. They sound different, but in their own ways, they're really nice recordings. So my attitude is hands off in that situation and not play with people's heads, not throw in loads of toys just because I've got a whole load in my desk. When you're dealing with good stuff, the best thing you can do is give it a gentle helping hand and let the recording speak for itself.
The albums are very different, but both have a variety of sonic moods, don't they, and Local Hero, being a soundtrack, is necessarily quite episodic.
Local Hero is all sorts of stuff. Some of it is location recording out in the open. There's a live thing going on, and that's actually mono. I had the technology to make it stereo, but I thought 'Best not.'
How about a key track for you from Local Hero?
I'll tell you what was lovely to hear again on Local Hero was Gerry Rafferty, on "The Way It Always Starts." I'd forgotten he was on it. It's such a distinctive sound and he's such a lovely voice. There's only one person who sounded like that, and it's a shame we don't have him anymore, but he did leave some amazing stuff, including that track.
This is also the sort of music that attracts a high percentage of audiophile listeners.
Even the very first [eponymous, 1978] Dire Straits album is a fantastic recording. They're all exemplary recordings. Also, the music was interesting, so they're bound to attract a lot of hi-fi people. I seem to recall reading in about 1985, of all the people that had CD players in the UK, 30% had Brothers In Arms. In those days, a CD was the equivalent of a couple of thousand pounds now, so they weren't in all homes, by any means. The early adopters were the hi-fi nuts of their day.
At the other end of the scale are listeners who may wonder why you go to such painstaking extremes to remaster these things.
There are lots of things now that make tiny, tiny changes but when you add them all together, they can really improve it. That's really what we can do, if we get a good digital recording that's on a tape that still works, you can get more from it. People say 'Why bother, I bought the CD 30 years ago, there's no difference.' Well there is a difference, but if you're not interested, that's fine, stick with what you know.
But there's no doubt that we find ourselves in this unlikely new heyday for vinyl.
People talk about the golden age of vinyl being in the 50s and 60s. Nonsense! Records were cranked out as cheaply as possible in those days, unless it was classical, in which case you got slightly more effort put into it. Once the oil crisis hit in the 70s, they got thinner and thinner. None of that applies anymore. Everybody who makes records is trying really hard to improve on it and keep the standard as high as possible.
The half-speed vinyl masters of Brothers In Arms and Local Hero are released on March 19. Pre-order them here.