'Come As You Are': The Story Behind The Nirvana Song
The second single from Nirvana's classic 'Nevermind' is a searing and empathetic appeal for authenticity.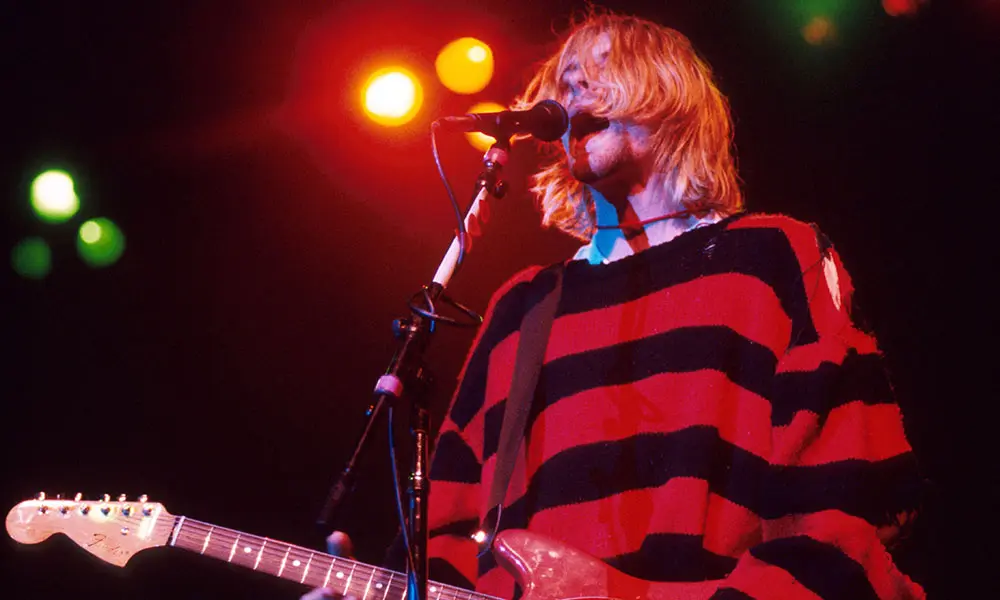 As Nirvana geared up to start work on their second album in the early months of 1991, there were some business affairs that required their attention and interrupted their process. Initially signed to Seattle-based label Sub Pop, who'd previously put out releases by local bands Soundgarden, Tad, and Mudhoney, the group had become disillusioned by the indie and were looking for an alternative home.
Interest in the group had heightened after demos of the songs intended for the new album were leaked and shared among a few labels. They had been recorded in April 1990 at Smart Studios in Madison, Wisconsin, home of producer Butch Vig, whom the band had chosen due to his earlier work with Madison noise-rock group Killdozer.
Listen to Nirvana's "Come As You Are" as part of the 30th anniversary editions of Nevermind here.
"They were pretty scruffy and grungy when they showed up," Vig recalled of their first meeting. "They had been driving in the Sub Pop van… so they had been playing shows, and by the time they got into the studio they were in dire need of a shower and a hot meal."
Choosing a label
Since recording those songs – which included early versions of Nevermind cuts "Polly," "Breed," and "Lithium" – Nirvana had some adjustments to contend with. First was the departure of their drummer, Chad Channing, who had played on the demos and was replaced by Dave Grohl. Second was their label change.
If they wanted to leave Sub Pop, Nirvana would have had to buy their contract out. The only option was to seek a major label that could afford to do so. Though the notion rankled with Kurt Cobain, who was resolutely punk rock at heart, signing with a major could afford the group the means with which to reach a much larger audience.
Geffen Records was chosen from the majors that courted them, and the label proceeded to suggest a list of big name producers that should helm their forthcoming album. Nirvana were adamant that Vig was still their top choice and so, by the time it came to begin recording sessions in May 1991, Vig was already familiar with the material and the band's methods.
"When I went to do Nevermind, I had an idea of what it was going to be like," Vig said. "I just knew I had to be ready to go, and when Kurt was on his A-game, we had to hit 'record'."
There were some last-minute additions, however, which Vig received on a cassette that contained song demos roughly recorded at a group rehearsal. It was on this tape that Vig first heard "Come As You Are."
Recording Nirvana's "Come As You Are"
When Nirvana reconvened with Vig – this time at Sound City Studios in Van Nuys, California – they were focused on the material at hand and primed to record them. "Before they came in, they rehearsed every day for six months, like ten hours a day," Vig remembered. "Kurt, contrary to the slacker attitude, wanted to have a hit record. He wanted to make a really good-sounding album."
"Come As You Are" is built around Kurt's low-end guitar riff (made unsettling by its undulating tone), which is echoed by Krist Novoselic's bass to produce a simple yet hypnotic hook that is suspended only for the bridges. "We wanted them to be almost like children's songs," Dave Grohl would say of Nevermind's tracks. "We would tell people they were intended to be as simple as possible."
The meaning of the song
Lyrically, the song – like much of Nevermind – reflects Cobain's diametric tendencies, with deliberate contrasts throughout. He implores the listener to "Come as you are," before acquiescing to "as you were," while the command to "take your time" is countered by "hurry up," though ultimately "the choice is yours."
There's a theory that the song is an allusion to heroin, which Cobain had been using for a couple of years. Its sedative role as a comforter made it "a friend," yet its addictive and destructive qualities rendered it "an old enemy." The instruction to come "soaked in bleach," meanwhile, may have its roots in the same source as the title of their 1989 debut, Bleach, which was an 80s HIV awareness campaign in Seattle that encouraged users to bleach their needles after use to ensure the disease wouldn't be spread.
Cobain, however, said the song is "about people, and what they're expected to act like." That context is played out in the propositional nature of the lyrics, implying that Cobain – despite being a complicated, self-confessed outsider – is comfortable in the presence of strangers, as long as they are genuine and remain true to themselves. His reassurance of "I don't have a gun" insinuates that any contempt he has is reserved for the society that promotes assimilation, and not the individuals that comply.
"I think that song is about acceptance, and about misfits," Butch Vig said. "You're cool no matter how screwed up you are. 'Come As You Are' is an ode to accepting someone for who they are."
The release of "Come As You Are"
Earmarked by management as the song they felt would be the most effective single to elevate the band beyond the cult status they'd so far acquired, "Come As You Are" was scheduled to be the second single from Nevermind behind "Smells Like Teen Spirit," which they felt would merely be a tentative teaser ahead of the main event. Nobody foresaw the phenomenon that "Smells Like Teen Spirit" became, sweeping up a massive fanbase on a global level. And so, when it came time to actually release the song, there was even more expectation resting on it.
Just prior to its release, however, Cobain voiced some doubts over "Come As You Are" facing such scrutiny. His reticence was due to the striking similarities to the 1985 Killing Joke song "Eighties." Certainly, the comparisons are obvious. Killing Joke thought so, too, and threatened Nirvana with a copyright infringement suit – hiring musicologists to confirm the parallels, and sharing legal papers with Nirvana's management. The claim never made it to court, however, as Killing Joke dropped the case after Cobain's death in 1994. "It's a short fucking life, mate," reasoned KJ frontman Jaz Coleman, "we could be going fishing or something sensible."
The video for "Come As You Are"
Released in March 1992, "Come As You Are" may not have fared quite as spectacularly as its groundbreaking predecessor, but it still breached the Top 10 internationally and cemented Nirvana's reputation as the most vital rock band of their time.
Nirvana - Come As You Are (Official Music Video)
Kurt had not wanted to star in its accompanying video, but was ultimately convinced on the promise that the group's faces would be distorted. Drawing inspiration from the Nevermind cover art, which showed a baby swimming underwater, Nirvana were obscured in the video by running water that separated them from their audience, their ambiguousness accentuating the song's distaste for contrived behavior.
That message has endured as a trait for which Kurt Cobain is revered, and is why, in honor of their local hero, his hometown erected a road sign on its outskirts in 2005 that read: "Welcome to Aberdeen, Washington. Come As You Are."
Listen to Nirvana's "Come As You Are" as part of the 30th anniversary editions of Nevermind here.