Queen + Adam Lambert: A Royal Celebration
"I have always looked at this as a great opportunity to celebrate Queen's catalog first and foremost."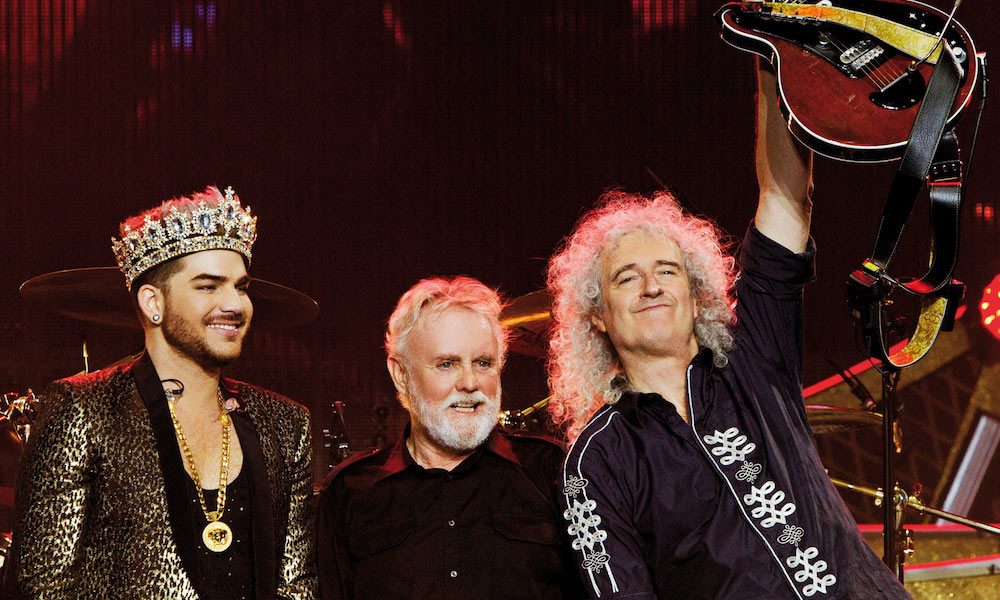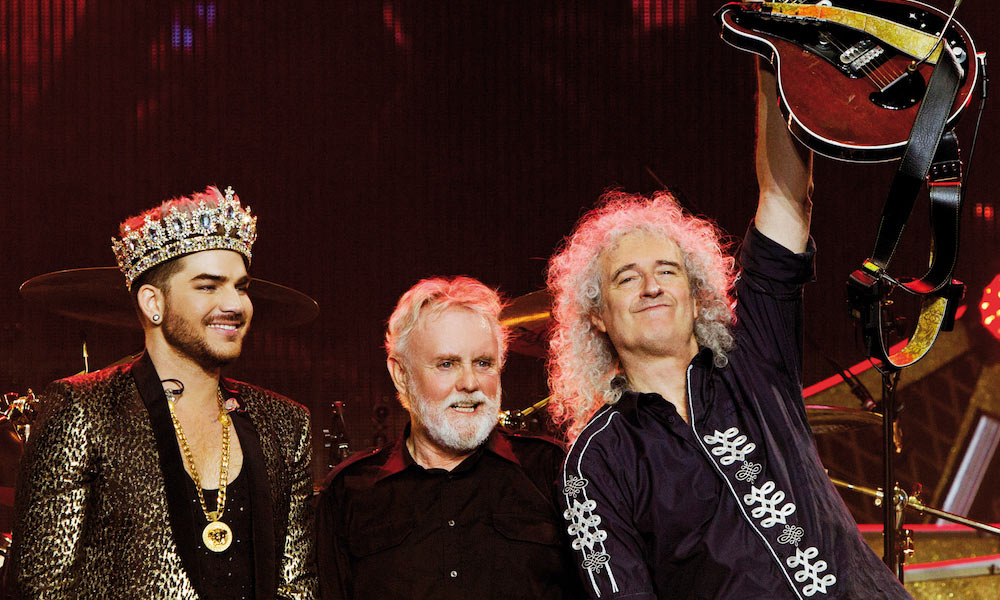 When Freddie Mercury died in November 1991, most people naturally assumed Queen would be laid to rest with him. In fact, his bandmates certainly believed that would be the case while they tried to come to terms with the loss of their friend.
"With Freddie's death, we just thought it was all over, you know", drummer Roger Taylor stated in the 2019 documentary, The Show Must Go On: The Queen + Adam Lambert Story.
"We were a little bit concussed by the whole thing and we hadn't planned to ever play again."
However, after several months of private mourning, Taylor, guitarist Brian May and bassist John Deacon gave their singular frontman a suitably extravagant send-off when they took to the stage at London's Wembley Stadium on April 20, 1992. For what they assumed was the last time, they performed Queen's greatest hits with a string of stellar guest vocalists including Elton John, David Bowie, and George Michael, raising over £20 million for AIDS charities into the bargain.
A kindred spirit
"We were proud of what we'd done, but we didn't want to go out there and be Queen again without Freddie", Brian May mused in The Show Must Go On. "We'd talked about it and decided if one of us goes, we should just stop – and we did stop for a very long time."
Yet Queen's presence in music's mainstream grew exponentially after Freddie Mercury's death. After its indelible appearance in the 1992 comedy, Wayne's World, the band's signature hit, "Bohemian Rhapsody" was reissued and peaked at No. 2 on the Billboard Hot 100, introducing Queen to a whole new generation.
Discovering the song for the first time had a profound impact on one aspiring young singer in San Diego, California.
"Hearing 'Bohemian Rhapsody' in its entirety was such a moment for me", Adam Lambert tells uDiscover Music.
"My father later showed me one of their record sleeves and they looked really styled and interesting, but I didn't really dive into their catalog until I was 19 or 20. The first live footage I saw of Freddie was him onstage with Queen in Montreal. He was wearing this pair of tiny white shorts and he was both hilarious and fabulous. After that, I just had to know more. That was where my love affair with the band began."
Also revealing that "Freddie's theatricality was very similar to what I was doing myself," Lambert became a confirmed Queen devotee, yet his circuitous route to joining the band initially began in the theater. Deciding against university, the young singer first accepted a 10-month gig singing on a cruise ship at age 19 and then appeared in stage productions such as Ten Commandments: The Musical, where he played opposite Val Kilmer.
Brian May and Roger Taylor, meanwhile, adjusted to life outside of Queen by returning to solo projects and outside interests during the 90s. Joined by Elton John and Switzerland's Béjart Ballet, they gave one final performance of "The Show Must Go On" with John Deacon before the bassist officially retired from music in 1997.
Deacon declined an offer to return in 2004, when Queen became one of the inaugural inductees at the UK Music Hall Of Fame. At the event, they were fronted by former Free/Bad Company frontman Paul Rodgers, and he continued to front a new version of the band – as Queen + Paul Rodgers – for a world tour in 2005 and a studio album, The Cosmos Rocks.
A lasting impression
However, while Taylor and May always expressed their admiration for Rodgers' abilities, they parted company in 2009. Ironically, the Queen duo had almost convinced themselves Queen existed purely in the past when Adam Lambert suddenly entered the picture.
It's well-documented how Queen hooked up with their new frontman when they performed together during the finale of 2009's American Idol. Yet it's not so widely known that they only heard Lambert because their touring keyboard player, Spike Edney, just happened to tune into the program.
"Adam was on TV and I immediately got a chill from what I was hearing", Edney recalls in The Show Must Go On. "He was singing Led Zeppelin's 'Whole Lotta Love' and I thought, wow, this kid's special. I could see that he had charisma and he looked fantastic. So, I sent an email to Roger."
Suitably impressed, Queen performed "We Are The Champions" with both Lambert and Kris Allen, his fellow finalist on American Idol. Though Allen won on the night, it was Lambert who left the more lasting impression on Brian May and Roger Taylor.
"There was already some kind of chemistry between us and Adam, it was just instant," May said in The Show Must Go On. "There was this feeling with Adam that this does work."
Yet at this stage, Lambert joining Queen full-time was by no means a done deal. Through his association with American Idol, Lambert launched a solo career in 2009. The first of his four solo albums to date, For Your Entertainment, peaked at No. 3 on the Billboard 200, while one of its singles, "Whataya Want from Me" received a Grammy nomination.
The subsequent tour occupied the young singer's time for the next 12 months and it was only after their paths crossed again at the MTV European Music Awards in Belfast in 2011, that the two parties hooked up on a more permanent basis.
Baptism of fire
"The EMAs [in Belfast] was a pivotal performance for us," Lambert tells uDiscover. "That was us effectively working out whether we could really work together and whether we even liked each other – and the conclusion was that we did, which was exciting!"
That night, Lambert fronted Queen as they performed rapturously-received versions of "The Show Must Go On," "We Will Rock You," and "We Are The Champions." Lambert was then thrown into his debut full-length concert with Queen, where he wowed a crowd of around half a million people in the Ukrainian capital of Kyiv in 2012.
"I was very nervous approaching that show", Lambert admits. "That was the first time we'd done a 2-hour show together, so it was a big deal. You also have to remember Brian and Roger have been playing these songs for years, so it's second nature to them, but it was my first time singing most of them and I only had 9 days to learn a lot of material. It was one of those shows where you have to make it work, but it went over really well."
Having endured his baptism of fire, Adam Lambert put his relationship with Queen on a much firmer footing. Highly successful world tours followed over the next few years, with Queen rejuvenated by the injection of fresh blood brought by their new frontman.
"Adam has the ability to sing anything and everything we throw at him," Roger Taylor said in 2019's 'Rhapsody Tour' program. "There's nothing he can't handle. Our songs are big and theatrical and Adam fits that easily. I think he's the best singer around. His range is staggering."
"Some of Queen's songs are just so vocally athletic and physically demanding", Lambert confirms. "For example, 'The Show Must Go On' is certainly demanding, 'Who Wants To Live Forever' goes from zero to 99, and 'Somebody To Love' is really intense and big."
"But there are others which are lyrically demanding too. Queen's songs are often wordy and clever, like 'Don't Stop Me Now,' which is really busy, but also upbeat. As a vocalist, I love that Queen has ventured into so many genres. It makes for such a fun and challenging evening and I love that."
Queen + Adam Lambert's tour has become bigger and the stage shows more dramatic in the wake of 2018's Oscar-winning Freddie Mercury biopic, Bohemian Rhapsody, but Lambert has consistently proved his worth.
As their first-ever live album, Live Around The World reveals, he's brought a depth and freshness to everything from Queen's biggest hits to lesser-heard deep cuts. He has flair and ability in abundance, and he's defied the critics by showing them he's anything but an imitation of Freddie Mercury.
"The thing is with Freddie is that he's irreplaceable", Lambert says with some emphasis. "I've seen journalists and fans argue about 'well, who is he to replace Freddie Mercury?' and in response to that, I just say, you can't replace him. I have always looked at this as a great opportunity to celebrate Queen's catalog first and foremost, so it's silly to get caught up in the semantics of comparing Freddie and myself."
"Certainly, I understand the weight of Queen's history as rock legends and I recognize and try to honor Freddie as much as I can without knowing him", he concludes.
"I share the same sort of theatricality, the same kind of humor and the love of dressing up with Freddie and I'm really lucky because Brian, Roger, and I work really well together. We approach each show like it's the first one and no-one gets complacent or lazy, and I always try to make everyone smile. I think that goes a long way."
Queen + Adam Lambert's Live Around The World is out now and can be bought here.