The news that Eric Clapton will return to his beloved Royal Albert Hall in London for three nights in May 2017 prompts us to track the history of this rare relationship between artist and venue.
The great guitarist first played at the celebrated concert hall at the beginning of his career, but has become famous for his residencies of multiple nights there. The first started on 6 January, 1987; the upcoming one will be his 18th, and will take his total of performances there to 205, including 181 headliners.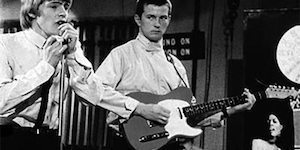 That debut appearance of all came in December 1964 when, at 19, Clapton was still a member of the Yardbirds, who were part of the bill for a BBC TV recording. They shared it with Brian Poole and the Tremeloes, Wayne Fontana and the Mindbenders, the Nashville Teens, Brenda Lee and, still relatively unknown to the UK, Smokey Robinson and the Miracles.
Within three months, Clapton had left the Yardbirds, for two brief spells with John Mayall's Bluesbreakers and then, of course, Cream. His next visit to the Albert Hall was among his most famous: it was the power trio's farewell concert, in November 1968.
Clapton returned to the Albert in 1983, as part of what became known as the ARMS Concert. Raising money for the Prince's Trust and for Action for Research into Multiple Sclerosis, the show was prompted by the news that Ronnie Lane, formerly of the Small Faces and the Faces, was suffering from the disease.
Prince Charles and Princess Diana were there that night, to witness Clapton in a band of all the talents, with Steve Winwood, Bill Wyman, Charlie Watts, Andy Fairweather Low — and, at one stage, a remarkable teaming of three ex-Yardbirds, as Eric played with Jimmy Page and Jeff Beck.
As we mentioned, it was 1987 when Eric established the idea of an Albert Hall residency, with his A-list band that featured Greg Phillinganes on keyboards, Nathan East on bass and Steve Ferrone on drums. That year's shows also featured a very special guest in the form of Mark Knopfler.
Over the following nine years, Clapton played at the Albert Hall 134 times, and at least six times every year. In 1991, his remarkable stand of 24 nights there produced the live album of the same name. In 2002, he was a central figure in the never-to-be-forgotten Concert For George that took place after the death of his close friend George Harrison.
In 2004, when the momentous Cream reunion took place with Jack Bruce and Ginger Baker, there was only one address where it could be staged. Then, when Eric returned in 2015 for the Slowhand At 70 shows, his second night in the run — his 200th time on the Albert Hall stage — was dedicated to his friend  and hero B.B. King, who had died the day before.


"It's a very comfortable, homey place for me. I tend to think of it as mine," said Eric in a BBC interview in 1990.  "It's got a very genteel, sophisticated and yet comfortable atmosphere."
Explore our dedicated Eric Clapton Artist Page