Songs About Money: 31 Tunes About Cash
Aside from love, has there ever been a bigger inspiration for songwriters?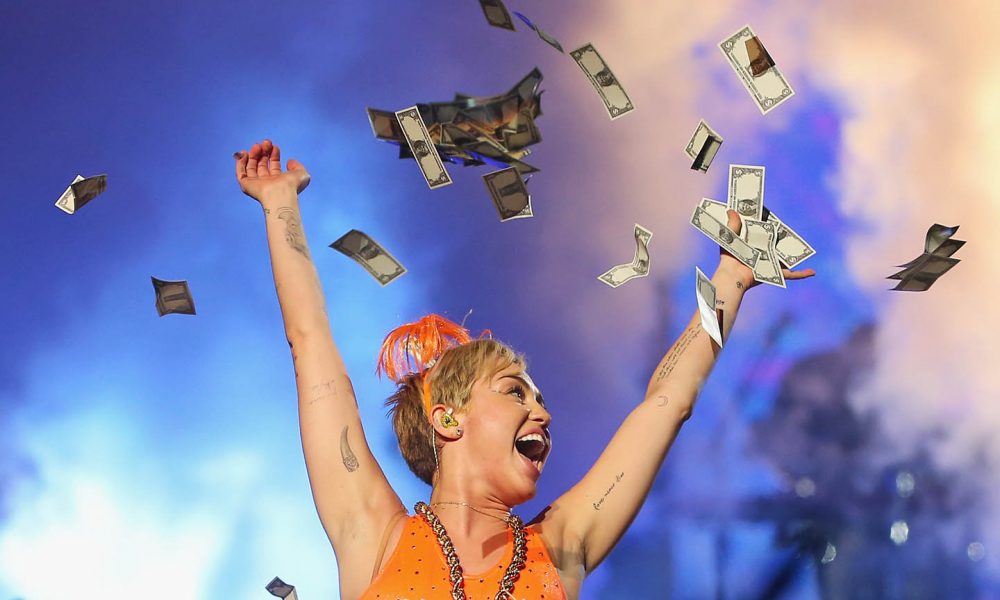 Songs about money have been around probably ever since money has been around. After all, few things inspire emotion like money. Whether it's lamenting not having any, feeling overwhelmed by having too much, or some other scenario altogether, it's been a ripe topic for songwriters through the years. Some think it's the root of all evil. Some think it's the only thing that matters. Whatever your take, these are just a few of the best songs ever written about money.
The Beatles – Taxman
The Beatles' "Taxman" was written by George Harrison and John Lennon, with the intent of protesting the UK's progressive taxes. Despite the band's immense success throughout the 60s, Harrison had discovered they were all at high risk of bankruptcy. "'Taxman' was when I first realized that even though we had started earning money, we were actually giving most of it away in taxes; it was and still is typical," he wrote in his autobiography.
Pink Floyd – Money
Appearing on their critically-acclaimed 1973 album, The Dark Side of the Moon, Pink Floyd's "Money" reached No.13 on Billboard's Hot 100 chart. "Money interested me enormously," Roger Waters once shared. "I remember thinking, 'Well, this is it and I have to decide whether I'm really a socialist or not.' I'm still keen on a general welfare society, but I became a capitalist. You have to accept it. I remember coveting a Bentley like crazy. The only way to get something like that was through rock or the football pools. I very much wanted all that material stuff."
AC/DC – Moneytalks
"Moneytalks" by rock band AC/DC was released as a single in December 1990. It was the group's biggest hit since 1981's "Back in Black" and remains their highest charting song to date. The UK single artwork features the face of band member Angus Young on a currency bill, which were later dubbed "Angus Bucks" and dropped on audiences at live shows.
Pet Shop Boys – Opportunities (Let's Make Lots of Money)
A single in 1985 from their debut album, Please, Pet Shop Boys' "Opportunities (Let's Make Lots of Money)" is told from the perspective of a man who is trying to convince another person to join a financial scheme. The song was also used in a February 2021 Super Bowl ad, which sent it to No.1 on Billboard's Dance/Electronic Digital Songs chart.
Cyndi Lauper – Money Changes Everything
Originally released in 1978 by rock band The Brains, Cyndi Lauper recorded the song "Money Changes Everything" for her debut album, She's So Unusual, in 1983. (It was officially released as a single the following year.) In 2005, Lauper also released an acoustic version of the song, which featured vocals from Taking Back Sunday's Adam Lazzara.
Dire Straits – Money for Nothing
"Money for Nothing" by British rock band Dire Straits was written about two men who are giving commentary on music videos they watch. What many might not know, is that Sting also provided backing vocals on the track. They performed it live together at Live Aid in July 1985, with the song topping Billboard's Hot 100 for three weeks.
Dire Straits - Money For Nothing (Official Music Video)
Hall and Oates – Rich Girl
While "Rich Girl" became the first No.1 single for duo Hall and Oates in 1977, the song isn't about a girl at all. Originally believed to be inspired by heiress Patty Hearst, Daryl Hall actually wrote it about a wealthy ex-boyfriend of his then-girlfriend, Sara Allen. "'Rich Girl' was written about an old boyfriend of Sara [Allen]'s from college that she was still friends with at the time," Hall told American Songwriter. "His name is Victor Walker. He came to our apartment, and he was acting sort of strange. His father was quite rich. I think he was involved with some kind of a fast-food chain. I said, 'This guy is out of his mind, but he doesn't have to worry about it because his father's gonna bail him out of any problems he gets in.' So I sat down and wrote that chorus. 'He can rely on the old man's money / he can rely on the old man's money / he's a rich guy.' I thought that didn't sound right, so I changed it to 'Rich Girl.' He knows the song was written about him."
The O'Jays – For the Love of Money
"For the Love of Money" was released by The O'Jays as a single in 1973, from their album Ship Ahoy. Peaking at No.3 on Billboard's R&B chart, the song pulled its title's inspiration from a Bible verse, which states that money is "the root of all evil." It has maintained its popularity through the years, most notably as the theme song for the TV show The Apprentice.
Ray Charles – Busted
Originally written by Harlan Howard in 1962, country singer-songwriter Johnny Cash released a rendition of "Busted" in 1963. That same year, Ray Charles shared his popular version as well. The song is about a farmer who is struggling to provide for his family, after his brother refuses to help him financially.
Patti Smith – Free Money
A rock song co-written by Patti Smith and Lenny Kaye, "Free Money" appears on Smith's 1975 debut studio album, Horses. "It's really a song for my mom," Smith told The Guardian in 2005. "She always dreamed about winning the lottery. But she never bought a lottery ticket! She would just imagine if she won, make lists of things she would do with the money – a house by the sea for us kids, then all kinds of charitable things."
Randy Newman – It's Money That Matters
Randy Newman's 1988 album, Land of Dreams, featured the hit song, "It's Money That Matters." It was Newman's only No.1 hit (on any chart), after it spent two weeks atop the Mainstream Rock Chart and No.60 overall. The song also features Dire Straits' Mark Knopfler playing the guitar.
ABBA – Money, Money, Money
ABBA's "Money, Money, Money" was the band's second single from Arrival in 1976. In the ABBA-inspired film Mamma Mia!, Meryl Streep's character Donna performs it about keeping her business open. ABBA's music video for the song, meanwhile, was inspired by the movie version of the musical Cabaret.
Abba - Money, Money, Money (Official Music Video)
Billy Joel – Easy Money
"Easy Money" by Billy Joel is the opening track on his 1983 album, An Innocent Man. Joel has said that it is intended to be a tribute to James Brown and Wilson Pickett. The song was also the theme song for Rodney Dangerfield's comedy of the same name.
Madonna – Material Girl
Madonna's "Material Girl" became a massive hit upon its release in 1984. However, the song is equally known for the music video, which found Madonna recreating Marilyn Monroe's "Diamonds Are a Girl's Best Friend" performance from the film Gentlemen Prefer Blondes. Over the decades, it has maintained its popularity, appearing in films like Moulin Rouge! and shows like Stranger Things.
Notorious BIG feat. Puff Daddy and Mase – Mo Money, Mo Problems
Notorious BIG's "Mo Money, Mo Problems" is a collaboration featuring Puff Daddy and Mase, which served as the second single from Biggie's final album. The track both samples and interpolates Diana Ross' "I'm Coming Out." Released posthumously, it became a massive hit, making him the only artist to have two No.1 songs following his passing.
Travie McCoy feat. Bruno Mars – Billionaire
In 2009, Travie McCoy teamed up with Bruno Mars on the money-driven anthem, "Billionaire." Mars had thought of the lyrics, after he realized his finances were tight on a work trip. "We were like, 'Is this the biggest mistake we've ever made? We thought we were broke in California; what are we going to do here?'" Mars said. "So we've got no money, and I'm walking the streets and came up with, 'I wanna be a billionaire, so frickin' bad.'"
Kanye West feat. Jamie Foxx – Gold Digger
"Gold Digger" by Kanye West was originally intended to be recorded by Shawnna for her debut album, but was eventually passed to West. Sampling Ray Charles (as performed by Jamie Foxx), the song tells the story of a woman chasing money. The hit was eventually nominated for Record of the Year at the 2006 Grammy Awards.
The Flying Lizards – Money (That's What I Want)
British new wave band The Flying Lizards released their cover of Barrett Strong's "Money (That's What I Want)" in 1979. The band performed it on BBC's Top of the Pops. However, most might recognize the song from the film soundtracks of The Wedding Singer, Charlie's Angels, and Empire Records.
The Wu-Tang Clan – C.R.E.A.M.
The Wu-Tang Clan's "C.R.E.A.M." means, among other things, "Cash Rules Everything Around Me." It was produced by RZA for the group's debut album, Enter the Wu-Tang (36 Chambers), and samples Charmels' "As Long As I Got You." While it wasn't a high-charting hit, the song is one of the most influential tunes the group ever wrote.
Jennifer Lopez – Love Don't Cost a Thing
Jennifer Lopez's "Love Don't Cost a Thing" was released in 2000, as the lead single from her second album. As the song detailed a dislike for a materialistic partner, many had speculated it was about Lopez's then-boyfriend, Sean "Puff Daddy" Combs. Either way, the pair eventually split, and Lopez briefly married a backup dancer that she met on the set of this song's music video.
Puff Daddy & The Family – It's All About the Benjamins
"It's All About the Benjamins" by Puff Daddy & The Family appears on Puff's debut studio album. The original song features Missy Elliott on vocals, with the remix adding new verses from Lil' Kim and The Notorious B.I.G.. Puff also eventually made a rap rock hybrid version of the song, with appearances by Rob Zombie and Dave Grohl, among others.
Gwen Stefani – Rich Girl
Gwen Stefani's "Rich Girl" is a 2004 collaboration with Eve produced by Dr. Dre. Dre was the one that convinced Stefani to interpolate part of the musical Fiddler on the Roof. The reggae-influenced track peaked at No.7 on Billboard's Hot 100, and was nominated for Best Rap/Sung Collaboration at the 48th annual Grammy Awards in 2006.
Gwen Stefani - Rich Girl (Official Music Video) ft. Eve
Kenny Rogers – The Gambler
Originally written by Don Schlitz, country singer-songwriter Kenny Rogers recorded a version of "The Gambler" in 1978. Although it had been previously covered by Johnny Cash, Rogers' take became the most commercially successful version. It reached No.1 on country charts, winning Rogers a Grammy for Best Male Country Vocal Performance in 1980.
Jessie J – Price Tag
"Price Tag" by Jessie J was the second single from her debut album. It debuted at No.1 in the UK. "It's not me saying that you can live for free, because obviously that isn't the case," she once said about the song. "But I'm saying that you don't always have to let it be about that. It isn't always about how much your shoes cost. It's about the fact that you even have a pair of shoes to walk in."
Loggins and Messina – Danny's Song
Loggins and Messina's "Danny's Song" was written by Kenny Loggins, in honor of the birth of his brother Danny's son. Its key lyric? "And even though we ain't got money/I'm so in love with you, honey." The song appeared on the debut album by the duo, with Loggins and Jim Messina releasing it in 1971. The following year, country singer-songwriter Anne Murray recorded a cover version, earning her a Grammy nomination for Best Female Pop Vocal performance in 1974.
Kendrick Lamar – Money Trees
Kendrick Lamar's "Money Trees" is the fifth track from his debut album through a major label, 2012's Good Kid, M.A.A.D City. The song features Jay Rock as a guest and was produced by DJ Dahi. It tells the story of Lamar's life in Compton, California. In 2013, director Taj Stansberry shared that a music video had been started for the song, although it has never been released.
Lady Gaga – Money Honey
"Money Honey" by pop star Lady Gaga was initially only intended to appear on the Canadian version of her album The Fame, but ended up making the worldwide tracklist. Released officially in 2008, it is a commentary about the divide between love and materialism.
5 Seconds of Summer – Money
Australian pop rock band 5 Seconds of Summer released "Money" as the third single from their sophomore album, Sounds Good Feels Good. The song is about falling so hard for someone you'd give anything, even money. According to the band's social media, it was also written with Good Charlotte's Madden brothers.
50 Cent – I Get Money
50 Cent's "I Get Money" is the third single off his third album, Curtis, and made No.14 of Rolling Stone's Best Songs of 2007 list. The song has a long list of admirers: Nicki Minaj, Eminem, Lil' Kim, and Ludacris have all recorded versions of the song.
50 Cent - I Get Money (Official Music Video)
Lil Wayne – Money On My Mind
"Money On My Mind" by Lil Wayne was released in December 2005, as track three on Tha Carter II. Produced by DJ Nasty & LVM and The Runners, Lil Wayne raps about the importance of wealth and women, notably in the chorus. It also doubles as a reference to Notorious B.I.G's song "Get Money."
Bone Thugs-N-Harmony – 1st of Tha Month
Bone Thugs-N-Harmony released "1st of tha Month" as the first single from their sophomore album, E. 1999 Eternal. It marked the band's first Top 20 single, was certified Gold for selling over 500,000 copies, and received a Grammy nomination in 1996. Lyrically, the song references the day that welfare checks are mailed.
Did we miss one of your favorite songs about money? Let us know in the comments below.