Louis Armstrong – Louis And The Angels (1957)
This unusual concept album – 12 tunes associated with angels, performed by Louis Armstrong and backed by an orchestra and choir – is an overlooked gem.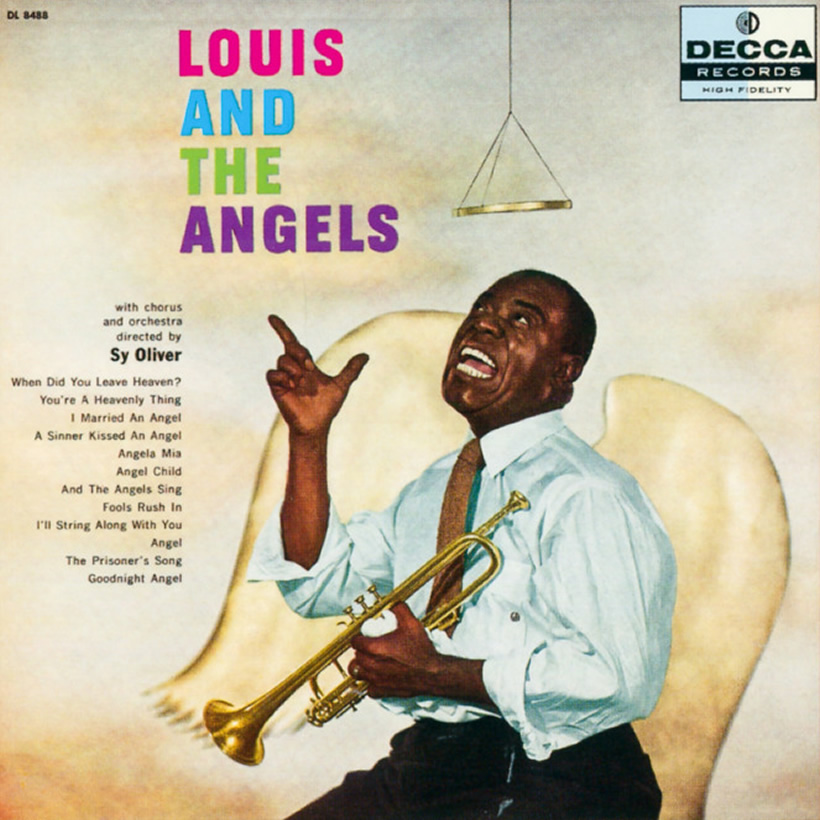 This unusual concept album – 12 tunes associated with angels, performed by Louis Armstrong and backed by an orchestra, brass, strings (a harp, of course) and a choir – is an overlooked gem.
The songwriters were top class – including Rogers and Hart, Richard Armstrong Whiting and Johnny Mercer – and Armstrong plays and sings with passion and subtlety while arranger and conductor Sy Oliver makes the album swing.
Among the highlights are a version of 'The Prisoner's Song', which was originally a 20s "hillbilly" tune, written by Guy Massey, who had heard it from his brother after a spell in jail, and which had been recorded by numerous musicians. Armstrong told interviewers that he was particularly pleased with the tempo of his version.
The pretty melody is started by Lilian Clark (Mrs Sy Oliver) before the choir of three men and four women join in. The excellent band included Lucky Thompson (tenor saxophone), Dave McRae (baritone saxophone), Billy Kyle (piano) and George Barnes (guitar), and the sheet music was carefully transcribed with the trumpet parts marked "Louis".
Another highlight is 'Angel Child', a song made popular by Al Jolson in the 20s. The tune sums up the album's charm: the strings blend deftly; Armstrong sings warmly from the opening bars and trades responses gorgeously with the choir, ad-libbing his phrasing. His solo is magnificent, supported deftly in the background by Rudy Taylor on drums.
There are some standards (Johnny Mercer and Rube Bloom's 'Fools Rush In', a track covered by leading singers galore, from Frank Sinatra to Elvis Presley) and some highly sentimental songs, such as 'You're A Heavenly Thing', written by Joe Young, perhaps better known for penning 'I'm Gonna Sit Right Down And Write Myself A Letter'.
The album, recorded on 30 January 1957, has an exuberant cover and appropriately offbeat sleevenotes. While listening to the record, the notes say, "you might picture Louis as a 'cherub' and the female choir as a heavenly 'harem of angels' in 'Hi-Fli'."
Louis Armstrong And The Angels is an obscure set but it has a genuine appeal, and Armstrong, whether at full power or tenderly on mute, is flying high.
Louis And The Angels Track Listing:
1. When Did You Leave Heaven? 3:42
2. You're a Heavenly Thing 3:17
3. I Married an Angel 3:40
4. A Sinner Kissed An Angel 2:42
5. Angela Mia 3:22
6. Angel Child 2:54
7. And the Angels Sing 3:23
8. Fools Rush In (Where Angels Fear to Tread) 3:32
9. I'll String Along With You 3:05
10. Angel 3:40
11. The Prisoner's Song 3:12
12. Goodnight, Angel 2:51
Album Credits:
Recorded: January 1957
Studio: New York
Label: Decca Records
Musicians:
Louis Armstrong — vocals, trumpet
George Dorsey – alto saxophone, flute
Phil Urso – clarinet
Lucky Thompson – tenor saxophone
Everett Barksdale – guitar
George Barnes – guitar
Joe Benjamin – double bass
Sid Block – violin
Dave McRae – baritone saxophone
Billy Kyle – piano
Rudy Taylor – drums
Louis Armstrong: Discover The Stories Behind The Albums...