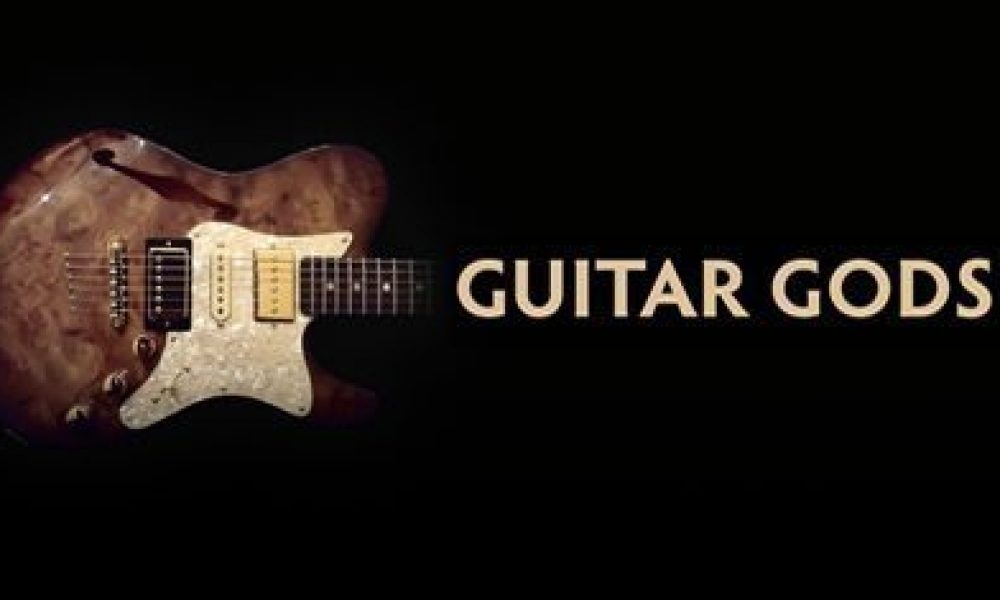 Since the dawning of the Rock era, there have been countless guitar-slingers that have inspired generations of wannabe guitarists. While there have been numerous apostles there are a select band who have been elevated to the status of Guitar God – Who are the best guitarists and what makes them so special?
The guitar is truly magical, it's like no other instrument, both for the way we connect with and talk about our guitar heroes – often above all other virtuoso instrumentalists. These gods can make it sing, make it cry and with the electric guitar, in particular, are able to create signature sounds by using their own unique combination of instruments, amplifiers and signal processors…but above all else, the best guitarists have a talent that makes them so special.
First, there was Chuck Berry with his signature licks that influenced everyone. Then came Eric Clapton and Jimi Hendrix – both heavily influenced by the same crop of blues players that you can read about at uDiscover Blues, but what about the many others who have pushed the boundaries of what an electric guitar can do?
If you were to design a guitar hero from scratch, they would probably look something like Slash. Les Paul Guitar slung low, cigarette hanging from the side of his mouth, leather trousers and his trademark top hat, Slash's playing helped propel Guns N' Roses into the public conscious. Both raw and melodic, Slash's playing bucked the trend at a time when inferior Van Halen clones swamped the market. Instead, he harked back to the classic rock players such as Hendrix, Keith Richards and Joe Perry from Aerosmith, perhaps his English heritage put some of Paul Kossoff's DNA into his playing (Free's guitarist, who was gone too soon, influenced so many that followed). Such was Slash's impact that Gibson Guitars acknowledge that he was the reason for the increase in sales of the Les Paul from 1987; it is ironic considering that his original guitar used on Appetite For Destruction was a replica.
Guns N' Roses's hits tell you everything you need to know about Slash's playing; the epic intro to 'Sweet Child Of Mine' along with the wah-wah solo, the incredible fast runs at the end of 'Paradise City', the hard riffs of 'Welcome To The Jungle' complete with slide guitar solo, and the huge melodic bends and sustain in the 'November Rain' solo. There are also some great moments on the other tracks across the various albums; the talkbox solo on 'Anything Goes' from their debut album and the various guitar melodies on 'Estranged', particularly the main solo halfway through this nine-minute epic from Use Your Illusion II.
If you only know Extreme from their hit acoustic ballad 'More Than Words', you would be forgiven for overlooking Nuno Bettencourt's immense guitar playing skills. A graduate of the Eddie Van Halen school of guitar, but so damn good that he avoided any accusation of duplication, Nuno is capable of some really mind-bending, but always melodic guitar playing.
Their first big hit (in the U.K. but not at home in the U.S.) was 'Get The Funk Out' from their second album Pornograffitti, with its solo demonstrating almost everything which Nuno has in his locker, super-fast picking and the two-handed tapping technique that Van Halen first popularised. It is in the stunning timing of his phrasing that he demonstrates just how in control he is, even at lightning speeds, and the complex funky rhythms of the music Extreme made gave Nuno a wonderful arena in which to stretch his musical muscles. If you want to hear something different, check out the acoustic instrumental track 'Midnight Express' from fourth album Waiting For The Punchline.
Fans of Prog rock have always celebrated virtuoso players, often keyboard wizards like Rick Wakeman, and they don't come in any higher regard than guitarist Alex Lifeson of the Canadian band Rush. He's a player best known for his heavily effected tones that he uses so effectively to create the rich sonic landscapes to fill out the sound of this three-piece. Listen to 'Kid Gloves' from Grace Under Pressure for a great example of how a combination of spiky rhythmic chord work, with syncopated arpeggios (chords broken into single notes played individually) using chorus and delay effects, creates the Rush sound. The solo is an extension of this, starting with some angular rhythmic phrasing, keeping the song going before building to a peak and then blending seamlessly back into the riff. 'Closer To The Heart' from A Farewell To Kings shows his more melodic soloing style, lifting off where the vocal finishes and with the harmony guitars demonstrating something more planned and composed.
Not a million miles away in style and also enjoying the sonic space that a three-piece allows, Andy Summers's contribution to The Police was immeasurable. Sting may have delivered classic songs like 'Message In A Bottle' and 'Every Breath You Take' but it is Summers's guitar that turned them into career-defining records. Play the guitar patterns in isolation, with no vocals and you still know exactly which song you are listening too. A guitar hero known not for his solos but his rhythm playing is rare, but Andy Summers' unique sonic fingerprint comes from his vast knowledge of Jazz and his ability to apply that to a pop format to keep things sounding interesting without scaring the listener. The rhythmic interplay between guitar bass and drums in The Police is key, tracks like 'Roxanne' and 'Walking On The Moon' show how Sting, Andy and Stuart would play both together and around each other, leaving space for sonic experimentation, as on the title track on Reggatta De Blanc, but never afraid to just rock out – 'Synchronicity I' and 'II' from the album of the same name.
You won't find as much rhythmic variation on a U2 album, but you will find the ultimate platform for another kind of guitar hero. Edge has been responsible for some of the most recognisable guitar tones ever heard on record; huge rock riffs like 'Vertigo', 'Beautiful Day', 'The Fly', beautiful chordal work on 'One', 'Stuck In A Moment You Can't Get Out Of' and of course, the epic walls of sound created with repeating delay effects and reverb used on 'I Will Follow', 'New Years Day', 'Pride (in the name of love)' and 'I Still Haven't Found What I'm Looking For'.
Edge practically created a new guitar style and songs are often built around the sounds he creates rather than adding effects as afterthoughts. The layered textures remain a defining factor of the U2 sound, but Edge is never afraid to experiment. If you have wondered what he is holding in his hand when he plays 'With Or Without' live, it is called an ebow and is an electronic device that vibrates the strings to deliver those never-ending notes you can hear. Other great examples of his sonic palette include the raw fuzz tone on 'Get On Your Boots', the distorted wah tone on 'Discotheque' and the downright nasty sound on 'Numb' from the Zooropa album, a track which also features Edge on lead vocal.
There is no rivalry for centre stage when the guitar player is also the lead singer. Combining the two successfully deserves the utmost respect; non-musicians won't truly understand how difficult it can be, far beyond rubbing your tummy and tapping your head simultaneously. Mark Knopfler is one of those players that makes it all look so easy to the uninitiated, alternating between singing and stinging guitar fills. The interplay is most obvious in Dire Straits tracks like 'Your Latest Trick' and 'Brothers In Arms' where the space between the vocal lines is filled with a short flurry of notes in an almost call and answer response.
Knopfler has a very different style to his playing, heavily influenced by the rock n roll and country players like James Burton, Scotty Moore and Chet Atkins, the latter of whom he collaborated on the Neck And Neck album. Not only does he play with his fingers rather than a plastic plectrum, he is also left-handed but has always played guitar right-handed with many attributing some of his unique sound to this. The country influence can be clearly heard on Dire Straits hits like 'Sultans Of Swing', 'Calling Elvis' and throughout his solo career; 'No Can Do' from Golden Heart and 'Do America' from Sailing To Philadelphia are both great examples where country rhythms and patterns are mixed with a rawer distorted guitar sound.
An incredibly lyrical player, it is no surprise that his music has been so in demand for use in films, creating memorable works in the process such as the adopted Newcastle F.C. anthem 'Going Home: Theme Of The Local Hero'. Not everything he has done for film has been guitar-based, but there is some particularly tasty playing on the Wag The Dog soundtrack album and on the lesser-known A Shot At Glory.
Gary Moore is a fellow left-hander who learnt to play the 'right' way; another singing guitar hero, although his career didn't start off like that. He first moved to Dublin from Belfast to join Skid Row as a hot-shot guitar for hire. The association didn't last long and we first got to hear him sing bluesy vocals on his debut solo album Grinding Stone in 1973. Three separate stints in Thin Lizzy followed, mainly as a touring guitarist, but some classic performances did make it to record; the ballad 'Still In Love With You' from 1974's Nightlife album and 'Roisin Dubh (Black Rose): A Rock Legend' a song he co-wrote on the Black Rose album. The latter track displays the Celtic roots that would continually weave their way into his playing, particularly prevalent in 1987's Wild Frontier album – the instrumental track 'The Loner' written by Jeff Beck's former keyboard player Max Middleton is a standout.
Returning to his solo career in 1978 with Back On The Streets, it's an album of a varied mix of his influences; 'Flight Of The Snow Moose' would echo his time spent in jazz fusion band Colosseum II whilst 'Don't Believe A Word' is a real precursor to the straight-ahead Blues direction he would later take. The best-known track is 'Parisienne Walkways' showcasing Gary's emotive vibrato, exquisite phrasing and ability to make his guitar playing integral to a song. Written with his Skid Row and Thin Lizzy mate Phil Lynott, the two would again team up on the 1985 Run For Cover album, the collaboration would produce the hit single 'Out In The Fields' but also a version of 'Military Man' that again displays the pure emotion that Gary Moore was able to evoke. 'Empty Rooms' a song so good he recorded it once before on the Victims Of The Future album, became another hit and has a brilliant guitar moment, dropping down to a classical guitar part before bursting into a screaming crescendo of rock guitar at its most melodic.
When Gary Moore took the conscious decision to focus on the Blues, he switched instruments almost exclusively to the Les Paul, one of them famously owned previously by Peter Green from Fleetwood Mac and the inspiration rubbed off. There are just so many great examples of his playing on the album Still Got The Blues and the two blues records that followed it; After Hours and Blues For Greeny, where he embraced blues in all forms, but it remains the ballads that provide the best foil for his guitar style. 'Jumping At Shadows', 'Separate Ways', 'Still Got The Blues', 'As The Years Go Passing By', 'Need Your Love So Bad' and 'Nothing's the Same' are all great examples of this masterful player, who is now no longer with us following a heart attack in 2011.
Richard Thompson is a very different sort of guitar hero. Best known for his work as a member of UK folk stalwarts Fairport Convention, he was fundamental to the greater sound of the movement, appearing on records by Sandy Denny and Nick Drake as well as his own solo records and the collaborations with wife Linda. Equally, at home on acoustic and electric guitars, Richard uses a hybrid picking technique using both fingers and plectrum.
Not every guitar god practices flashy pyrotechnics, they simply show great deftness on their instrument that can only be described as consummate skill. Thompson's extended solo on 'Can't Win' from the Watching the Dark album goes on and on and it's so good you never want it to stop. On 'Hard on Me' from Mock Tudor (1999) he really let rips, but he is always in control, which is one of the facets of Thompson's guitar playing that makes it so appealing. From his time with the Fairports his playing on 'Mr Lacey' from Fairport Convention at the BBC is a standout and on the 9-minute epic, 'Sloth' from Full House he gives full range to his talents.
Perhaps the ultimate accolade is when other artists desire the talents of a guitar hero for their records – the finishing touch where only a particular player's unique sound will cut the mustard. Examples of this are found in the most unlikely places. Most people will know that Slash followed in Van Halen's footsteps when he played on Michael Jackson's 'Black Or White', but that is also him on Lenny Kravitz's 'Always On The Run' (hence the name check just before the solo). Stevie Wonder calls out Jeff Beck's name as he solos on 'Lookin' For Another Pure Love' from Talking Book, but he goes unannounced during Jon Bon Jovi's 'Blaze of Glory'and for some true brilliance, check out his guest appearance on Trombone Shorty's track 'Do To Me'. There is not one but two amazing guitar solos from Toto's Steve Lukather on Lionel Richie's 'Running With The Night' (the full album version is essential as the single edit cuts into the solo). Richard Thompson's unique style fits Crowded House's 'Sister Madly' perfectly and Mark Knopfler became one of the many brilliant musicians to play on Steely Dan's records with an appearance on the Gaucho album track 'Time Out Of Mind'. Slash makes yet another guest appearance on Rihanna's track 'Rockstar 101', and she is lucky enough to have Nuno Bettencourt follow her around the world as part of her touring band – it's reason enough to see her show.
So there it is. One guitar god can make a difference…
Format:
UK English