Dire Straits Among Live Aid Stars To Feature On 'One Billion Views' Stream
The 24-hour event will feature newly-recorded interviews, remixed Live Aid performances, and documentaries.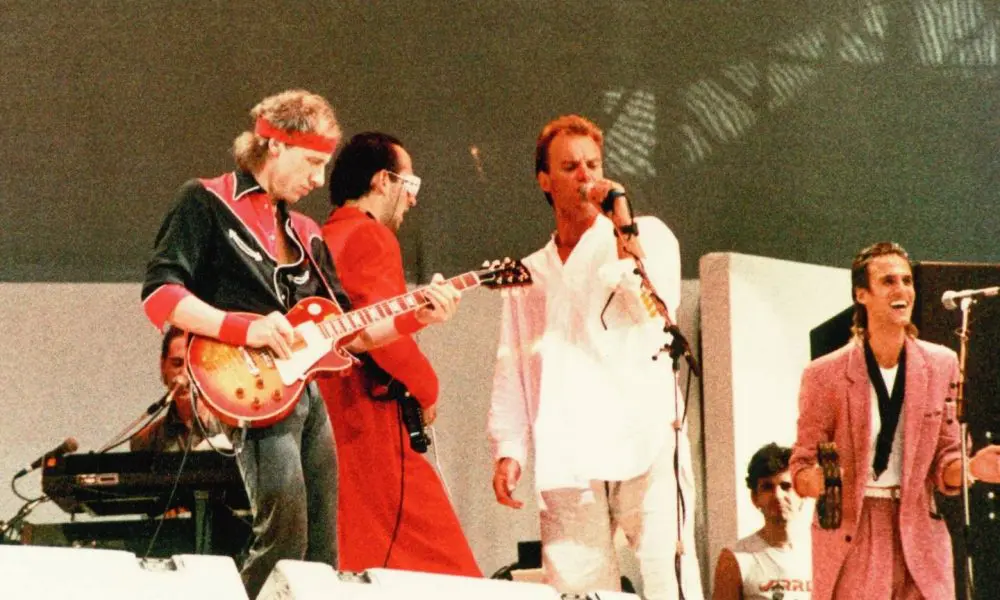 Band Aid is to celebrate one billion views on its official Live Aid and Live8 YouTube channels with a unique day of streaming on December 28. For 24 hours only, viewers will be able to tune in for free to a special collection of programming including performances from the original Live Aid concert of 1985 and others.
The special will be live from 5pm GMT/12pm ET/9am PT on December 28 until the same time the next day, at the Live Aid and Live8 channels on YouTube. Every viewing will generate money for the Band Aid Trust.
The broadcast will tell the story of Band Aid from its inception in 1984 as an all-star charity record to raise money for famine in Ethiopia, and the subsequent establishing of the Band Aid Charitable Trust, all the way to the present day. It will also feature newly-recorded interviews, remixed performances from the original Live Aid, and documentaries.
Mark Knopfler's Instagram account has been among those to flag up the event, with Dire Straits' memorable performance at Live Aid among those to be featured. Taking to the stage at Wembley Stadium at 6pm, the band gave a 19-minute performance including "Money For Nothing," with guest vocalist Sting, and an epic 11-minute version of "Sultans of Swing."
Live Aid and its US sister event at JFK Stadium in Philadelphia, and others around the world, ultimately raised more than $125m in famine relief for Africa. Its estimated live audience was more than one billion, in 110 countries.
A teaser for the special streaming event features British star Robbie Williams performing his signature ballad "Angels," from the subsequent Live8 concert at London's Hyde Park on July 2, 2005. The Live8 series of all-star fundraisers, ten simultaneously and one on July 6, were held in the G8 countries and in South Africa.
The 2008 concerts supported the UK's Make Poverty History campaign and the Global Call to Action Against Poverty. The London show also starred Pink Floyd, in a reunion performance with Roger Waters, as well as The Who, Paul McCartney, U2, Elton John, Annie Lennox, R.E.M. and many others.