Henry Rollins Is A Vinyl Addict – And Here's Why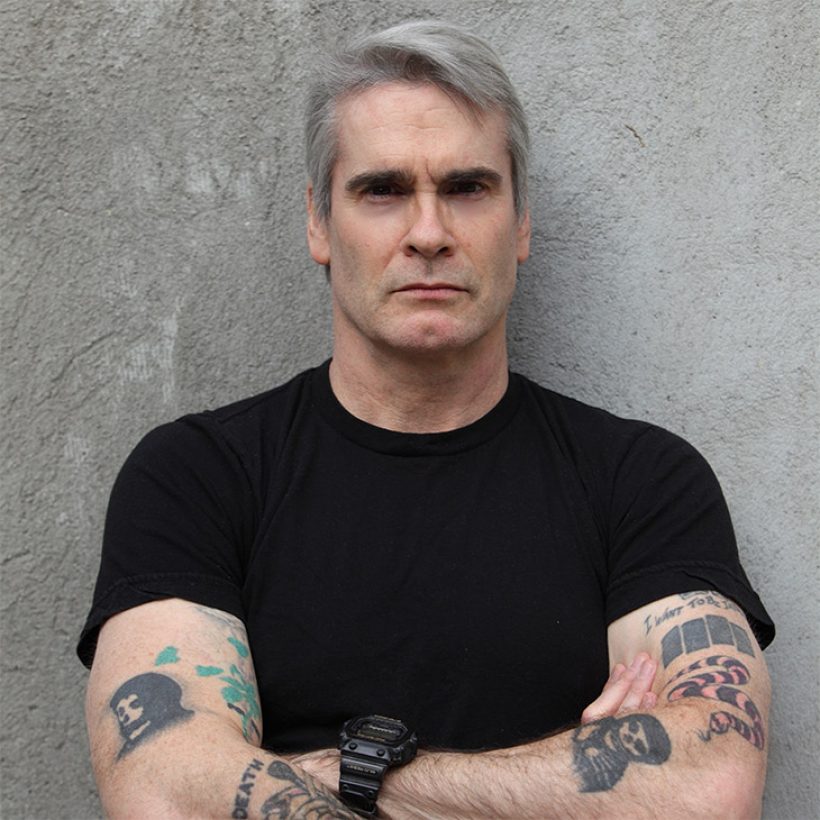 You might immediately recognise him as the uncompromising frontman for incendiary LA hardcore group Black Flag, between the years 1981 and '86, but the writer, actor and KCRW DJ Henry Rollins is also a total vinyl freak.
That's right, the man who sang 'Gimmie Gimmie Gimmie' on Black Flag's 1981 debut album, Damaged, is an obsessive collector whose love of vinyl was sparked by punk but now encompasses jazz and hard rock as well.
Noting that being asked how many records he owns is a sizing up equivalent to "What do you bench?", Henry Rollins asserts that, though he has "thousands" of records, "there's no such thing as too many". "Or, if there is," he demands, "show me that number, and let's see how many over that number I can have and still survive. Because I will be willing to be the point man on that mission."
Henry Rollins: How Many Records I Own
Though Henry Rollins can trace his own obsession with vinyl back to punk's heyday ("where I went from, 'Oh, I'll get a record,' to, 'I need these records. They're as essential to my life as air and water, and I must value them"), the recent vinyl resurgence has led him to consider just why vinyl means so much to people.
"These are my theories," Henry Rollins tells Sound Of Vinyl, the online vinyl store for whom he is a curator. "Vinyl is a physical thing in the world. It becomes a part of your life, like a family member. Because now you have to lug it around and you have to take care of it. You're responsible for this thing. You can't loan it to a friend because it's going to come back with a dinged corner…
"With a CD, you scratch 'em up, they still play," he continues, adding, "The artwork's so small, you don't really look at it because you don't have a magnifying glass handy, and it's not a substantial thing that you paid for… And the fact that vinyl is delicate, it's a fragile thing that is easy to harm – and if you care at all, you're kind of in for a penny, in for a pound."
Rollins also extols the virtues of vinyl's sound quality – and the thrill that a first listen to something can give you. "After you hear how good it sounds, and how much fun it is to get the record when it comes out… you're like, 'Man, I'm so happy I scored this.' Cartwheels on the way home. That joy, and just how good it sounds when you play it back, I think it just becomes a real analogue part of your life… Vinyl to me is just more of a human investment in yourself, in the listening experience."
Henry Rollins: The Resurgence of Vinyl
Yet Rollins didn't always treat his own record collection with such care. "I have to be honest, I did not take great care of my early records," he admits. "I did not value them more than just a thing that I would put on and play and play and play, and did great damage to them by not putting them back and taking great care of them." Now his approach is: "Plastic sleeves, alphabetised. Don't touch it. You can look at it, don't touch it.
"It was punk rock that turned me from a guy who bought records to someone who collected vinyl and was very, very careful with it to preserve it so I could play it and play it and play it."
That fetishising, ceremonial aspect of record collecting bleeds into Rollins' listening habits as well. "If you're not going to be alone listening to a record, I think you must pick that [other] person very, very carefully," he counsels. "To have a listening partner as, like, your wingman – your wingperson, if you will… they're so rare where you can sit next to someone and be quiet, or have a conversation that enhances the listening experience."
Henry Rollins: The Best Time to Listen to Vinyl
For Rollins, "Friday evenings going into Friday night, and Saturday night going into late Saturday night, are the two best listening periods I have." Reminding him of a "responsibility-free environment" where he had "48 hours away from the Gulag that was high school for me", Rollins still prefers to blast records at these times, sitting in "a snug-sounding room that just lets me hear sound without the reflection bouncing".
"For me," he asserts, "music and vinyl is part of that celebration of, like, I'm so happy I'm alive right now, 'cause I'm listening to a record."
Henry Rollins makes vinyl recommendations over at The Sound Of Vinyl here.
Format:
UK English