Iggy Pop Celebrates 40 Years Of 'Lust For Life' With Vinyl Reissue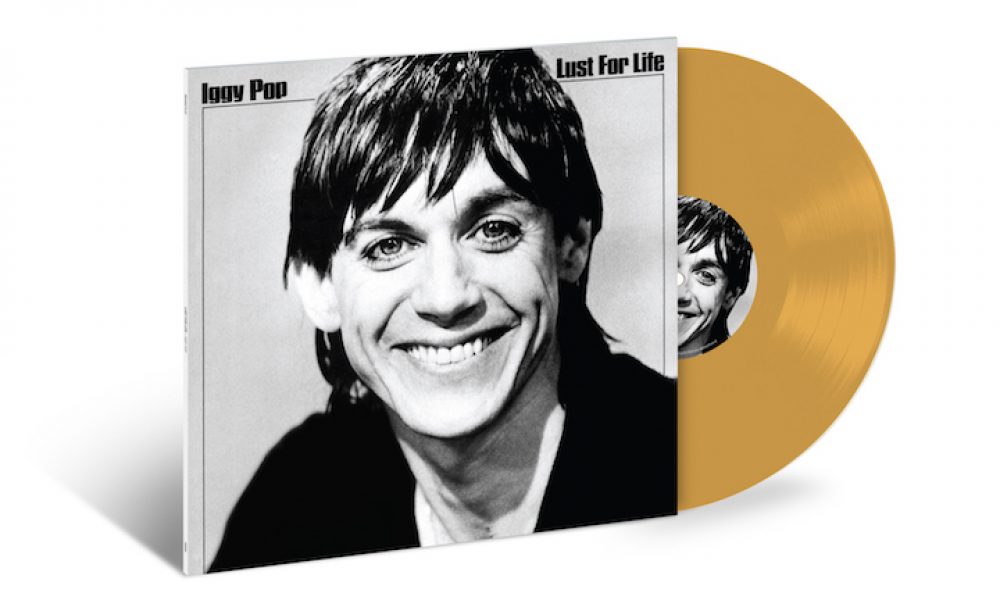 Iggy Pop's revelatory solo album, Lust For Life, celebrates a gilded anniversary, nearly 40 years to the day with a new limited edition reissue on 180-gram metallic gold vinyl LP to celebrate the remarkable legacy of this album that was released on 9 September 1977.
The second of Iggy's one-two punch of solo releases post-Stooges with David Bowie as his co-conspirator, Lust For Life shed the stylized pop melodies of The Idiot and embraced the wild hedonism of his Stooges days. With the punk scene exploding across both shores, Iggy Pop was one of the last vestiges of the old guard who was not only holding onto his place but forging a new path for others to follow once more.
As he told Creem Magazine in 1989, "The man who made it happen teamed up with the man who fell to earth to kick the Eighties into gear 10 years ahead of schedule".
From the first hit of that instantly recognizable drum beat, a beefed up version of the Motown beat on The Supremes 'You Can't Hurry Love', it was clear that Lust For Life was to be a wilder ride than that of its predecessor. With a well-received album (The Idiot) and a sold-out solo tour under his belt, Iggy had a little bit more swagger in his step, capturing the frenetic energy of late 70s and wrapping the entire album in three weeks just a stones throw from the Berlin Wall.
While Bowie co-wrote many of the tracks, it's Iggy's lyrical wit and musicality that truly shines, along with an excellent lean and mean backing band provided by brothers Tony and Hunt Sales for the rhythm section, Carlos Alomar and Ricky Gardiner on guitars and Bowie on keyboard and backing vocals.
When it came to working with Iggy, Bowie said in the duo's famous appearance on daytime talk show Dinah! That he was drawn to Iggy's "unleashing the animalistic kinds of rock that you never really see". Indeed, just as the joie de vivre title implied, most of the album's lyrics were written in the studio or overnight and seized upon Iggy's newfound appetite.
Even to those unhip to the Pop's pedigree will recognize the album's title track, 'Lust For Life', an infectiously catchy homage to the drug-addled life that's been used for everything from kids movies to marketing cruise ships. Out of all these spots, it would be the song's appearance in Danny Boyle's cult classic, scuzzy drug drama, Trainspotting that would win over an entire new generation of Iggy Pop fans. While the song didn't chart when it was first released, it hit No. 26 in the UK after it was re-released as a single in 1996 and that's just the first track on the album.
Iggy Pop - Passenger (Live at the Royal Albert Hall)
Lust For Life is hits the ground running from start to finish, with all high-energy cuts like: 'Sixteen', 'Some Weird Sin', 'Success' and fan favourite, 'The Passenger'. But not all of the album is rollicking rock n' roll, there are some surprising twist and turns, as with 'Turn Blue', a bluesy, poetic freestyle with Pop almost channelling the Lizard King himself, that was a remnant from Bowie and Pop's Idiot touring days and 'Tonight' that features the high harmonies of Bowie and would later appear as the title-track for Bowie's own album Tonight in '84.
It's hard to listen to Lust For Life and not hear the countless disciples that followed both in the immediate new wave scene and the later rock renaissance of the early aughts. Pop has inspired countless covers by post-punkers Siouxsie and The Banshees, provocateurs, G.G. Allin and even the smoothest of crooners, Tom Jones. Now even 40 years later, Iggy is still ahead of the pack.
Iggy Pop's Lust For Life 40th Anniversary Limited Edition Gold Vinyl is available to order here.
Format:
UK English