Joni Mitchell Performs At Gershwin Prize Tribute Concert
Other performers included James Taylor, Graham Nash, and more.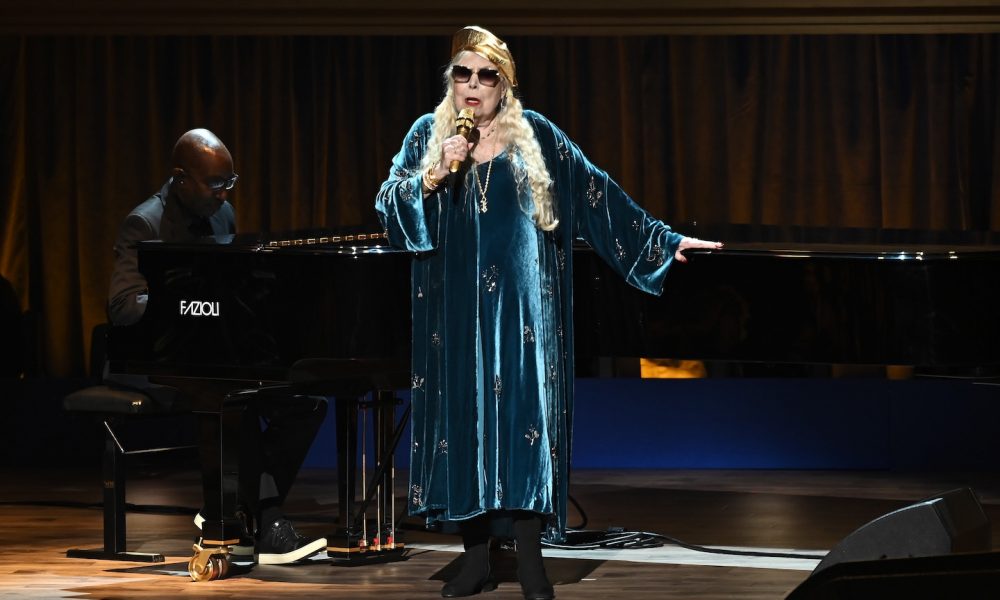 Joni Mitchell performed last night, March 1, at the DAR Constitution Hall in Washington, DC, during a tribute show in celebration of her receiving the Library of Congress' Gershwin Prize for Popular Song.
The concert included performances from Graham Nash, James Taylor, and Brandi Carlile. Annie Lennox did a rendition of "Both Sides Now," and Cyndi Lauper led a large group cover of "Big Yellow Taxi."
The show also featured performances from Marcus Mumford, Diana Krall, Herbie Hancock, Ledisi, and Angélique Kidjo. Mitchell gave the final performance of the night. She offered up a tribute to George Gershwin by singing "Summertime," and also sang her 1966 song "The Circle Game."
Back in November, Joni Mitchell opened up her Los Angeles home to chat with Elton John during Elton John's Rocket Hour series on Apple Music 1. In the discussion, Joni Mitchell explained the story behind her surprise performance at the Newport Folk Festival in July, her first full-length, live performance since 2002.
Mitchell didn't go into too much detail about her upcoming album but did mention it will feature her Newport Folk Festival performance, telling Elton: "Yeah, we're trying to put that out."
Mitchell's performance was as intimate as her music typically suggests, as she explains to Elton that she did not rehearse for her surprise performance. Mitchell simply got on stage and began playing the guitar, as she has always done. She explains to Elton: "Yeah, that I had to figure out what I did. And I couldn't sing the key; I've become an alto, I'm not a soprano anymore, so I couldn't sing the song. And I thought people might feel lighted that if I just played the guitar part but I like the guitar part to that song. So anyway, it was very well received, much to my delight."
Visit the Gershwin Prize's official website for more information.