Keyon Harrold Announces Album 'Foreverland', Shares New Track 'Find Your Peace'
Featuring contributions from Robert Glasper, Common and more, the trumpeter and composer's new record will be out on January 19, 2024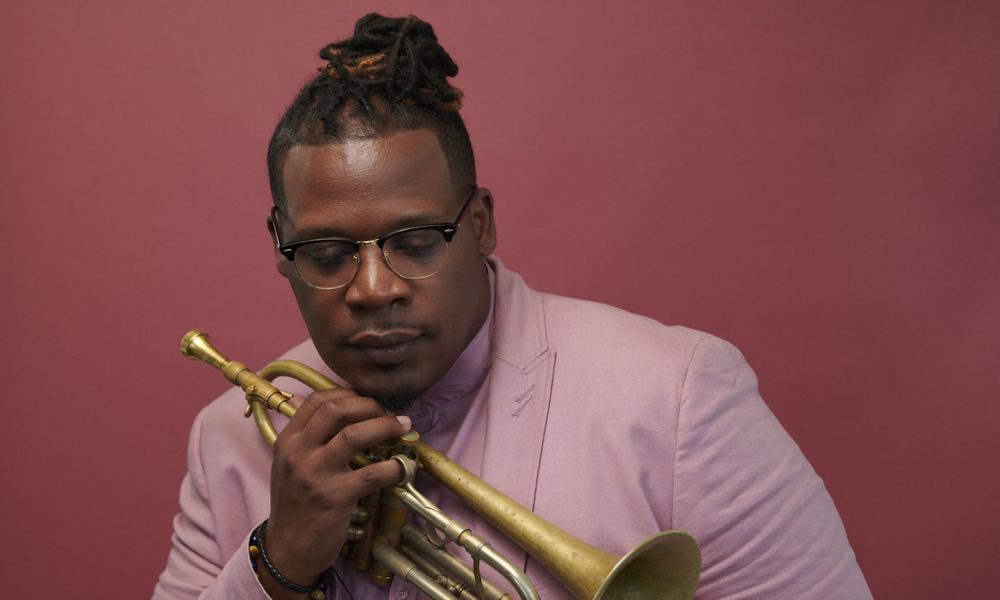 Trumpeter and composer Keyon Harrold has announced his new album Foreverland, will be out on January 19 through Concord Jazz.
Harrold has performed on a host of Grammy-winning projects, and has been widely celebrated for his ability to transcend jazz, R&B, hip-hop and pop with his singular sound, positioning him as go-to performer for a who's-who of stars: Jay-Z, Beyonce, Rihanna, Eminem, Maxwell, Mac Miller, and Snoop Dogg to name a few.
His new album, Foreverland features 10 timely and timeless original compositions that explore themes of empowerment, positivity, love, loss, and vulnerability. The album's guests include Laura Mvula and Malaya, along with influential artists such as Common, Robert Glasper, PJ Morton, Jean Baylor, Chris Dave, and legendary musician Greg Phillinganes.
Keyon Harrold - Find Your Peace ft. Common, Robert Glasper, Jean Baylor
Foreverland is described as "proudly emotional and dramatic, a triumphant journey that takes the listener through the good, the bad, the ugly and the beautiful experiences that lead to wisdom." Says Harrold: "What I can offer as a musician who plays an instrument with no words is an honest conveyance of emotion. Some of these notes, I play them because there's not a better word."
Before he set out to make the album, Harrold found himself stuck in the doldrums of the pandemic lockdown, and a birthday that found him adrift. However, he broke through the creative block in a most surprising way: a trip to Vegas. But Harrold passed up the slots for the studio, and was invigorated from playing with his musical family after months of isolation.
The sessions enabled him to tap into a deeper space of creativity, turning his pain into power that brought his music to a new level. Harrold's most provocative work to date is laced with sultry tempos, sensual vocals, and rich tones that maximize the album's expressive intentions. He cites a wide-ranging list of inspirations, including transcendent artists ranging from Radiohead and Fela Kuti to John Coltrane and Fleet Foxes, and the album's collaborators helped Foreverland coalesce into some of the most exciting work of his career.
The first track Harrold shares, "Find Your Peace" – a mashup of jazz, hip-hop and R&B – sets the tone for the album, with the opening lyrics "Gotta find that peace of mind / can't control things outside," serving as a mantra.  Elsewhere, "Beautiful Day" featuring PJ Morton radiates joy over a quick-paced samba with a touch of distortion fuzz. Instrumentals include "The Intellectual," Harrold dazzling on trumpet over a slow burning groove, and the hard-charging 'Gotta Go (Outer Space).' In August, Harrold released the R&B-heavy "Don't Lie" featuring the lush vocals of Malaya.
Foreverland is a family affair — nearly every musician is a longtime friend, and Harrold accounts the record's warmness to this dynamic. "It's like the ingredients of a great meal: you don't need just any pepper, you need a certain kind. Every musician on this record is a rare and essential element." The lineup includes Chris Dave and Marcus Gilmore on drums, Nir Felder, Randy Runyon and Justus West on guitar, Burniss "Boom" Travis and Brandon Owens on bass, Greg Phillinganes, BIGYUKI, Shedrick Mitchell and Jahari Stampley on piano/keyboards, and Jahi Sundance on turntables.