Woodstock 1969, Beatles Memorabilia, More At 'Century Of Music' Auction
The auction will also include guitars owned by Eric Clapton, Bo Diddley, and Lynyrd Skynyrd, pianos owned by Chick Corea and Elton John and countless other items.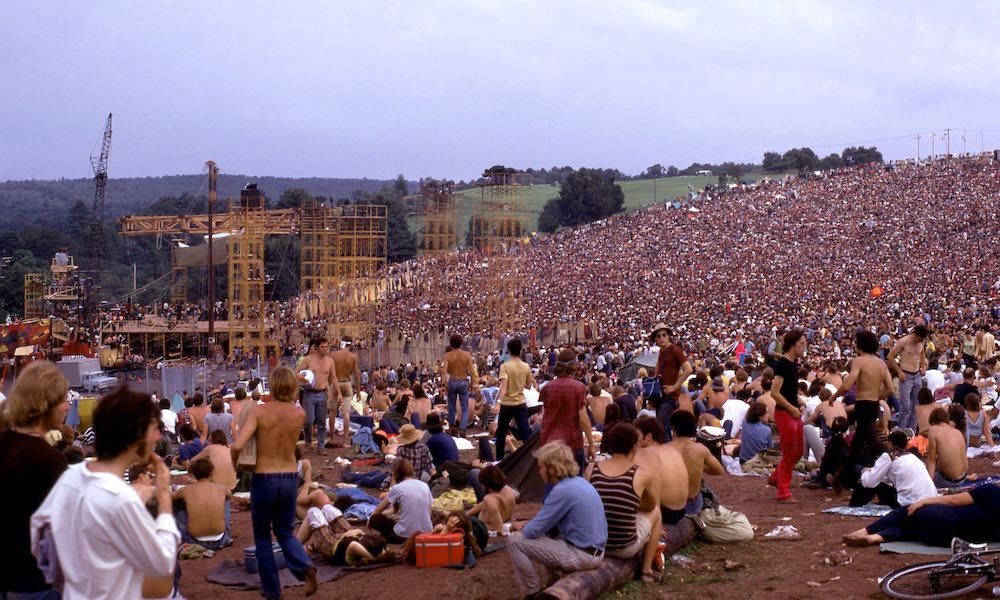 New York auction house Guernsey's has announced its A Century of Music Auction, to take place on July 15. It will include highly prized items from the Woodstock Festival, guitars owned by Eric Clapton, Bo Diddley, Lynyrd Skynyrd and others, and pianos owned by Chick Corea and Elton John.
The auction will offer such remarkable attractions as the front doors from the storied Chelsea Hotel, the New York bolthole of countless rock stars and other artists, from Iggy Pop to Jim Morrison and Nico to Bob Dylan. The 1969 hand-painted directional map to the Woodstock Festival will also go under the hammer, along with sections of the stage, posters, Paul Butterfield's stage speakers, photographs taken on stage by Barry Levine, original tickets and more.
Other items in the vast auction include Butterfield and James Cotton's blues harmonicas, test pressings of Miles Davis' records, a gown owned and worn by Billie Holiday, John Lennon artwork, and over 500 vintage violins, banjos, ukuleles. and mandolins. More information is available at the auction website homepage.
Checks from The Beatles' Apple Corps signed in 1971 by George Harrison and Ringo Starr sit alongside a check from the same year signed by Lennon, apparently for the purchase of a book on gardening. Among countless other Beatles ephemera including a Yellow Submarine pop-out art decorating book and a "flip your wig" board game, a postcard from the Star Club in Hamburg signed by Lennon in the group's early days there is available, with the words "Would you call me at 10:15 if I'm not up please. John."
A Fender Stratocaster signed "to David," from Clapton to David Feinstein, is on offer from the latter's collection, as is a Squire by Fender Bullet from Bruce Springsteen with the same inscription. Benny Goodman's Selmer B-Flat clarinet is up for auction along with address books owned by fellow jazz luminary Gerry Mulligan, and various Miles Davis test pressings including Miles Ahead and Porgy and Bess.
Early rock'n'roll fans will also be attracted by a black and white tweed sports jacket with gold thread woven through the fabric, and a black lining, worn by Buddy Holly at various shows in the late 1950s. There's also a Smith & Wesson revolver owned by Elvis Presley among a myriad of other jewels for any music collector. Those wishing to take part can log on to liveauctioneers.com and invaluable.com and join the bidding.