Nirvana Gets A Mural In Los Angeles To Celebrate 'Nevermind' Anniversary
The mural is located on Melrose Avenue in Los Angeles.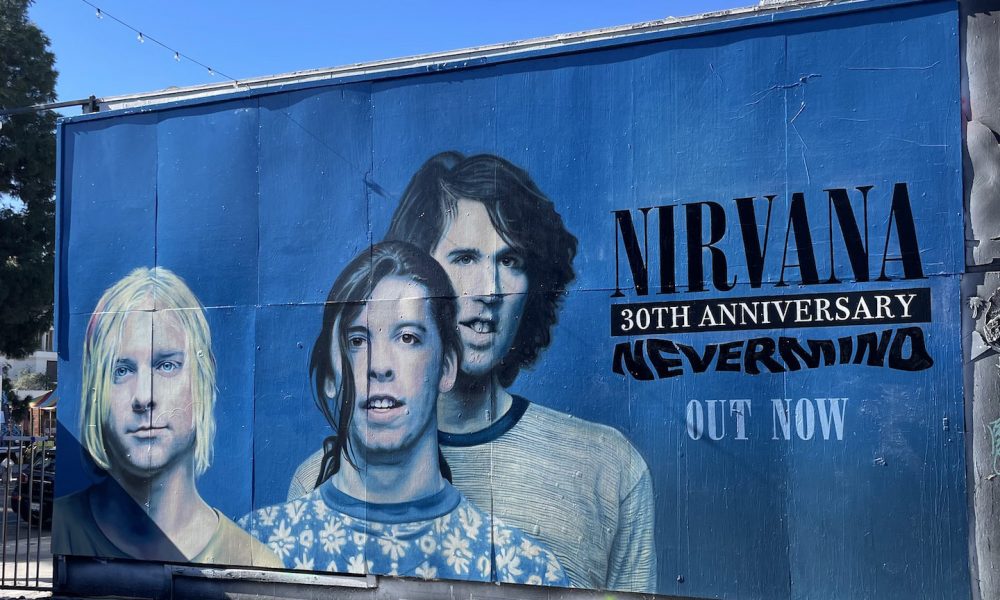 Fans from all over visited the Nirvana Nevermind mural in Los Angeles at Melrose Ave. in celebration of the 30th anniversary of the band's seminal album.
Nevermind started slowly, with a UK debut at No.36 and a cautious entry to the Billboard 200 at No.144, but it became both a critical landmark and a commercial juggernaut. It ranked No.17 in Rolling Stone's all-time Top 500 album list and racked up a chart life of five years, with a 252-week run on the survey.
In America alone, during Christmas week of 1991, the album sold a spectacular 374,000 copies in a mere seven-day frame. As a fringe benefit, suddenly everyone also wanted to know about that overlooked debut album, and Bleach made its own chart debut in January 1992, two and a half years after release.
To celebrate one of the most important albums in rock history, on November 12, Geffen/UMe commemorated the 30th anniversary of Nevermind with several multi-format reissues. A total of 94 audio and video tracks–70 previously unreleased–have been made available across configurations ranging from Super Deluxe Editions to standard digital/CD and single disc vinyl with bonus 7-inch. In all formats, Nevermind has newly remastered from the original half-inch stereo analog tapes to high-resolution 192kHz 24-bit.
Among the previously unreleased material exclusive to various versions of the Nevermind 30th Anniversary Editions are four complete live shows that document Nirvana's historic ascension on the concert stage – Live in Amsterdam, Netherlands (recorded and filmed on November 25, 1991 at the famed club Paradiso); Live in Del Mar, California (recorded on December 28, 1991 at the Pat O'Brien Pavilion at the Del Mar Fairgrounds); Live in Melbourne, Australia for triple j (recorded February 1, 1992 at The Palace in St. Kilda); and Live in Tokyo, Japan (recorded at the Nakano Sunplaza on February 19, 1992).
All four newly remastered live shows are included in the Nevermind Super Deluxe Editions, which are available in both vinyl (8LPs – 180-gram black vinyl – all in premium tip-on jackets — plus the new 7-inch – A-side: "Endless, Nameless" / B-side: "Even In His Youth" and "Aneurysm") and CD+Blu-ray (5 CDs plus Blu-ray – Live in Amsterdam, Netherlands complete concert video newly remastered audio & video in HD).