PJ Harvey Announces New Album 'I Inside The Old Year Dying'
The long-awaited follow-up to 2016's 'The Hope Six Demolition Project' will be out on July 7.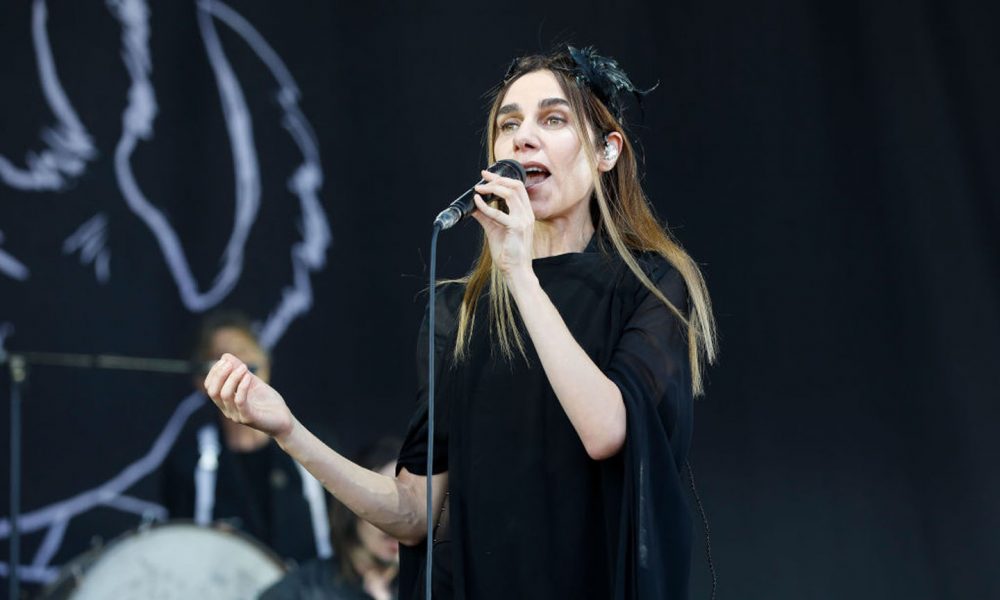 PJ Harvey has announced a new album entitled I Inside the Old Year Dying, her first studio set since 2016's The Hope Six Demolition Project. It is proceeded by a single "A Child's Question, August," accompanied by a video by Steve Gullick, which you can check out below.
I Inside the Old Year Dying is due for release on July 7 on Partisan Records, and was produced by Harvey's long-time collaborators Flood and John Parish. You can check out the record's tracklist below.
The new songs, Harvey says, offer "a resting space, a solace, a comfort, a balm – which feels timely for the times we're in."
Her new record's genesis, goes back to 2017, after touring her last album in 2017 and how she felt immediately afterwards. According to a press release, "What she keenly felt was that somewhere in the endless cycle of albums and tours, she had lost her connection with music itself, a realization that was troubling beyond words."
PJ Harvey - A Child's Question, August (Official Video)
Nonetheless, after mentoring by the Scottish poet Don Paterson, Harvey worked on Orlam, the accomplished work of poetry – her second, after 2015's The Hollow of the Hand – that was published last year and became one of the new album's key inspirations. There were also the reissues of Harvey's preceding albums – and, in new editions, their demo versions – that were released between 2020 and 2022. But eventually, two things began to push her in the direction of new songs, music and sounds.
One was the memory of a meeting with the artist and film-maker Steve McQueen, in Chicago, during the Hope Six Demolition Project period. His advice was to remember what she loves about words, images and music and to put away the concept of writing "an album" to focus on and play with these three passions. The other catalyst for a return to music was simple: the sheer act of playing it. Picking up the guitar or sitting down at the piano to play her favourite songs by such artists as Nina Simone or Bob Dylan – reconfirmed Harvey's passion for the artform.
Something soon started to cohere. When Harvey began to write new songs, there was a liberating sense of making music for its own sake, rather than the first steps back into the album-tour-album-tour cycle. She drew on the sense of creative freedom she had felt in past musical work on soundtracks, and in the theater. At the same time, her perspective was shifting, away from the big themes of Let England Shake and Hope Six ("looking out, at war, politics, the world"), towards something more intimate and human.
The new songs, Harvey says, "all came out of me in about three weeks". But that was only the beginning. The key to what would happen next – at Battery Studios, in North West London – lay in a three-way creative bond that now goes back nearly thirty years, between Harvey, her enduring collaborator and creative partner John Parish, and Flood: nominally a producer, though that word does not really do him justice.
"The studio was set up for live play, and that's all we did," she says. The importance of this is hard to overstate: if I Inside the Old Year Dying is a very tactile, human record, that is partly because just about everything on it is rooted in improvisation: spontaneous performances and ideas, recorded at the moment of their creation.
"I think the album is about searching, looking – the intensity of first love, and seeking meaning," says Harvey. "Not that there has to be a message, but the feeling I get from the record is one of love – it's tinged with sadness and loss, but it's loving. I think that's what makes it feel so welcoming: so open."
Pre-order I Inside The Old Year Dying.
I Inside the Old Year Dying includes the following tracks:
"Prayer At the Gate"
"Autumn Term"
"Lonesome Tonight"
"Seem An I"
"The Nether-edge"
"I Inside the Old Year Dying"
"All Souls"
"A Child's Question, August"
"I Inside the Old I Dying"
"August"
"A Child's Question, July"
"A Noiseless Noise"