Richard Davis, Virtuosic Bass Titan, Dead At 93
The late vibraphonist Bobby Hutcherson once said of the bass player: "I honestly can't think of any that can do everything as well as Richard. He knows the bass thoroughly."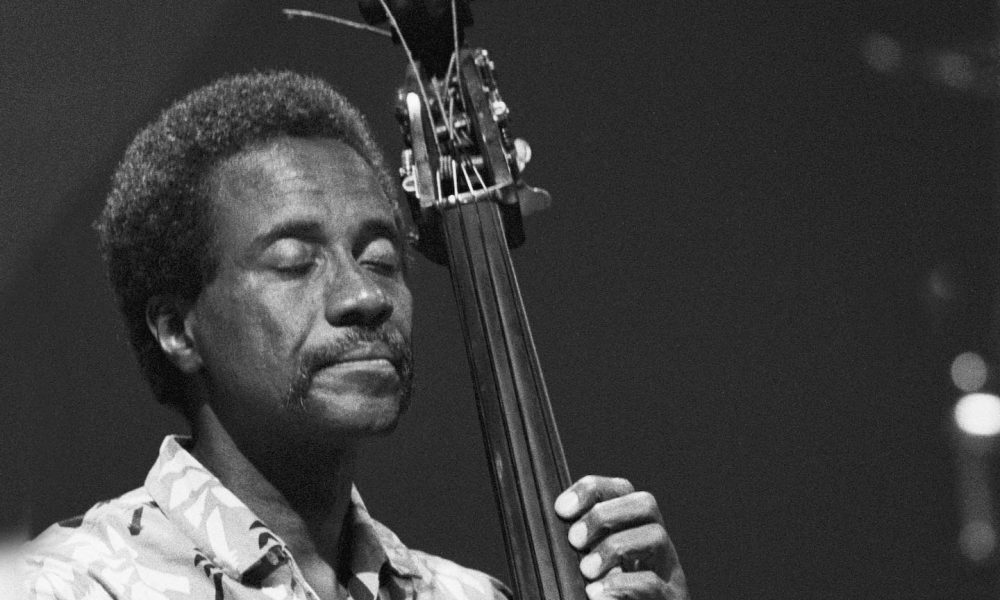 Richard Davis, the versatile bass player with over 3,000 recording credits, has died at the age of 93. Davis' daughter Persia Davis confirmed her father's death Thursday on a memorial page.
"We appreciate all the love and support the community has shown him over the years," Persia shared in a statement.
Perhaps no artist besides Davis could claim to have worked with musical giants as different as Igor Stravinsky, Eric Dolphy, Frank Sinatra, and Bruce Springsteen. A prolific and supremely versatile bass polymath, Davis spent his seven-decade career refusing to abide by musical barriers, playing everything from jazz (both the bebop and avant-garde varieties) to blues, pop, rock, folk, and classical music. He cited one artist in particular for this inspiration: Duke Ellington. Ellington "didn't classify any genres," Davis told Bob Jacobson in 2014. "To him, there were only two kinds of music: It's either good or bad. I'm with Duke Ellington on that."
Though popular audiences might not know Davis by name, they certainly know many of the records on which he played, particularly platinum-selling pop-rock masterpieces by Bruce Springsteen (Born To Run), Paul Simon (There Goes Rhymin' Simon), Van Morrison (Astral Weeks) and Janis Ian (Between The Lines). But though Davis' pop and rock excursions certainly helped him financially and took his name into the wider public domain, his heart belonged to jazz, and he played with some of the genre's biggest names, from trumpet pioneers Louis Armstrong and Dizzy Gillespie to jazz singer Sarah Vaughan and avant-garde magus Eric Dolphy.
Famed for his deep, rich tone and musical dexterity (he could pluck, strum, and bow the bass equally well), Davis was a master technician who could alternate between acoustic and electric bass and was in high demand as a sideman. He also found time to record over 20 albums under his own name and enjoyed notable LP collaborations with ex-Coltrane drummer Elvin Jones, vibraphonist Walt Dickerson, and saxophonist Archie Shepp. The classical music world, too, benefited from Davis' expertise; he worked with the Russian-American composer Igor Stravinsky (who once purportedly described Davis' virtuosity as "god-like") and also played under the baton of several eminent conductors, including Leonard Bernstein, Pierre Boulez, and Leopold Stokowski.
But Davis would probably contend that his greatest contribution to music was his role as a teacher, which began in 1977 when he took up the post of a music professor at the University of Wisconsin-Madison, where he stayed for 39 years. He firmly believed in passing on his knowledge and wisdom. "I love teaching," he said in 1979. "I believe you should share what you have."
Davis was a Chicagoan by birth, born on April 15, 1930. Music hooked him early thanks to his mother's collection of 78-rpm jazz records, which he played incessantly. His first taste of active music-making was singing in a family vocal trio, coached by a cousin. But it wasn't until he was 15 that Davis felt the urge to take up an instrument. Bashful as a child, Davis wasn't drawn to a front-line instrument like the saxophone or trumpet but while attending DuSable High School, where his classmates included future saxophone star Clifford Jordan and blues man Bo Diddley (then known as Ellas McDaniel). He was fascinated by the upright bass. "The bass was always in the background, and I was a shy kid," he told Steve Krakow in 2022. "So I thought maybe I'd like to be in the background."
He was taught and mentored by Captain Walter Dyett, a former leader of the Eighth Regiment Infantry Band of the Illinois National Guard. He was a stern and exacting disciplinarian, but Davis found him inspirational, describing him as "the kind of teacher you dream about." Dyett, whose previous students included Nat King Cole and Dinah Washington, played both jazz and classical music and helped Davis see the merits in all styles of music; crucially, he also planted the seed of wanting to become a teacher in his young protégé.
Davis' early influences were mainly jazz bass pioneers — Oscar Pettiford, Jimmie Blanton, Slam Stewart, and Milt Hinton — but he also sought to immerse himself in the classical world, so he took private lessons with the Chicago Symphony Orchestra's double bassist Rudolph Fahsbender. After leaving high school, Davis enrolled in VanderCook School of Music, where he gained a bachelor's degree in music education. During the same period, Davis learned about jazz on the bandstand, honing his craft in the Windy City's club and bars, which led him to meet and work with an inspirational pianist called Sonny Blount, who would later take on the name Sun Ra. On their first meeting, Blount told Davis, "I'm not gonna take you to the moon because you're not ready yet." It blew the mind of the young bassist, who discovered that Blount was a mystic who saw music on a deeply spiritual level. The perception had a profound influence on Davis' own approach to music.
Davis' big break came when he joined rising piano star Ahmad Jamal's trio in 1952. After two years, Davis moved to pianist Don Shirley's group and traveled to New York City for the first time. There, he made his recording debut on an album of duets with Shirley called Tonal Expressions. At first, he found the city — teeming with other talented musicians — intimidating. "There was so much talent," he once said, "and I was always feeling that a bass player who was already established in New York would see me carrying a bass and say, 'Where you going, boy?'"
Despite his fears, Davis quickly conquered the Big Apple. His consummate playing skills combined with his excellent sight-reading ability meant he was soon in demand. After some gigs with the Sauter-Finegan Orchestra, he joined Vaughan in 1957, recommended to her by drummer Roy Haynes. As a member of her trio, he recorded four albums with the chanteuse, including the iconic Swingin' Easy. After five years accompanying Vaughan, Davis sought a different challenge. That came when he chanced upon Dolphy — then a rising star of the avant-garde jazz scene — on a New York subway platform. Recalled Davis to historian Ted Panken: "He said, 'What are you doing next week?' I said, 'Nothing.' And he said, 'Why don't you go down to the Five Spot with me?'"
Davis joined Dolphy's band and showed an immediate affinity for playing free jazz, or what some dubbed the "New Thing." "We were resisting being imprisoned by chord changes, trying to free ourselves from the restrictions of scales and rhythms," Davis explained to Allegro's Peter Zimmerman in 2021. "Limiting yourself to a particular set of notes and chords is in a sense being a slave to the powers that be."
The bassist ended up cutting two albums with the pioneering Dolphy: '63's Iron Man and 1964's totemic Out To Lunch! — the latter, released by Blue Note Records, was quickly regarded as a landmark recording in avant-garde jazz. In the album's liner notes, Dolphy was keen to highlight Davis' uniqueness: "Richard doesn't play the usual bass patterns. He plays rhythm with his lines. He leads you somewhere else."
Davis' interest in being at jazz's cutting edge was also reflected in his work during the same period with other pioneers determined to break down musical barriers, like vibraphonist Bobby Hutcherson, drummer Tony Williams, and unorthodox pianist/composer Andrew Hill, with whom he recorded seven albums between 1963 and '69, including the iconic Blue Note title Point Of Departure.
But not every project Davis worked on in the 60s was intent on pushing the jazz envelope. To help him earn a living, Davis recorded numerous advertising jingles and played on dozens of mainstream recording projects. His assignments were various, including sessions for veteran alto saxophonist Johnny Hodges, rhythm and blues singer Ruth Brown, and Latin jazz percussionist Willie Bobo, all of which reflected his growing reputation as an adaptable musician whose interests transcended genres.
In 1967, Davis became a recording artist in his own right with Heavy Sounds, a notable album collaboration with ex-Coltrane drummer Elvin Jones. It allowed the bassist to reveal the full extent of his virtuosity, especially on an extraordinary version of George Gershwin's "Summertime," where he bowed as well as plucked his instrument's strings. But it was another two years before Davis made an album solely under his own name: 1969's Muses For Richard Davis, an all-star post-bop session released by the German MPS label.
By that point, Davis' name was known beyond the jazz world, which was largely due to his work the previous year on Astral Weeks. Davis' fluid but rock-solid bass lines played a pivotal role in relating the free-spirited essence of Morrison's songs, so much so that noted rock critic Greil Marcus lauded Davis for contributing "the greatest bass ever heard on a rock album." In 2008, the album's producer Lewis Merenstein even went so far as to describe the bassist as providing "the soul of the album."
The success of Astral Weeks drew admiration from many US singer-songwriters — among them Paul Simon, Janis Ian, Melanie, Laura Nyro, and Judy Collins, who queued up to have Davis play bass on their albums in the 70s. The decade was a fruitful one, too, for Davis' solo career, which also took meaningful flight. He recorded a clutch of both studio and live albums in avant-garde and straight-ahead settings for a variety of labels.
As more mainstream attention turned towards rock and away from jazz — and many jazz venues closed as a consequence — Davis moved into the academic world, accepting a job offer to teach at University of Wisconsin. "I got a call offering me a job at the university in Madison because they didn't have a bass teacher on campus," Davis recalled to On Wisconsin magazine in 1979, confessing that he didn't know where Madison was. "I asked around if anyone had heard of the place because this school kept calling me. Martin Luther King, Jr. talked about the importance of teaching others, and I had always wanted to teach young people. I thought maybe it was time."
With his focus now on teaching, Davis — whose official job title was Professor of Bass (European Classical and Jazz), Jazz History, and Combo Improvisation — appeared on fewer recording sessions and only occasionally went out on tour. But he never stopped playing. He quickly earned a reputation as a tough but fair tutor in the mold of Dyett, his DuSable High School mentor. "I teach character," Davis told On Wisconsin. "That's the most important thing for me — follow-through and hard work. The world is not waiting on you, and there's tons of talent out there."
Davis did his utmost to foster young talent, especially those playing bass. In 1993, he set up an annual conference camp, the Richard Davis Foundation For Young Bassists, which caters to up to 100 musicians from the ages of 3 to 18.
Davis was proud of the many musicians who came through his classes. Among his most well-known students were free jazz bassist William Parker and the eclectic bassist/composer, writer, and educator Karl E. H. Seigfried.
A passionate social activist and outspoken critic of racism throughout his life, Davis also helped to promote racial diversity at the university, whose student body was 97% white when he began teaching there in 1977. He held workshops, like one titled Racial Conditioning: The Oneness of Humankind, and began the Retention Action Project (RAP) in 1998 to help minority students. He also established the Madison Institute for the Healing of Racism, a body set up specifically to promote racial unity via frank dialogues between people of different ethnic backgrounds.
Away from music and his work as an academic, Davis was a passionate equestrian. His love for horses began when he was 9 and worked part-time at a Chicago stable alongside a young Bo Diddley. He even competed in dressage and show jumping events and, after he moved to Wisconsin, bred horses for a while.
It is for his accomplishments as a musician, though, that Richard Davis is remembered best. During his lifetime he was much honored: he was named Best Bassist by the influential jazz magazine Downbeat for seven successive years, from 1967 to 1974, and was named an NEA Jazz Master in 2014, which cemented his place in the pantheon of contemporary jazz greats.
Davis' final recording was Blue Monk, released exclusively in Japan in 2009, a duo collaboration with the late pianist Junior Mance. Six years later, he retired from his duties at the University of Wisconsin but remained committed to his annual Foundation For Young Bassists.
Whether he was playing avant-garde jazz opposite Dolphy, laying down a walking bass line behind bebop saxophonist Sonny Stitt, or accompanying singers as varied as Springsteen, bluesman Josh White, and Latin pop idol José Feliciano, Davis' deep, resonant bass lines always offered a unique musical presence that brought a combination of groove and cohesion. His contributions to jazz in particular made him one of several pioneers who helped to liberate the bass from a dedicated time-keeping role, making it a more versatile and expressive instrument.
But perhaps his greatest strength was his genre fluidness, which lay at the core of his musical sensibility. It was a quality at which fellow jazz bassist and educator Rufus Reid marveled. "Richard has played in every musical setting you could imagine," he once said. "Whether it be performing in a symphonic orchestra, recording jingles, recording jazz records, and then playing until dawn in a club in the bowels of The Village in New York… and he might be doing all of that in one day."
Davis is survived by his daughter, Persia.