Richard Thompson's '13 Rivers' Tour Rolls Into Cork
The folk-rock legend played a sublime set of hits, deep cuts and classics-in-waiting.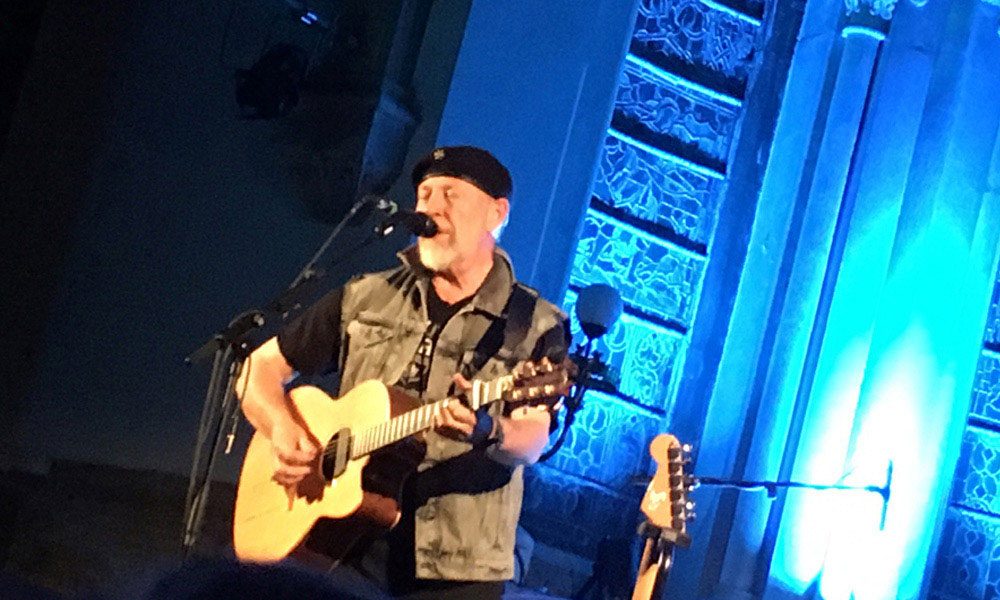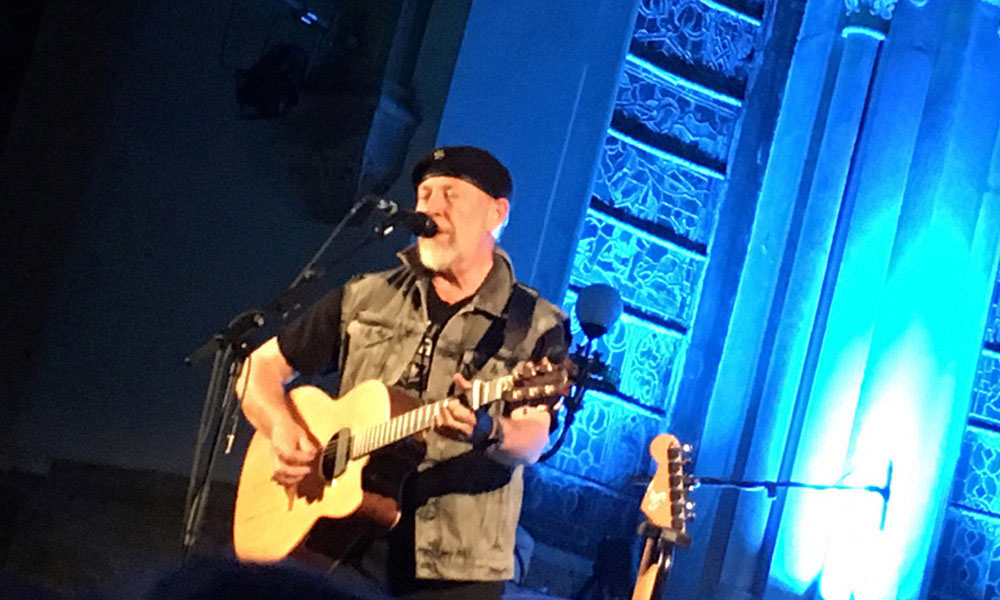 Richard Thompson is set to play an extensive UK tour in support of his much-anticipated new album 13 Rivers, his first self-produced album in over a decade, which is released via Proper Records on 14 September. Prior to his arrival on British shores, however, the folk-rock legend touched down in Ireland for a three-date mini-tour, with dates in Belfast and Dublin preceding this rousing final show on Friday, 17 August at St. Luke's: a beautiful former Romanesque church on the outskirts of Cork city.
Though perhaps a little short of reverent, the atmosphere was hushed and expectant as the Fairport Convention founder took to the stage in front of a capacity crowd. Looking eminently youthful, he was sporting a cut-off denim gilet, black jeans and his trademark beret and he was accompanied by his talented 13 Rivers studio crew: drummer Michael Jerome, bassist Taras Prodaniuk and second guitarist Bobby Eichorn, who also doubles as Thompson's guitar tech.
Kicking off with a hard-edged and percussive version of one of 13 Rivers' key tracks, 'Bones Of Gilead', they launched into a sublime, 90-minute set of hits, deep cuts and classics-in-waiting. Thompson strapped on his salmon pink Stratocaster on numbers from the new album such as 'Her Love Was Meant For Me' and the visceral junkyard blues of 'The Rattle Within' before switching to acoustic for 'They Shut The Hippodrome Down' and an emotive '1952 Vincent Black Lightning' from the much-acclaimed Rumour & Sigh which came close to bringing the house down.
Well-paced and immaculately performed, the imaginative setlist spanned the iconic singer-songwriter's entire career.  An early highlight was 'Meet On The Ledge' – Thompson's tribute to absent friends from the Fairports' What We Did On Our Holidays – and he later returned to the same landmark disc for the chiming, Byrds-ian 'Tale In Hard Time', which he confessed his influential first band never performed live back in the day.
Regularly quipping with the crowd and clearly enjoying himself, Thompson also revisited a bunch of his landmark, Capitol Records albums from the 1980s and '90s. A joyous 'Wall Of Death' from Shoot Out The Lights preceded a tense 'Put It There Pal' from '96's You? Me? Us?, while a muscular reinvention of Amnesia's 'You Can't Win' gradually built into a full-blown sonic storm with the rhythm section piling on the pressure and Thompson's breathtaking extended solo channelling James Burton and Jimi Hendrix before it finally blew out to rapturous applause.
Elsewhere, the entire band showed off their chops on 'Guitar Heroes', Thompson's dextrous, but heartfelt salute to his boyhood influences Django Reinhardt, Chuck Berry and Hank Marvin and the rattling, rockabilly-flavoured 'Tear-Stained Letter' which took us to the tape in style.
For the encore, Thompson returned alone to perform a pair of his best-known songs back to back. Also regularly performed by Christy Moore, 'Beeswing' from Mirror Blue is a beautifully-drawn, if devastatingly sad vignette reflecting the results of love, marriage and a wandering heart and a pin could have been heard dropping while he delivered it tonight. In its wake, he returned to 1974's critically-hailed I Want To See The Bright Lights Tonight for a transcendent 'Down Where The Drunkards Roll', leaving us in little doubt that after a remarkable fifty year career and counting, Richard Thompson is still a formidable performer and an utterly unique presence on the scene.
Richard Thompson's 13 Rivers UK Tour starts on 11 October at Liverpool's Philharmonic Hall. See the artist's website for more details.
Format:
UK English