Sabrina Carpenter Expands Her Own Cinematic Universe In Music Video For New Single 'Fast Times'
The Amber Park-directed video picks up on a character previously introduced in the 'Skinny Dipping' music video.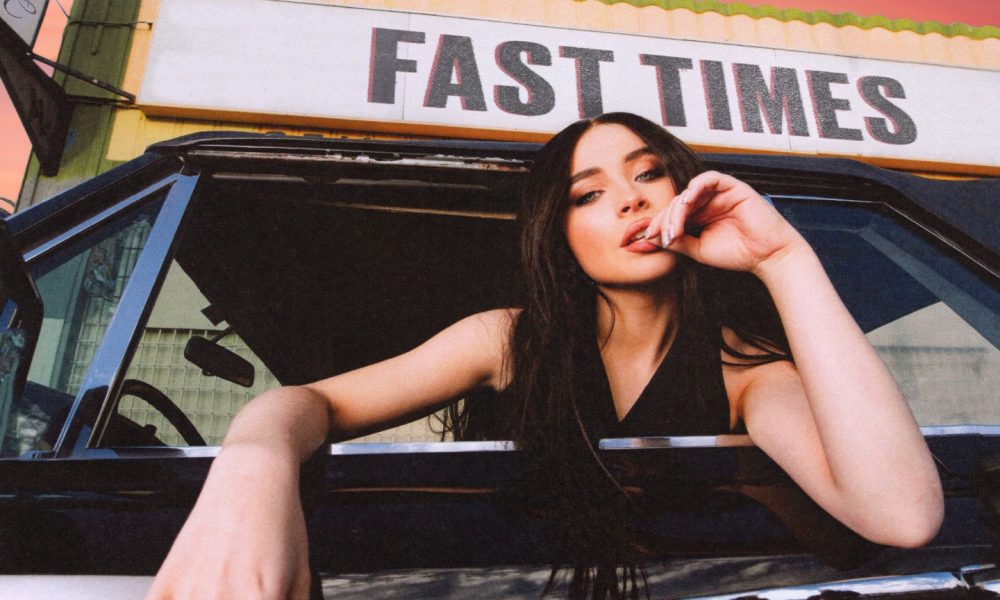 When we last encountered Sabrina Carpenter, at the end of the music video for the hope-filled single "Skinny Dipping," she had just thrown a box of handwritten notes into the air to symbolize letting go of the past when she was jolted by the passing of a high-speed motorcyclist revealed to be herself. Now, with the arrival of her latest offering "Fast Times," the cinematic universe of the pop singer and songwriter's debut album via Island Records is expanding through the lens of the woman on the bike.
Sabrina Carpenter - "Fast Times" (Official Video)
Directed by Amber Park, the "Fast Times" video finds Carpenter playing the role of a slick, elusive outlaw on the run. She buys herself some time by hiding her long blonde locks beneath a jet black wig, but the night is only just getting started.
The single shapes a soundtrack for the action-packed narrative as Carpenter sings of living in the moment and leaving the consequences to be a worry for her future self. Written by herself with collaborators John Ryan, Julia Michaels, and J.P. Saxe, the song leans into impulsivity, wrapping itself in a slick bassline and tapping percussion courtesy of the young musician herself.
"I'm in my early twenties, and it sometimes feels like you have to pick up, digest, process your emotions and move on before you even realize what happened," Carpenter explained in a statement. "Reminds me of the times in life where we act on impulse knowing we risk the consequences of what that might bring but it's worth it for the ride of what could be."
By the end of the music video, Carpenter has been through the ringer but triumphs through it all. She goes from a Britney Spears and Christina Aguilera-inspired dance break in a Rihanna-esque mechanics garage to escaping through a vent system only to be captured and hauled away when she emerges from the other side. Armed with a glossy ring in the shape of her initials, Carpenter breaks out to complete her mission: obtaining a highly guarded silver briefcase. What's inside? That's a story for the next chapter.