Scotty Moore, Pioneering Guitarist for Elvis Presley, Has Died at 84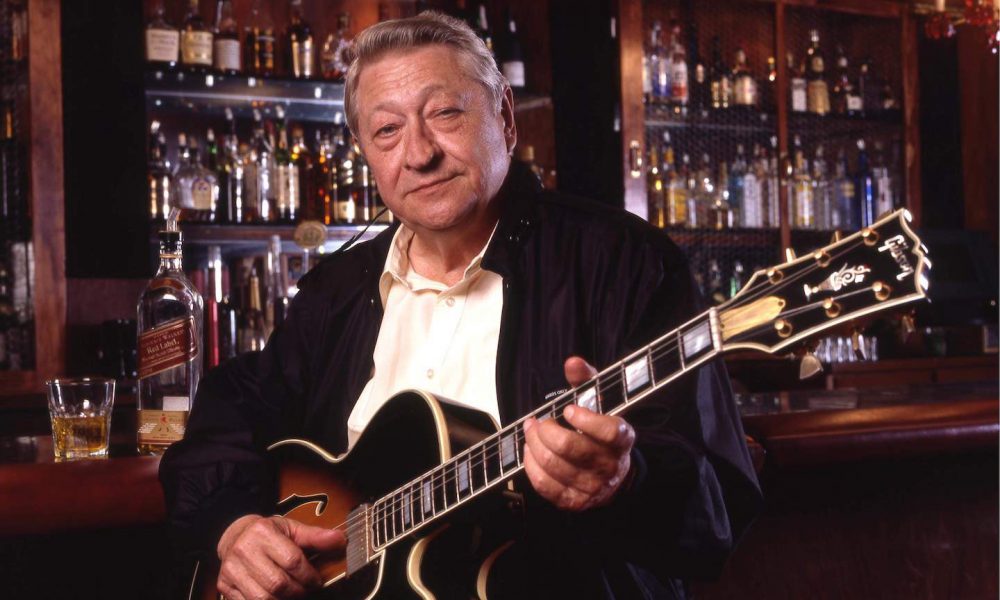 Scotty Moore, the guitarist who helped Elvis Presley create his original, revolutionary rock 'n' roll sound at Sun Records, died yesterday (28) at the age of 84. Moore had been in poor health for some months, and died in his longtime home of Nashville.
"Elvis Presley wouldn't have been Elvis Presley without Scotty Moore," said Jerry Phillips, the son of Elvis' early producer, champion and Sun founder Sam Phillips. "I think my dad would agree with that. You gotta remember, there were only three instruments on those things. Scotty, Bill [Black] and Elvis. Scotty really just made everything work."
Moore and Black formed Presley's first band, the Blue Moon Boys, playing with him on the Sun tracks that made his name and on the much-seen black and white TV performances that have also become part of music folklore. Moore's performances on his Gibson on 'That's All Right,' 'Heartbreak Hotel' and others were among the definitive contributions in the emergence of rock 'n' roll, influencing thousands of future musicians.
"When I heard 'Heartbreak Hotel', I knew what I wanted to do in life," Keith Richards once commented. "It was as plain as day. All I wanted to do in the world was to be able to play and sound like that. Everyone else wanted to be Elvis, I wanted to be Scotty."
Moore, who was inducted into the Rock and Roll Hall of Fame in 2000, also appeared with Presley in four of his early films (Loving You, Jailhouse Rock, King Creole and G.I. Blues) and on his famous "comeback" NBC television special of 1968.
Away from his work with Elvis, he made such albums as 1964's The Guitar That Changed The World and the often-overlooked but highly impressive 1997 release All The King's Men. Here he teamed up with Black, Presley's former drummer D.J. Fontana and his longtime backing vocalists the Jordanaires on a project recorded in part at Levon Helm's studios in Woodstock, New York. It featured a stellar guest list of contributors including Helm, Richards, fellow Rolling Stone Ron Wood, Jeff Beck, Cheap Trick, Steve Earle, Joe Ely and others.
Born Winfield Scott Moore on 27 December, 1931 on a farm between the Tennessee towns of Gadsden and Humboldt, Moore started playing guitar at the age of eight. He joined the Navy, under age, and after being discharged in 1952, he moved to Memphis, where he first played with Black in Doug Poindexter's band the Starlite Wranglers, who recorded one single for Phillips at Sun before Presley entered the frame.
"I don't necessarily believe in luck or fate, but I think a certain group of people happened to be in the right place at the right time," Moore reminisced with the NME in 1973. "You know, it all started with the audition, and the audition became the first record. It was the mixing of people – Black, myself and Elvis.
"Bill and I were working with a country band at that time. I'd been into a little pop and was reaching the point as a player where I was beginning to dig jazz. If all this hadn't happened I would have continued in that direction. All of us came from the Memphis area, all of us were orientated towards blues, or gospel-blues, or whatever you wanna call it. We inspired each other and just did our own thing.
"We were all hungry and we were anxious to go out and make a buck to earn a living. This was in the early days and then, when things really started popping, we just didn't have time to think about it, things were going so fast. We'd play one town and wouldn't know what the newspapers said next morning – we were gone. We were getting criticism and not knowing about it till two or three years later.
"The only way we knew about the popularity were the increasing crowds and of course the TV shows. We were going so fast. Elvis didn't know what was happening; none of us did."
Format:
UK English