Sting Caps Fellowship Award At Ivor Novellos By Performing Police Classic
It followed a show-stopping speech by his friend Bob Geldof.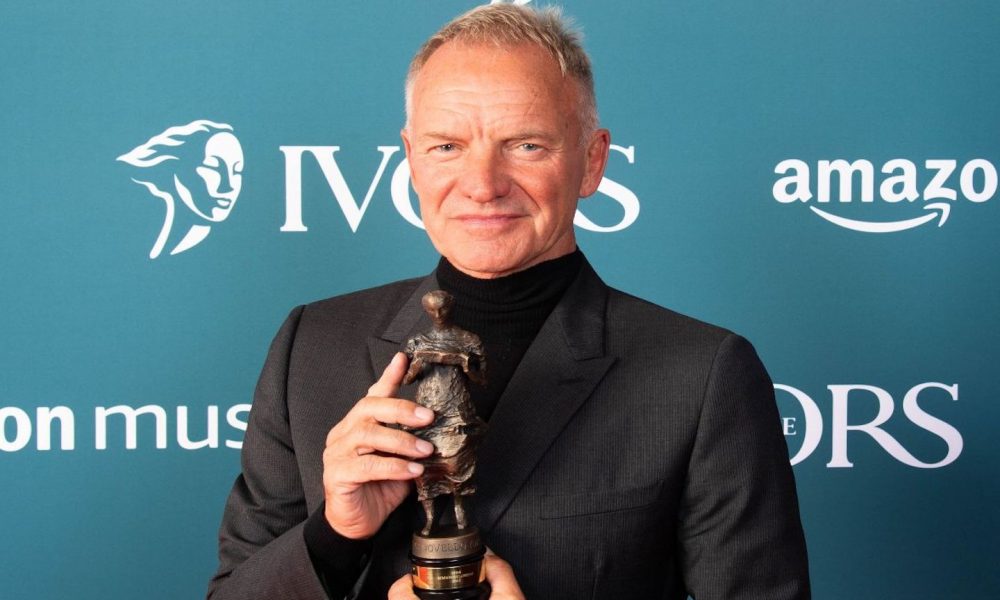 Sting capped his award of the Fellowship of The Ivors Academy at yesterday's (18) Ivor Novello Awards with an acoustic guitar-and-vocal performance of The Police's "Message In A Bottle." It followed a show-stopping speech about him by his friend Bob Geldof, which reduced the entire Grosvenor House Hotel audience to helpless laughter.
The 68th annual showpiece of the songwriting year recognized outstanding domestic and international achievement by British and Irish songwriters across a broad range of genres. The prestigious Songwriter of the Year Award with Amazon Music went to Wet Leg's Rhian Teasdale and Hester Chambers. The Ivors judges described their writing as "fresh, unapologetic and direct, with surprising melodies that demand attention."
Raye's "Escapism," which she wrote with 070 Shake and Mike Sabath, was named Best Contemporary Song. She gave a stirring live interpretation of the song, one of three on-stage performances, marking the first time the "Ivors" have contained live performance since the 1970s.
Singer-songwriter Victoria Canal took the Rising Star Award with Amazon Music, the award for Best Original Film Score went to John Powell for Don't Worry Darling, and Best Original Video Game Score to Gareth Coker, Grant Kirkhope and Yoko Shimomura for Mario + Rabbids Sparks of Hope. Best Television Soundtrack was awarded to Hannah Peel for her work on The Midwich Cuckoos.
'Visionary' Charli XCX
Charli XCX won the Visionary Award with Amazon Music, while Harry Styles, Kid Harpoon, and Tyler Johnson won PRS for Music Most Performed Work for the UK's biggest song of 2022, "As It Was." Best Album was 11 by Sault, written by Dean "Inflo" Josiah Cover, Jamar McNaughton, Cleopatra Nikolic, and Jack Peñate. Best Song Musically and Lyrically award wen to "King" by Florence + the Machine, written by Florence Welch and Jack Antonoff.
Kamille's body of work as a writer and performer was recognised with the Outstanding Song Collection award, while the PRS for Music Icon Award went to the band James, featuring Tim Booth, Saul Davies, Jim Glennie, Larry Gott, and Mark Hunter, whose worldwide album sales total more than 25 million across their 39-year career.
The Special International Award celebrated the outstanding career and influence of Blondie's Debbie Harry and Chris Stein, and was accepted on their behalf by Brix Smith, former writer and guitarist with The Fall.
Listen to the best of Sting on Apple Music and Spotify.