Sting's 'Ten Summoner's Tales' Now Available In Expanded Digital Edition
The new 27-track release features the original 12-song record and 15 bonus tracks.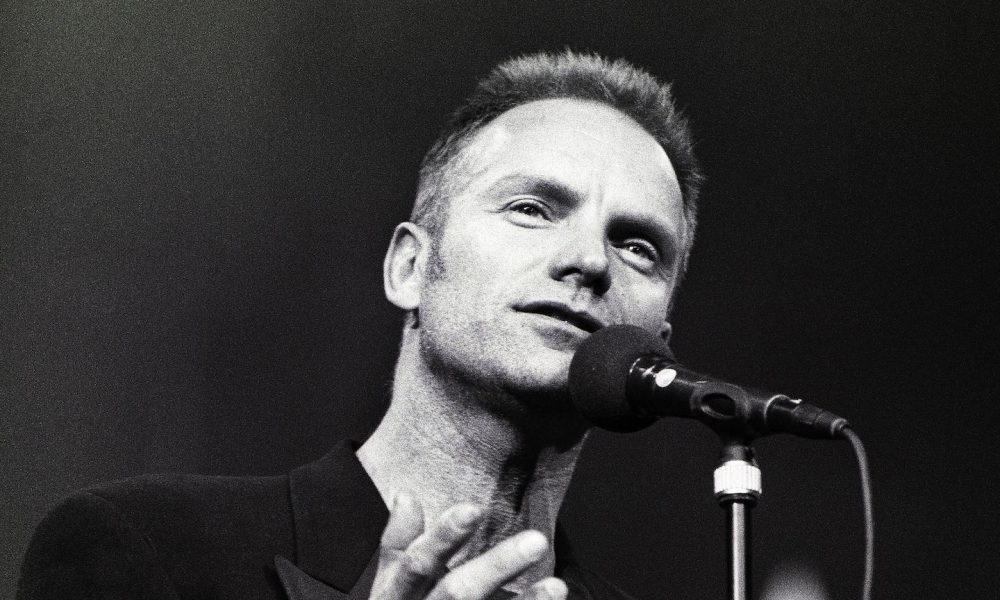 A digital expanded edition of Sting's fourth solo album, Ten Summoner's Tales is released today (24) by A&M/UMe to mark its 30th anniversary.
Shop the best of Sting's discography on vinyl.
The album was first released on March 1, 1993, and is now available digitally in a 27-track edition featuring the original 12-song record and 15 bonus tracks. These comprise B-sides, remixes, alternate versions, and live performances, and 11 of them are previously unavailable for download or streaming. Mixed by the four-time Grammy Award-winning Robert "Hitmixer" Orton, Ten Summoner's Tales is also available in Dolby Atmos.
Sting - If I Ever Lose My Faith In You (Official Music Video)
The album, produced by the artist with his longtime collaborator Hugh Padgham, included many of Sting's best-loved songs, including such hit singles as "It's Probably Me," "If I Ever Lose My Faith in You," "Fields of Gold," and "Shape of My Heart." Its title was a lighthearted combination of Sting's given surname, Sumner, and the summoner, a character in Geoffrey Chaucer's 15th-century literary staple The Canterbury Tales.
Where 1991's The Soul Cages had been a reflection on personal loss, prompted in part by the death of his father, Ten Summoner's Tales was an uplifting and emotional treatise on testing the boundaries of love and making critical choices, both virtuous and suspect. Contributors included such stellar players as guitarist Dominic Miller, drummer Vinnie Colaiuta, and pedal steel master Paul Franklin, with Kathryn Tickell's Northumbrian small pipes illuminating the elegant and often-covered "Fields of Gold."
The album was recorded at the Elizabethan country property Lake House in Wiltshire, England. Sting himself played bass, double bass, harmonica, and saxophone, created the arrangements and sang all of the album's lead vocals.
Ten Summoner's Tales has been certified 3x platinum by the RIAA, reached No.1 in Australia, and peaked at No. 21 on the Billboard 200. "If I Ever Lose My Faith In You" was a No.1 single in Australia, went Top 10 in many other countries and Top 20 in both the US and UK. It won the Grammy for Best Pop Vocal Performance, Male and was further nominated for both Record of the Year and Song of the Year.
"Fields Of Gold," a No. 2 hit on Billboard's Adult Contemporary chart, won a BMI Pop Song Award in 1994. The album as a whole had six Grammy nominations, winning three, also including Best Engineered Album, Non-Classical and Best Music Video, Long Form. It was nominated for three BPI BRIT Awards, including Best British Album and Best British Video, with Sting winning the NRIT Award for Best British Male Artist as a performer. Ten Summoner's Tales was also nominated for 1993's Mercury Music Prize.
Buy or stream the digital Expanded Edition of Ten Summoner's Tales.
The full tracklist is:
1. Prologue (If I Ever Lose My Faith In You)
2. Love Is Stronger Than Justice (The Munificent Seven)
3. Fields Of Gold
4. Heavy Cloud No Rain
5. She's Too Good For Me
6. Seven Days
7. Saint Augustine In Hell
8. It's Probably Me
9. Everybody Laughed But You
10. Shape Of My Heart
11. Something The Boy Said
12. Epilogue (Nothing 'Bout Me)
13. We Work The Black Seam / 1993 Version [Bonus Track]
14. January Stars [Bonus Track]
15. If I Ever Lose My Faith In You / Miracle Of Science Mix [Bonus Track]
16. If I Ever Lose My Faith In You / Hoax Mix [Bonus Track]
17. It's Probably Me (Feat. Eric Clapton) / Alternate Version [Bonus Track]
18. Nothing 'Bout Me / Remix [Bonus Track]
19. Nothing 'Bout Me / Remix With Horn Intro [Bonus Track]
20. Love Is Stronger Than Justice (The Munificent Seven) / Edit [Bonus Track]
21. Seven Days / Radio Edit [Bonus Track]
22. Nothing 'Bout Me / Edit With Fade [Bonus Track]
23. Shape Of My Heart / Live At Villa Manin, Codroipo, Italy, 1993 [Bonus Track]
24. Love Is Stronger Than Justice (The Munificent Seven) / Live At Villa Manin, Codroipo,
Italy, 1993 [Bonus Track]
25. It's Probably Me / Live At Villa Manin, Codroipo, Italy, 1993 [Bonus Track]
26. Purple Haze / Live At The Hague, Netherlands, 1991 [Bonus Track]
27. Ain't No Sunshine / Live At Buddle Arts Center, Newcastle, England, 1991 [Bonus Track]