Watch Two Vintage Peggy Lee Performances From 'The Ed Sullivan Show'
Filmed in 1950 and 1960 respectively, the two clips showcase the singer in captivating form.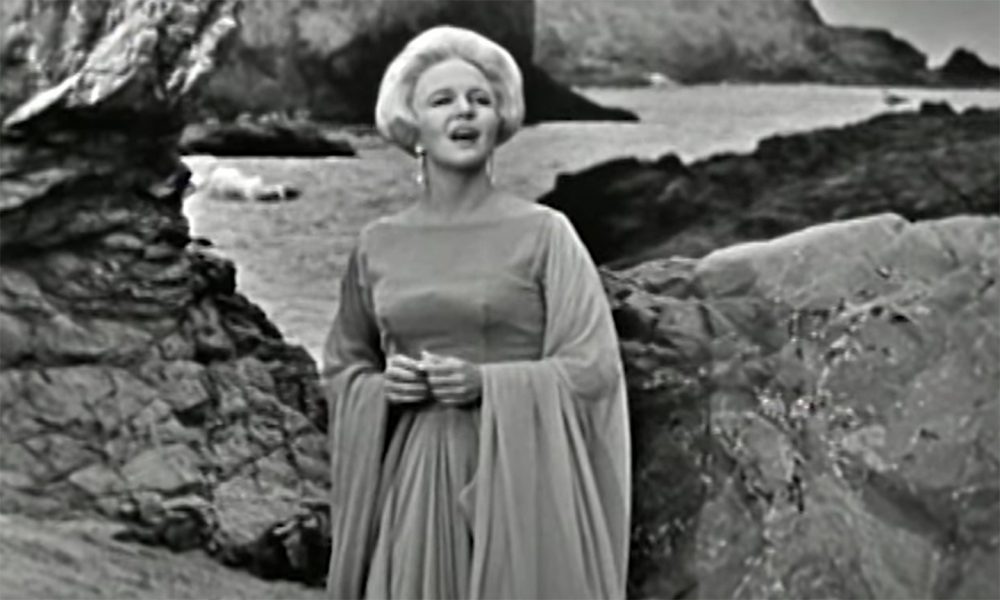 Two rarely-seen clips of Peggy Lee performing on The Ed Sullivan Show are newly available on the long running variety show's official YouTube channel. You can watch them both below.
In the first of the two, Lee is in especially sassy and captivating form as she sings a terrific version of her then-current hit, "Show Me The Way To Get Out Of This World ('Cause That's Where Everything Is)" from an episode first broadcast on October 22, 1950. This footage derives from Ed Sullivan's 'Toast Of The Town', which also featured Lee running through "La Vie En Rose."
In a review of her striking performance, Variety wrote, ""Miss Lee, accompanied on the guitar by her husband Dave Barbour, nicely put over the songs. Camera work and lighting on Miss Lee was top-flight."
In contrast, for her second performance, Lee is pictured by the Pacific Ocean where she performs a regal and reflective version of Bart Howard's "Fly Me To The Moon (In Other Words)" in October 1960.
This second clip was part of the first episode in Ed Sullivan's 'See America' series, from San Francisco, which aired on October 16, 1960. This episode featured Johnny Mathis, Mort Sahl, Dave Brubeck, Dorothy Kirsten, the Limelighters, and also included Peggy Lee performing "I Love Being Here with You" and "Yes Indeed."
Peggy Lee "Fly Me To The Moon" on The Ed Sullivan Show
This October 1960 episode was the pilot for a would-be but unsold series that was intended to spotlight various American cities. Music and songs of San Francisco were presented in the pilot episode, hence the backdrop.
Lee's version of "Fly Me To The Moon (In Other Words)" appeared on her 1960 album, Pretty Eyes, four years before Frank Sinatra's highly-regarded version of the song helped make it a standard.
Peggy Lee was a frequent visitor to The Ed Sullivan Show throughout the 1960s and the archive recently shared two more vintage clips. In the first, from October 16, 1960, the singer performs for injured American servicemen in a hospital, while a second featured her 1967 performance of "I Feel It" from the Sullivan archives.
As reported, the Hollywood Bowl will host a joint tribute to Lee and Frank Sinatra, with performances by Billie Eilish, Debbie Harry, Dianne Reeves, and others, on July 27.
Watch all the latest archival videos from The Ed Sullivan Show on the program's official YouTube channel.