Best Albums Of 1979: 69 Records Worth Revisiting
The best albums of the year reflect a varied musical landscape, with punk, R&B, disco, and much more all sitting alongside one another.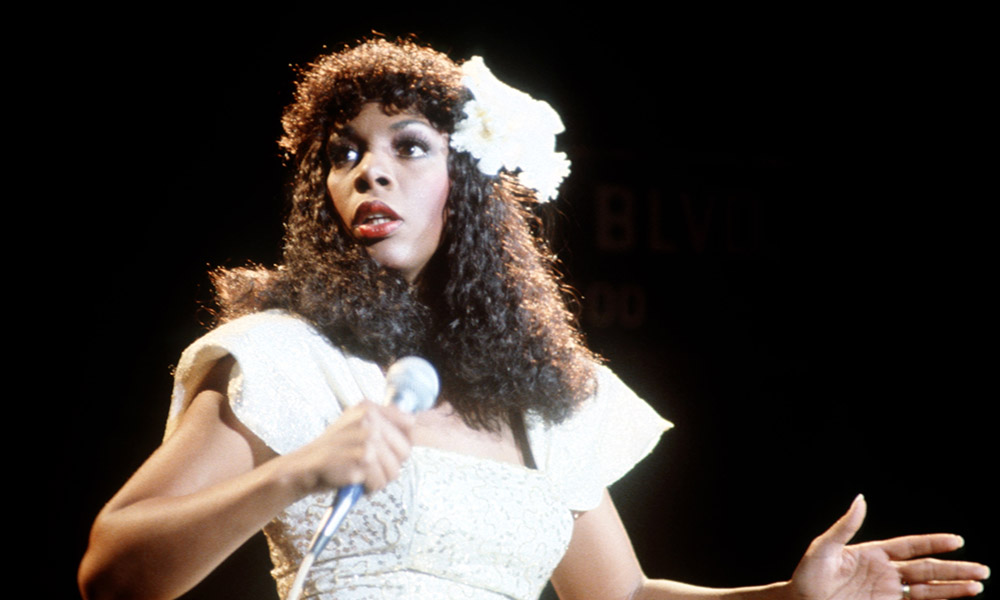 The best albums of 1979 reflect the changing landscape of music at the end of the decade. Punk, post-punk, R&B, disco, funk, and much more stood alongside one another. In some cases, like The Police and The Clash, they jumbled up together into a single band. Donna Summer put out one of her best albums. Fleetwood Mac followed up a tightly constructed masterpiece with a sprawling follow-up. In short, the albums of 1979 have something for just about any sort of music fan. Dive in to our list of just a few of the best.
Explore the best songs of the 70s.
69: Angela Roro – Angela Roro
Taking cues from pop and rock with a touch of the blues, the Brazilian singer-songwriter's debut album is sensitive and boldly honest.
68: Black Uhuru – Showcase
The famed reggae group's 1979 album is made up of some of their best singles, including "Guess Who's Coming To Dinner" and "Natural Reggae Beat."
67: Bob Dylan – Slow Train Coming
Bob Dylan's first album as a born-again Christian took many by surprise with its overt religiosity, but once the initial shock wore off, many have come to appreciate how his focus on the divine reinvigorated his songwriting and impeccable guitar playing.
66: Buzzcocks – A Different Kind of Tension
The punk rock band's third studio album is arguably their best work. Bright, energetic, and anchored in youthfulness, it provides an early template for the pop-punk sound that you can trace to later genre titans like Green Day.
65: Cheap Trick – Dream Police
Following the massive success of their live album, At Budokan, the band's timely follow-up only added to their superstardom with hits like the title track and "Gonna Raise Hell."
64: Dave Edmunds – Repeat When Necessary
The Welsh rocker's second album with the band Rockpile is nearly flawless, as it takes on classic rock, pub rock, and much more with charisma and class.
63: Anne Murray – New Kind of Feeling
The Canadian singer's 13th studio album features two hit singles on the country charts: ​​"Shadows in the Moonlight" and "I Just Fall in Love Again."
62: Electric Light Orchestra – Discovery
The English rock band's chart-topping album includes the hit song, "Don't Bring Me Down," and strikes the perfect balance between commercial appeal and innovation.
61: Graham Parker and the Rumour – Squeezing Out Sparks
Parker's fourth studio album is a relentlessly biting and catchy masterpiece, full of raging hard rock and bitter ballads that express the artist's incredible range.
60: Joni Mitchell – Mingus
Mitchell enlisted jazz greats Herbie Hancock, Wayne Shorter, and Jaco Pastorius for this tribute to the bebop pioneer, which incorporates work that Mitchell and Mingus had begun together before he passed away.
59: Led Zeppelin – In Through the Out Door
The band's last studio album holds significance beyond just signaling the end – it's also full of creative and ambitious songs that confirm why Led Zeppelin is so great to begin with.
58: Betty Carter – The Audience with Betty Carter
The jazz singer's legendary live album was added to the National Registry in 2012, which tells you enough about its significance to the genre. Full of virtuosic singing and excellent arrangements, it's not one to miss.
57: Rickie Lee Jones – Rickie Lee Jones
The singer-songwriter's debut is a genre-blending record that pulls from jazz, pop, and soul to paint dynamic portraits of the people who make up Los Angeles.
56: Stiff Little Fingers – Inflammable Material
Featuring the blistering singles "Alternative Ulster" and "Suspect Device," the Irish punk band's debut album is about as punk as punk can get – staunchly political and endlessly fiery.
55: The Boomtown Rats – The Fine Art of Surfacing
The Irish rock band's stylish third album brought a distinct sound to new wave with its well-crafted lyricism and off-kilter rhythms.
54: Smokey Robinson – Where There's Smoke
Featuring the Top 10 hit, "Cruisin," Where There's Smoke re-established Smokey Robinson as an R&B powerhouse, and set the stage for a career that has thrived throughout the ensuing decades.
53: Thin Lizzy – Black Rose
Thin Lizzy's final album, produced by Tony Visconti, is considered to be one of their finest. Equipped with breathtaking guitar solos, upbeat rockers, and thoughtful lyrics, Black Rose is certainly an album for the ages.
52: Art Ensemble of Chicago – Nice Guys
Blending African folk with futuristic jazz, the innovative group's 1979 album is a high watermark for avant-garde jazz and established the Art Ensemble of Chicago as an unstoppable force.
51: Motorhead – Overkill
The band's sophomore album is a masterpiece that delivers a heavy dose of raw and uncut thrash metal, sounding as fresh today as it did decades ago.
50: The Eagles – The Long Run
After a three-year break, the Eagles' highly anticipated sixth album took a different, yet no less powerful, route than its predecessor, Hotel California. This time, the West Coast rock band opted for darker textures and more contemplative lyricism.
49: Gregory Isaacs – Soon Forward
With Sly and Robbie keeping time, Gregory Isaacs'1979 album takes on roots reggae, lover rock, and dub through the prism of the reggae star's distinctly beautiful vocals.
48: Kenny Rogers – Kenny
Propelled by the hit single, "You Decorate My Life," the country legend's 1979 album took him from the country charts to pop, transforming his sound and his audience.
47: KISS – Dynasty
The hard rock band's 7th studio album divided fans, due to its lead single's disco experiments, but "I Was Made for Lovin' You" was a brilliant way for KISS to cross over into pop radio, while still maintaining their edge.
46: Maze featuring Frankie Beverly – Inspiration
Full of excellent compositions by Frankie Beverly and utterly soulful arrangements, the R&B band's stunning homage to the divine is as uplifting as its simple title suggests.
45: Rick James – Bustin' Out Of L7
The R&B provocateur's second studio album replicated the success of his debut and produced the title hit as well as the fan-favorite, "Fool on the Street."
44: Aerosmith – Night in the Ruts
1979 wasn't an easy year for Aerosmith, which makes the success of this album all the more remarkable. From hard rock stunners to tear-jerking ballads, it's an unforgettable portrait of a band fighting for its own survival.
43: The Cure – Three Imaginary Boys
The famed rock band's debut is perhaps their most accessible album and it stands alone in their discography for its uncharacteristic vigor and lack of ornamentation.
42: Neil Young & Crazy Horse – Rust Never Sleeps
In defiance of the obsolescence that the album title implies, Young set out to prove that if rust works hard, he works harder. Immensely versatile and lyrically vivid, the artist makes a strong case for his own permanence.
41: Kool & The Gang – Ladies Night
Anchored by the hit title track, the funk band's 1979 album featured sleeker production that transformed them from gritty funk favorites to dance pop icons.
40: David Bowie – Lodger
Bowie's most relatable album swaps the drama and suspense for the minutiae and petty grievances of everyday life, resulting in an expected and refreshing back-to-earth moment from the interstellar artist.
39: Gary Numan – The Pleasure Principle
Numan's debut album under his own name completed his shift from punk to electronic music, and featured his first US No.1 hit, "Cars."
38: Frank Zappa – Sheik Yerbouti
The enigmatic artist's live double album is what he would've called "dumb" entertainment, but to fans it's razor-sharp satire, raucous jokes, and perfect melodies.
37: Diana Ross – The Boss
Ross reunited with hitmakers Ashford & Simpson for her ninth solo album, producing her first solo gold record and spawning the titular hit.
36: Caetano Veloso – Cinema Transcendental
The celebrated Brazilian artist's album cycles through reggae, samba, bolero, and so much more, making for a dynamic and super fun musical journey.
35: Van Halen – Van Halen II
They say if it ain't broke, don't fix it. Van Halen took this aphorism to heart on their second album, following the successful format of their self-titled debut. The group rewarded their fans with another classic LP and two big hits: "Dance the Night Away" and "Beautiful Girls."
34: Prince – Prince
The visionary artist's second studio album includes some of his most beloved compositions, including "I Wanna Be Your Lover" and "I Feel For You," the latter of which Chaka Khan took to stratospheric heights in 1984.
33: Sparks – No. 1 in Heaven
Teaming up with "Father of Disco" Giorgio Moroder, the rock band went full electronic on their 1979 album, ushering in a future that would frequently blur the lines between pop and rock.
32: Steve Hillage – Rainbow Dome Musick
The ambient artist's album is among the most innovative of the year and is equal parts experimental, soothing, and introspective.
31: Cheap Trick – At Budokan
The rock band's seminal live album remains their most successful project and expertly showcases the versatility of their compositions, which often take on larger-than-life status in this live recording.
30: Blondie – Eat to the Beat
The influential New York band's fourth studio album had a hard act to follow in 1978's Parallel Lines, but rose wonderfully to the occasion with Eat to the Beat and its unique take on rock, disco, and reggae.
29: Stevie Wonder – Journey Through "The Secret Life of Plants"
Stevie Wonder's 1979 album is a soundtrack to a documentary of the same name and is among some of his most eclectic works. More recently, it has also found new appreciation by current R&B stars like Solange.
28: Sylvester – Stars
Featuring the monumental title track, the inimitable disco singer's 1979 album continued his streak of flawless tunes, custom made for the dancefloor.
27: Teddy Pendergrass – Teddy
The baby-making-music king's third studio album is as sensual as you might expect, but beyond that, it is also full of funky disco and sentimental soul tracks.
26: Terry Allen – Lubbock (On Everything)
A pinnacle of alternative country, the Texan singer-songwriter's 1979 album gives country and folk music an artistic bent and a wry sense of humor.
25: The Bee Gees – Spirits Having Flown
Following the success of the Saturday Night Fever soundtrack, the prolific brothers released their 15th studio album – a record full of gorgeous harmonies and heart-warming ballads that ushered in their soul music era.
24: The Knack – Get The Knack
At five million copies sold, the rock band's 1979 album remains one of the most successful debuts ever, due in part to hits like "My Sharona" and "Good Girls Don't."
23: Throbbing Gristle – 20 Jazz Funk Greats
The acclaimed industrial group chose accessible rhythms and sounds over cryptic noise for their 1979 album. That being said, there's no shortage of weirdness, as the band takes on new wave, disco, and funk.
22: Joe Jackson – Look Sharp!
Jackson's debut album includes his hit, "Is She Really Going Out With Him?" and is full of catchy tunes that braid together the bite of new wave with the charm of pop.
21: Funkadelic – Uncle Jam Wants You
With a promise to "rescue dance music 'from the blahs,'" the funk band's 1979 album is full of potent, commanding funk and disco that achieves glory by refusing to play it safe.
20: Pat Benatar – In the Heat of the Night
The influential artist's debut album includes her megahit, "Heartbreaker," and established Benatar as a pop rock icon who could easily flit between operatic vocals and hard-as-nails grit.
19: Supertramp – Breakfast in America
The rock band's sixth studio album was an international smash upon release and topped the charts in the United States, thanks to such super hits as "The Logical Song" and "Goodbye Stranger."
18: The B-52's – The B-52's
Home to the enduring hit, "Rock Lobster," the new wave band's debut album made kitsch mainstream, as they embraced flamboyance, silliness, and all-around fun.
17: XTC – Drums and Wires
Home to their first big hit, "Making Plans for Nigel," the English rock band's 1979 album is among their most focused work and is full of bold percussion and beautiful guitars.
16: The Police – Reggatta de Blanc
On their sophomore album, the English band solidified their unique take on rock, pop, and reggae into a flawless record that gave us favorites like "Message In a Bottle" and "Walking On The Moon."
15: The Slits – Cuts
With its unabashed grit and street-savvy lyrics, the pioneering band's debut album revolutionized the post-punk landscape and paved the way for many female-fronted bands that followed in their path.
14: Sister Sledge – We Are Family
With the help of Nile Rodgers and Bernard Edwards, the sibling group's 1979 album reshaped them in the image of Chic and, along with the ubiquitous title track, is a delightful spin through sleek R&B and dance pop.
13: Gang of Four – Entertainment!
The English band's debut has come to be seen as a post-punk classic, and has influenced countless politically-inclined bands that find themselves at the intersection of funk, reggae, and pop rock.
12: Tom Petty and the Heartbreakers – Damn the Torpedoes
Featuring hits like "Don't Do Me Like That" and "Refugee," Petty's third studio album revealed him to be a masterful songwriter and, with the indelible assistance of producer Jimmy Iovine, still sounds crisp and timeless today.
11: Earth, Wind & Fire – I Am
The beloved band's ninth studio album features some of their best cosmic soul and disco stompers, including "After The Love Has Gone" and "Boogie Wonderland."
10: Elvis Costello and The Attractions – Armed Forces
Costello's third studio album is full of stunning details and heady lyricism, yet it still manages to be accessible, proving the genius of his artistry.
09: ABBA – Voulez-Vous
Twinkling disco and tearjerker ballads comprise the Swedish pop group's highly successful album, including the iconic title track, "I Have A Dream," and "Chiquitita."
08: Chic – Risqué
Though primarily a disco group, Chic transcended the borders of the genre with their third album, influencing early rap (Sugarhill Gang) and rock (Queen) through the infectious groove of their enduring hit single, "Good Times."
07: Joy Division – Unknown Pleasures
The iconic band's debut album is as rewarding as the title suggests; full of intensity and stirring emotion, every single track is stellar.
06: Fleetwood Mac – Tusk
Recorded on the cusp of the band's dissolution, the Lindsey Buckingham-led album sometimes feels chaotic, but paired with stellar contributions from Stevie Nicks and Christine McVie, Tusk holds itself together just enough to feel monumental.
05: Pink Floyd – The Wall
The influential band's 1979 concept album chronicles the tumultuous life of a rockstar named Pink and is as chilling as it is captivating – it's no wonder it later became a film.
04: Donna Summer – Bad Girls
Featuring the blockbuster title hit and "Hot Stuff," the pop titan's seventh studio album was a fitting closer to the disco era as it toyed with new wave, rock, and other textures of electronic music.
03: AC/DC – Highway to Hell
The Australian rockers' sixth studio album was the last to feature Bon Scott and, in a bittersweet turn, is also the album that catapulted them from grungy clubs to packed-out arenas.
02: The Clash – London Calling
The rock group's landmark album is wide-ranging and experimental, as they create their own versions of soul, reggae, and hard rock – moving them from punk territory into an uncategorizable league of their own.
01: Michael Jackson – Off the Wall
With Quincy Jones in the producer's chair, the King of Pop's 1979 album was his breakthrough, and includes such unforgettable hits as "Rock With You" and "Don't Stop 'Til You Get Enough."