Best Cure Songs: 20 Essential Tracks For Lovecats
The best Cure songs reveal the remarkable breadth and depth of a group that can switch with ease from challenging, introspective music to life-affirming pop tunes.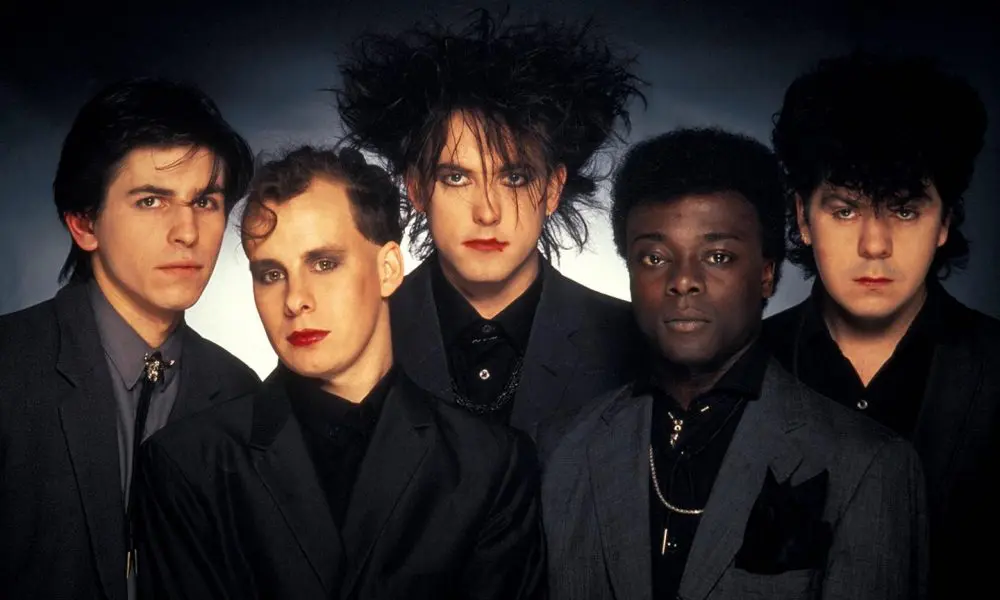 Having formed out of a series of school bands in Crawley, Surrey, during the mid-70s, The Cure have a reputation as one of England's greatest – and most influential – groups. Their first offerings mixed a love of David Bowie and Jimi Hendrix with the energy and DIY ethic of punk, but their ability to seemingly toss off instantly catchy pop songs led to them having a string of chart hits, while at the same time crafting critically acclaimed albums – a rare trick, indeed. The best Cure songs straddle these two extremes, revealing the remarkable breadth and depth of the band's work.
Fronted by singer/guitarist/songwriter Robert Smith, they have been through more than their fair share of line-up changes, with various members coming and going and coming back again through the band's 40-plus-year history. In 2019, they were inducted into the Rock And Roll Hall Of Fame and are set to top the bill at Glastonbury for an unbeaten fourth time, as well as announcing their first new studio album in a decade.
To pick just 20 of the best Cure songs from such a vast catalogue is no easy task. Let us know which is your favorite, or which songs we should have included, in the comments section below…
Listen to the best Cure songs on Apple Music and Spotify.
20: Mint Car (1996)
Somewhat bizarrely, even Robert Smith says he doesn't know why this 1996 single was called "Mint Car," confessing that it was just the original title of the song's demo made by long-standing bass player Simon Gallup. Today, it's rightly rated alongside their vast catalogue of great pop songs, but when it was released, in the middle of Britpop and Cool Britannia, it failed to make it beyond the lower reaches of the Top 40. Robert is philosophical about its reception, as he explained to Entertainment Weekly, "I thought it was a better song than 'Friday [I'm In Love].' But it did absolutely nothing because we weren't the band at that time. The zeitgeist wasn't right. It taught me that sometimes there's a tipping point, and if you're the band, you're the band, even if you don't want to be, and there's nothing you can do about it."
19: High (1992)
After the layered intensity of Disintegration, fans eagerly awaiting new material were expecting anything but the light, bright single "High." During interviews around that time, Robert regularly suggested that the end was nigh for The Cure, a suggestion supported by some of the songs on the Wish album – notably the closer, "End."
18: Why Can't I Be You? (1987)
Taken from the 1987 double album Kiss Me Kiss Me Kiss Me, "Why Can't I Be You?" is, like "Let's Go To Bed," a deliberate attempt to make a disposable pop single, and the band had fun with the accompanying video. "We wanted to be Five Star in this video and this is what we thought that Five Star looked like, 'cos none of us are very up with the latest…" Robert said. "And when we saw Five Star we thought, Good grief! – we didn't look anything like them!" Robert explained how, for once, the band had to stay sober while filming the video, in order to be able to concentrate on their dance steps.
17: The Lovecats (1983)
In 1983, The Cure followed a trilogy of increasingly intense and dark records by reinventing themselves as pop stars. Having moved back into his parents' house, where he had grown up, Robert claimed it took him a few weeks to recuperate: "I was, like, totally gone. And I decided to be a pop star." "The Lovecats" became the band's first UK Top 10 hit. Robert told Rolling Stone magazine, "With 'The Lovecats,' I suggested that we were going to do something that's kind of like a Disney take on jazz, based around The Aristocats. And suddenly everything we did started to sell."
16: Charlotte Sometimes (1981)
"Charlotte Sometimes" is based on a 1969 children's novel of the same name, in which the eponymous Charlotte travels back in time to 1918, switching places with a girl at her boarding school decades earlier. Robert enjoyed the book as a teenager and it was one of many of his songs that would take books as their inspiration. "There have been a lot of literary influences on us down the years," Robert told Philadelphia's Radio 104.5 in 2008. "'Charlotte Sometimes' was a very straight lift, actually, title and all. I thought it was nice at the time, it just suited the song, I really liked the idea."
15: Fascination Street (1989)
Released at the height of their fame, Disintegration was an epic, sprawling record, with the majority of the songs clocking in at over five minutes, and the longest almost double that. Perhaps the rawest song on that record, "Fascination Street" was written about getting ready for a night out on Bourbon Street in New Orleans.
14: The Walk (1983)
The first of a trilogy of standalone singles that would be compiled onto the Japanese Whispers album, "The Walk" announced The Cure's latest – and most extreme – change in direction and was their first Top 20 hit. Released around the same time as New Order's "Blue Monday," the two singles were often compared, though Robert dismissed any suggestion that his record was influenced by the Manchester band: "I think 'Blue Monday' came out a bit earlier than 'The Walk,' but I wanted it to sound like the band Japan, not New Order."
13: A Letter To Elise (1992)
For this song in the form of a letter, Robert is reported to have been inspired by Franz Kafka's Letters To Felice. He has described it as a "stream of consciousness piece," and it is one of the more subtle songs on 1992's Wish album. This song of resignation is lifted by one of Robert's most emotive – and glorious – guitar solos, in a euphoric and inspired instrumental section.
12: Primary (1981)
The first single taken from 1981's funereal Faith album saw Robert Smith switch his usual six-string guitar for a Fender Precision Bass (there are no guitars on the record, only basses). Recording that album was a difficult time for the group, with Robert's grandmother dying at the same time that they were making an album that was already heavily immersed in loss and mortality. Curiously, "Primary" was the first Cure single to be given a special extended 12" remix; that this alternative version has never been included on any other official Cure release makes it something of a collector's item.
11: Lullaby (1989)
By the time of 1989's Disintegration album, The Cure were becoming one of the biggest acts in the world. The hotly-anticipated first single from that album, "Lullaby," is about a nightmare in which Robert is visited in the night by a terrifying arachnid, who sets about having him for dinner. Fans have speculated as to the deeper meaning, but one thing that's inescapable is the stifling feel of the song, which became The Cure's only UK Top 5 hit.
10: 10:15 Saturday Night (1979)
The opening song from Three Imaginary Boys, The Cure's 1979 debut album, 10:15 Saturday Night was written by a 16-year-old Robert Smith. Autobiographical in content, Smith was sat at the kitchen table in his parents' house, drinking his dad's beer and watching the tap drip drip drip drip drip drip drip drip drip…
9: Lovesong (1989)
"I wrote 'Lovesong' for Mary, my wife, as a wedding present, and I put it on the album to be kind of romantic," Robert explained of this 1989 single. "I thought it was the weakest song on there, and suddenly it went to No.2 in America. It was kept off the top by, like, Janet Jackson. I thought, Of all the songs I'd written, this is the one that cracks through. It was quite disappointing." "Lovesong" has since been recorded by a number of other artists, including Adele, who covered it on her global hit album 21.
8: Friday I'm In Love (1992)
Another in the line of self-confessed "dumb pop songs," "Friday I'm In Love" was a huge international hit for The Cure, despite – or perhaps because of – being, as Smith admits, so out of character: "People think we're supposed to be leaders of some sort of gloom movement. I could sit and write gloomy songs all day long, but I just don't see the point."
7: Let's Go to Bed (1983)
Recalling how he came to write "Let's Go To Bed," Robert confessed, "I thought it was stupid. It's a joke. All pop songs are basically saying, 'Please go to bed with me.' So I'm going to make it as blatant as possible, set it to this cheesy synth riff." As Robert would later recount, when he first played it to record label Fiction, he was greeted with stony silence. "They looked at me, like, This is it. He's really lost it. They said, 'You can't be serious. Your fans are gonna hate it.'" And yet, over 35 years later, it remains a firm favorite in The Cure's live set.
6: Close To Me (1985)
Another single taken from The Head On The Door, "Close To Me" featured a now-iconic video directed by Tim Pope, in which The Cure are crammed claustrophobically into a wardrobe, which then plunges off a cliff into the sea, where the band begin to drown. Speaking about the song, Robert said, "That's just like days when you wake up and you just wish, at the end of the day, that you hadn't, because you haven't done anything, it's just been a trial."
5: Pictures Of You (1989)
Voted fans' favorite Cure song by readers of Rolling Stone magazine, "Pictures Of You" was supposedly inspired by some old photos Robert found of his long-standing partner, Mary, following a fire at their home. However, as Robert has given a number of other answers as to what inspired the song, it's hard to know for sure. Thematically, however, he is quite clear, as he told Music Box TV in 1989: "It's about the idea you hold about someone. It goes back a bit to a song like 'How Beautiful You Are' [from Kiss Me Kiss Me Kiss Me]. The idea you hold of someone isn't really what that person is like. Sometimes you completely lose touch with what a person has turned into. You just want to hold on to what they were."
4: In Between Days (1985)
The first single from the band's 1985 album, The Head On The Door, "In Between Days" was another UK Top 20 single for The Cure, but, significantly, it was also their first to break into the US Billboard Hot 100. A bright-and-breezy pop song, albeit one with a trademark lyrical darkness and ambiguity, Robert wrote it on his first steel-stringed acoustic guitar. It was accompanied by a memorable Day-Glo video, one of many directed by Tim Pope, with whom the band started working in 1982 – a relationship that would last decades.
3: Boys Don't Cry (1979)
Initially released as a single in 1979, "Boys Don't Cry" is The Cure's first classic pop song, though it wouldn't actually hit the charts until the band reworked it in 1986. Disguised behind a bright and bouncy melody is the story of a young man who can't allow his feelings to show in a world in which men were expected to supress their emotions. Today, The Cure regularly use it as the last song of their final encore to close their mammoth live show.
2: Just Like Heaven (1987)
Surely one of their most perfect pop songs, "Just Like Heaven" was inspired by a trip to the seaside with Robert's then-girlfriend (now wife) Mary, with whom he dances in the video. A glorious ode to the magic of a night of romance, Robert later explained, "The idea is that one night like that is worth 1,000 hours of drudgery." Dinosaur Jr memorably covered "Just Like Heaven" in 1989.
1: A Forest (1980)
Robert Smith has described sticking to his vision of how "A Forest" should sound, despite suggestions from label boss Chris Parry that a more radio-friendly version could provide them with a hit record: "I said, "But this is how it sounds. It's the sound I've got in my head. It doesn't matter about whether it's radio-friendly.'" Sticking to their guns has been fundamental to The Cure's enduring success. "One of the reasons people like the band is because they're never quite sure what's gonna happen next," he told Rolling Stone magazine. "If we were predictable, we wouldn't have really lasted this long."
Looking for more? Discover the full story behind The Cure's best music videos.