Buddy's Blues: The Best Of Bluesmaster Buddy Guy
In salute to a blues great, multiple Grammy winner and Rock & Roll Hall of Fame inductee.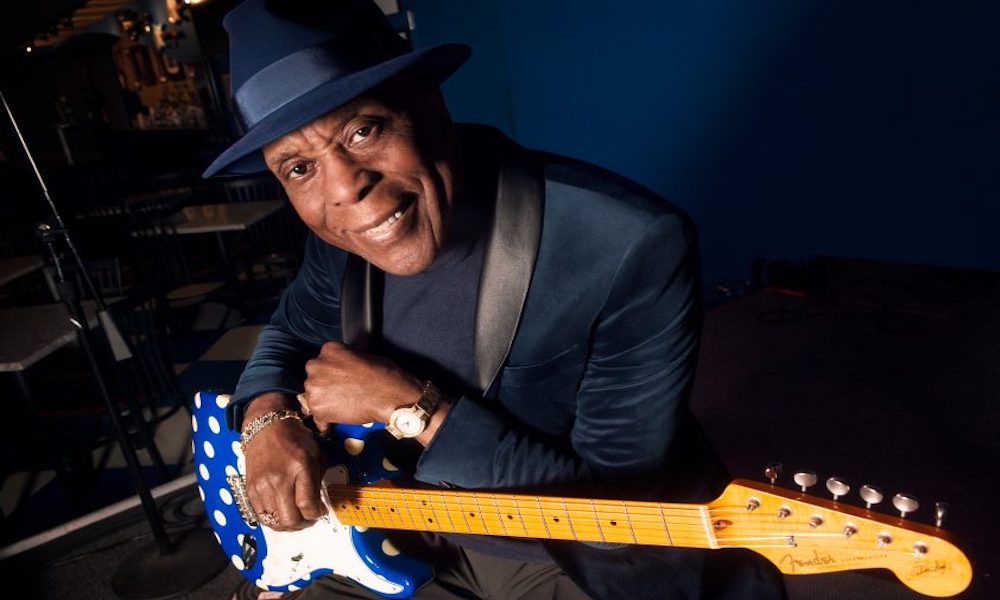 When it comes to giants of the blues who are still out there making music and adding to their legendary status, they don't come much better than Buddy Guy. In his extraordinary career, Guy has informed the work of countless guitar greats from Hendrix to Clapton, won six Grammys and been inducted into the Rock & Roll Hall of Fame.
Born on July 30, 1936, Buddy continues to take the blues to his beloved audiences with tireless enthusiasm. In June 2018, he added to his legacy with the release of The Blues Is Alive and Well, featuring guest appearances by such admirers as Mick Jagger, Keith Richards and Jeff Beck. His summer 2019 tour dates, including stops with Jimmie Vaughan and Kenny Wayne Shepherd, stretched deep into the autumn. We're celebrating one of the true originals with a Buddy Guy In 20 Songs playlist.
George Guy, to give him his birth name, was born in Louisiana, but he has been one of the great ambassadors of Chicago blues since he first moved there in 1957. He recorded for local labels soon afterwards, and arrived at Chess Records in the last year of the decade. During the 1960s, he played with Muddy Waters and became greatly respected among his peers, even if his commercial status failed to improve.
The playlist includes some of Guy's first recording ventures, starting with the apt "First Time I Met The Blues," a single release in 1960. "Stone Crazy" was, and remains, one of his early theme songs, and don't miss the great "Snatch It Back And Hold It," from the 1965 album Hoodoo Man Blues, recorded with the Junior Wells Band (with a specific nod to James Brown's new hit of the time, "Papa's Got A Brand New Bag").
We get to sample the energy of a Guy concert, too, with "Things I Used To Do," from 1968's live album This Is Buddy Guy. There's also his version of  "Texas Flood," first recorded and co-written by Larry Davis and later closely linked with Stevie Ray Vaughan, another great player who regarded Guy as a hero.
Guy played with, and had a great effect on, the new breed of British guitarists who emerged in the 1960s, and performed at European blues events, often in tandem with his long-term recording partner, harmonica player Junior Wells. But it's almost shocking to realise that for all of his reputation, Guy didn't make his first appearance on the American mainstream charts in his own name until he was 55 years old.
The album in question, the Grammy-winning Damn Right. I've Got The Blues, was released by Silvertone, as Guy finally rode a new wave of appreciation. That was helped in no small measure by Eric Clapton, who paid Buddy back for all of his inspiration by having him as a guest at his epic run of Royal Albert Hall shows in 1990 and 1991, commemorated on the 24 Nights album. From that disc, we hear Guy, Eric and Robert Cray on "Have You Ever Loved A Woman."
Buddy and old friend B.B.
There are tracks from the 1990s albums Feels Like Rain and Slippin' In, both also Grammy winners, and we feature some more memorable collaborations, including one with B.B. King on the charming "Stay Around A Little Longer."
"You're the best that ever did it and got away with it," Buddy tells his old friend, to which B.B. replies "well thanks a lot, you ain't done so bad yourself, old boy." We couldn't have put it better.
Follow the This Is Buddy Guy playlist.