The Best Roots Songs: 20 Hip-Hop Essentials
The Roots have worked tirelessly in the studio, absorbing a range of influences and recruiting a seemingly endless cast of gifted collaborators.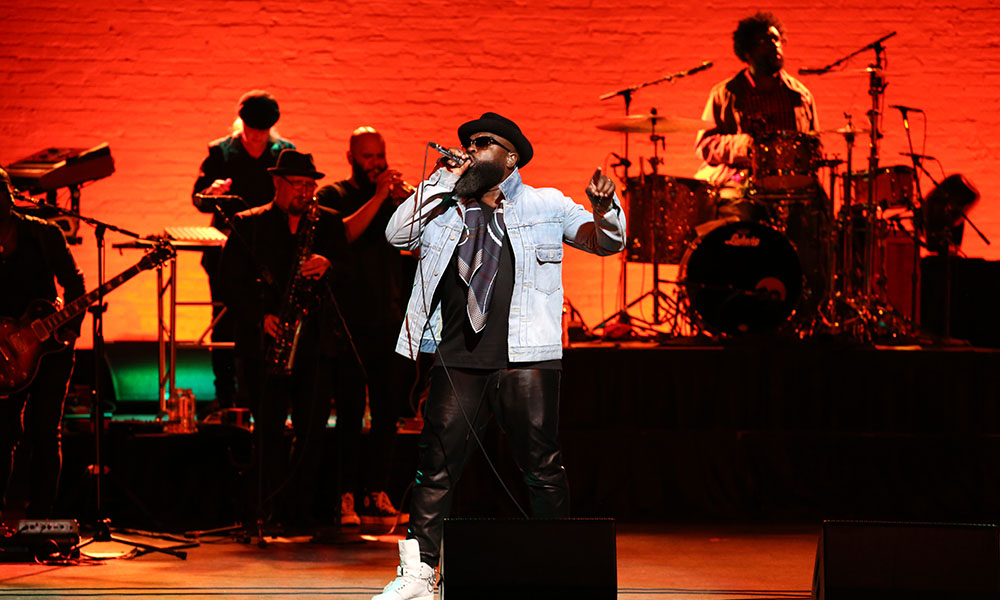 For decades now, Philadelphia legends The Roots have been hip-hop's best live band. But their exciting live performances would be nothing without one of the most diverse catalog of songs in the history of rap music. From the jazz-inspired grooves of their early projects Organix and Do You Want More?!!!??! to the boundless experimentation of albums like Phrenology and Undun, The Roots have worked tirelessly in the studio, absorbing a range of influences and recruiting a seemingly endless cast of gifted collaborators.
More so than any of their contemporaries, The Roots have existed as a model for range and musical virtuosity, taking the sounds of jazz, rock, punk, drum & bass, psychedelia, and Afrobeat, seamlessly incorporating it all into hip-hop. With over a dozen studio albums and numerous b-sides, side projects, live albums and collaborative projects in their catalog, it'd be impossible to definitively sum up the best songs that The Roots have offered, but this list offers an introduction to their sound.
Listen to the best of The Roots on Apple Music or Spotify.
The Anti-Circle
The Roots got their start in the early 90s busking on South Street in Philadelphia. It was there that the band developed their fusion of hip-hop and jazz. "The Anti-Circle" is indicative of that early Roots sound. Over a slick bassline, Black Thought spits rhymes full of clever lines and metaphors. Although the band would evolve far beyond this sound, "The Anti-Circle" contains key staples of their sound: elite MCing and fluid musicianship.
The Session (Longest Posse Cut in History)
In hip-hop, a posse cut is when four or more MCs get together and showcase their skills on a track. For the song "The Session," The Roots brought ten MCs into the studio for a nearly 13-minute barrage of rhyme gymnastics. Over a jazzy, mid-tempo instrumental, Questlove and Black Thought kick verses alongside future Roots member Malik B, De La Soul-affiliate Shorty No Mas and members of Philly's mythic Foreign Objects crew. The track conjures memories of that age-old practice of a gang of MCs gathering in hallways, bathrooms, and playgrounds and kicking rhymes in the cypher.
Distortion to Static
The lead single from their major-label debut, Do You Want More?!!!??! "Distortion to Static" was a standout upon its release and it still sounds like nothing else today. Over a thick, textured drum break and dark electric piano chords, Black Thought and Malik B trade furious and verbose verses. The chorus, a slick reference to Pink Floyd's Dark Side of the Moon, features Malik, Black Thought, and Questlove laughing maniacally in the background. Foreboding and fly, "Distortion to Static" was an early indicator of the studio experimentation the band would embrace throughout their career.
The Roots - Distortion To Static
Proceed
For the second single from Do You Want More?!!!??! The Roots opted for the funky and breezy song "Proceed." Built upon a groovy bassline and ignited by Black Thought and Malik's obvious chemistry, the song represents early Roots at their most accessible. "Proceed" also has a number of excellent alternate versions like part 2 featuring jazz legend Roy Ayers and part 3 with Philly rap pioneer Bahamadia.
Essaywhuman?!!!?!
Recorded live at legendary Philadelphia venue The Trocadero, "Essaywhuman?!!!?!" is a snapshot of The Roots' power as a live act in their early years. A masterclass in improvisation and call and response, Black Thought rhymes and scats while Scott Storch, bassist Leonard Hubbard, Questlove, and saxophonist Steve Coleman respond with short instrumental licks line for line.
Silent Treatment
With Black Thought's sweetly sung hook and the band's mellow instrumental groove, "Silent Treatment" is a gem in The Roots' catalog. A vivid tale of a romance gone sour, "Silent Treatment" has earned a place alongside LL's ""I Need Love" and The Pharcyde's "Passing Me By" in the pantheon of hip-hop love songs.
Clones feat. Dice Raw and M.A.R.S. Co-op
When it came time to record Illadelph Halflife, The Roots made an intentional shift toward a harder, more rugged production sound and approach. This new sound was exemplified by their 1996 single "Clones." Backed by neck-snapping drums and a dreamy Quincy Jones/Valerie Simpson sample, Black Thought and Malik B trade fiery, battle-ready bars with M.A.R.S Co-op and Dice Raw.
What They Do feat. Raphael Saddiq
The third single from Illadelph Halflife, "What They Do" is a scathing critique of the rap industry tucked in a chilled-out soul jam. Featuring a sleepy hook and some guitar from Tony! Toni! Toné! singer/guitarist Raphael Saddiq, Black Thought runs down a few concise verses while Saddiq's skillful runs and licks land somewhere between George Benson and Curtis Mayfield.
The Roots - What They Do (Official Music Video)
You Got Me feat. Eve and Erykah Badu
By the time The Roots released their 1999 song "You Got Me" the band was well established as critical darlings, but still searching for a bonafide hit. Commercial success would come in the form of a melancholy love song composed by keyboardist Scott Storch and written by a future superstar from North Philly named Jill Scott. "You Got Me" finds Black Thought and Eve trading tales of love and mistrust over an instrumental that married soul, hip-hop, and drum & bass. The song was a hit, earning the group a Grammy, and eventually propelled their album, Things Fall Apart, to platinum status.
Dynamite! feat. ELO
Over a bouncy, guitar-inflected beat "Dynamite!" is one of the clear standouts on Things Fall Apart. Black Thought and ELO get busy and their back and forth verses reveal a delightful chemistry. Produced by late Detroit hip-hop legend J. Dilla, "Dynamite!" it remains a crowd favorite.
The Return to Innocence Lost feat. Ursula Rucker
The Roots' early run of albums (Do You Want More?!!!??!, Illadelph Halflife, and Things Fall Apart) each concluded with a poem from Philly-born poet Ursula Rucker. "The Return to Innocence Lost" from Things Fall Apart may be the most profound and emotionally devastating of the trilogy. Musically, "The Return to Innocence Lost" is tender and subtle, opening up space for Rucker to tell a harrowing story of abuse, loss, and intergenerational trauma.
Water
In addition to being one of the most complex songs in The Roots' catalog, "Water" also happens to be one of the band's most personal and painful thematically. Working over a rubbery, syncopated groove, Black Thought spins a horrific tale of his rhyme partner Mailk B's descent into drug abuse, drawing a connection between Malik's struggles and the city of Philadelphia's notorious opioid crisis. Clocking in at over 10 minutes in length, the second half of "Water" (labeled "The Abyss"/"The Drowning") finds the band conjuring the sound of a spirit torn by addiction by the use of evocative and avant-garde musical textures. "Water" showcases The Roots' unique ability to use rap music to map darker emotional realms.
Thought @ Work
"Thought @ Work" finds Black Thought and The Roots in full-on party-rocking mode. Over an infectious breakbeat, Black Thought goes nuclear, stringing together punchlines, elite brags, historical references, and more. The entire affair has the feeling of a park jam from hip-hop's earliest days. You can close your eyes and imagine the sound pumping from a wall of Cerwin-Vega speakers and shaking the concrete for blocks.
The Seed 2.0
A catchy and muscular take on Cody Chesnutt's "The Seed," The Roots' "The Seed 2.0" transforms Chesnutt's version into an edgy yet accessible anthem. Black Thought takes a cue from Chesnutt's lothario vibe and expands it, creating a vivid world of sex, rock 'n' roll, and the drug of fame.
Stay Cool
With its inventive flip of trumpeter Al Hirt's "Harlem Hendoo," "Stay Cool" reveals The Roots absolute best attributes. At their core, The Roots are a virtuosic band with the ability to not only play anything, but repurpose and filter it through a hip-hop lens. As Black Thought glides on the track and Martin Luther croons on the hook, it's hard not to hear the idea of "cool" as both a state of being and a way of life.
In Love With The Mic feat. Dave Chappelle, Skillz, and Truck North
A raucous and chaotic from The Roots' catalog featuring Skillz, Truck North, and comedian Dave Chappelle. Skillz sets it off with an extended metaphor centered around his love for the art of MCing. Dave Chappelle's ad-libs add a manic energy to the proceedings, while Truck North picks up the third verse with a scene-stealing debut. A fun and uptempo cut, each MC flexes skills so intense that they even "got rhymes running off the pages."
Baby
A sleeper cut tucked dead in the middle of 2006's Game Theory, "Baby" is one of the finest and most bizarre cuts in The Roots' history. Pairing a dark, haunting instrumental with lyrics describing infidelity and an unnamed crime of passion. Hub's bassline and Kirk Douglas' trippy guitar meld together beautifully, taking us on a brief trip to the evil and psychedelic side of the blues. In just under three minutes, we end up at a crossroads where Nick Cave meets Howlin Wolf.
Please Don't Go
"Please Don't Go" is another lesser-known song in The Roots catalog. Produced by J. Dilla, it's a groovy, lovelorn tune that sees Black Thought's smooth singing voice take over the hook.
Can't Stop This
Recorded shortly after J. Dilla's untimely death, "Can't Stop This" is a loving and heartfelt tribute to the band's fallen musical comrade. Using Dilla's instrumental "Time: Last Donut of the Night," Black Thought honors Dilla's memory while tackling topics like crime, poverty, and the crises of faith that these struggles can cause. On the second half of the track, the sound expands, contracts, and morphs as recorded voice messages from Dilla's friends and peers relay words of love, respect, and admiration.
How I Got Over
Released a year after The Roots made a dramatic pivot, agreeing to become the house band for the Jimmy Fallon show, How I Got Over is a remarkably evocative album that is full of brief moments where the band sounds downright optimistic. It's tempered, however, by a hardened/cynical worldview that gives highs and dramatic lows. A clear example of this dynamic is the album's title track. With its funky, uptempo beat and Dice Raw's soaring chorus, "How I Got Over" feels good, but its lyrics tell a bittersweet story of survival and struggle. By the time Black Thought reminds us that "I'm all cried out cuz I grew up crying," any illusion that The Roots' new gig or commercial successes would cause the band to turn away from some of their darker thematic inclinations, have been effectively cast out.
Think we missed one of the best Roots songs? Let us know in the comments below.