'Light As A Feather': Chick Corea And Return To Forever Give Fusion A Latin Twist
The story behind the keyboard wizard's high-flying masterpiece.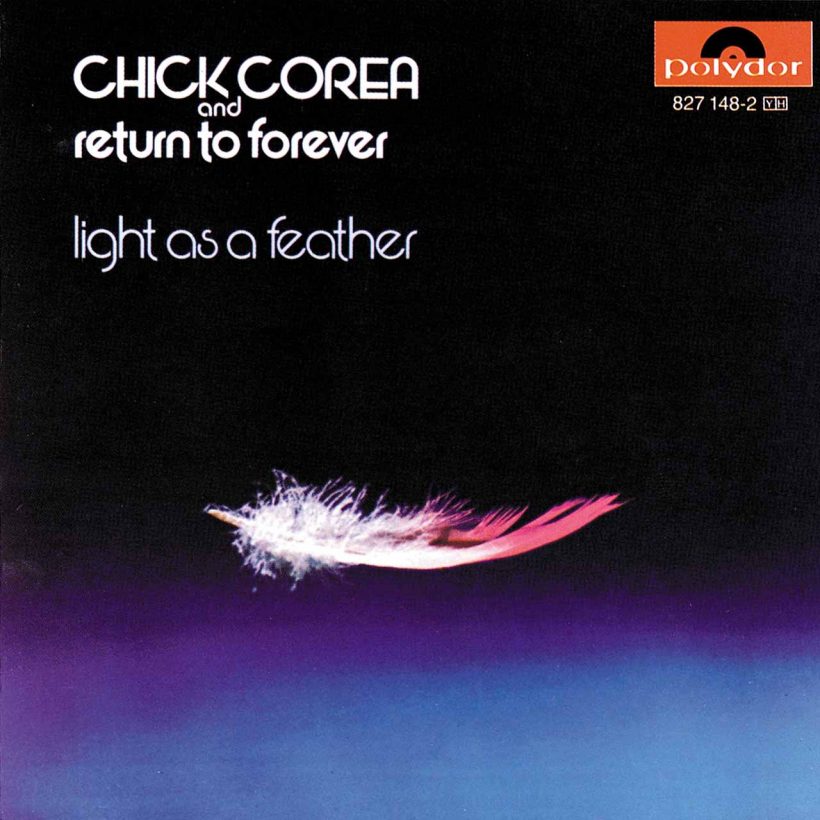 In a long and glittering career that spanned 55 years and brought him a staggering 27 Grammy Awards, the much-feted jazz pianist and composer Chick Corea produced many memorable recordings. Arguably none were quite as special or significant as Light As A Feather, his widely acclaimed jazz-fusion masterpiece from 1973, which he recorded with the original incarnation of his iconic group Return To Forever.
Return To Forever came into being at a time when Corea was at a musical crossroads. Corea rose to fame playing in Miles Davis' trailblazing late 60s band, which saw him contributing to the trumpeter's era-defining jazz-rock albums In A Silent Way and Bitches Brew. Those two records sowed the seeds for what became known as fusion, but in 1970, just as Miles' immersion in amplified rock and funk grew deeper, Corea sought to explore the world of free improvisation and left to form an acoustic avant-garde group, Circle, with fellow Miles defector, bassist Dave Holland, and multi-instrumentalist Anthony Braxton.
Listen to Chick Corea and Return To Forever's Light as a Feather now.
From a purely artistic perspective, Corea found Circle's music fulfilling. However, the group's challenging and uncompromising sonic experiments didn't elicit much public enthusiasm, prompting the pianist to change musical direction. "My music has gotten too complex for people to relate to," he confessed to the Brazilian singer Flora Purim in her memoir Freedom Song when he asked her to join a new group he was putting together at the beginning of 1972. His aim, he told her, was to make music that was more accessible. "I want to get back to some basic sounds and rhythms," he said, adding: "I want to play music that people will carry home with them after they leave the gig."
Corea's new group evolved out of saxophonist Stan Getz's road band, which Corea played in after Circle dissolved in 1971. Alongside him in Getz's group were the double bassist Stanley Clarke and fellow ex-Miles Davis sideman, Brazilian percussionist Airto Moreira. Clarke and Moreira joined Corea's new band as well as the percussionist's wife, singer Flora Purim. "I liked the way she sang," revealed the pianist in 1998. "I liked her spirit, and the Brazilian feel really fit with the material I was writing." Corea also brought in Chicago saxophonist and flutist Joe Farrell, and to play drums, he initially recruited Horace Arnold, though after hearing Moreira sit in and play samba rhythms with the group at an early gig, the Brazilian got promoted and took Arnold's seat.
In February 1972, the group cut their first album together in New York, though ECM released it as a solo Corea LP with the title Return To Forever, a name he then gave his band. "It sort of nailed the spiritual intent of the music, that it should be pure," he explained.
Light As A Feather, the quintet's first album under their new billing, was recorded in October 1972 in London for Polydor Records while Corea and the group enjoyed a residency at Ronnie Scott's jazz club. A heady fusion of post-bebop jazz lifted by piquant Brazilian and Spanish flavors, it was tighter and more accessible than the looser Return To Forever album, containing six memorable tracks.
For the first time on his solo records, Corea, who produced the album, played a Fender Rhodes electric piano throughout the session, often feeding it through a wah-wah effect pedal; a feature that helped give the record its distinctive, otherworldly vibe. Flora Purim, too, with her soaring ethereal vocals and uniquely individualistic approach to jazz singing also imbued the music with a joyful sense of liberation. "I can hear the effect of a great, free spirit on this tape," observed Corea in 1998 in the liner notes to the expanded reissue of Light As A Feather.
Purim's extraordinary vocals graced three numbers, including the airy title track she co-wrote with Stanley Clarke and the psychedelic-tinged "500 Miles High," but it was a mainly instrumental track called "Spain," whose intro quoted the theme to Spanish composer Joaquín Rodrigo's Concierto de Aranjuez, that was the album's centerpiece. Defined by lithe, Flamenco-tinged melodies and a jubilant carnivalesque aura, the track showcased the band's remarkably compelling synergy.
Light As A Feather was enthusiastically received by the critics and jazz public on its release in early 1973, grabbing the Playboy Jazz Album Of The Year award, but Corea resisted repeating its successful formula and instead, after being impressed by the high-decibel pyrotechnics of jazz-rockers Mahavishnu Orchestra, broke up the band to create a new, tougher incarnation of Return To Forever. He kept Stanley Clarke by his side (who switched to electric bass) to form the nucleus of a more prog-rock-oriented all-electric group featuring guitarist Bill Connors, who would later be replaced by the flamboyant Al Di Meola.
Corea's Return To Forever Mark II was highly successful commercially, selling out stadia gigs and racking up gold records but for many Corea fans, Light As A Feather – which was featured in Tom Moon's 2008 book, 1,000 Recordings To Hear Before You Die – was a sound that he never replicated. Luckily, the eminently memorable "Spain" along with "You're Everything" and "500 Miles High" were quickly recognized as standards – and the fact that they remain an essential part of the jazz canon today attests to the genius of the man born Armando Anthony Corea.
Listen to Chick Corea and Return To Forever's Light as a Feather now.