'Reachin' (A New Refutation Of Time And Space)': Digable Planets' Classic Debut
An irresistible fusion of jazz, hip-hop and conscious lyricism that still sounds fresh.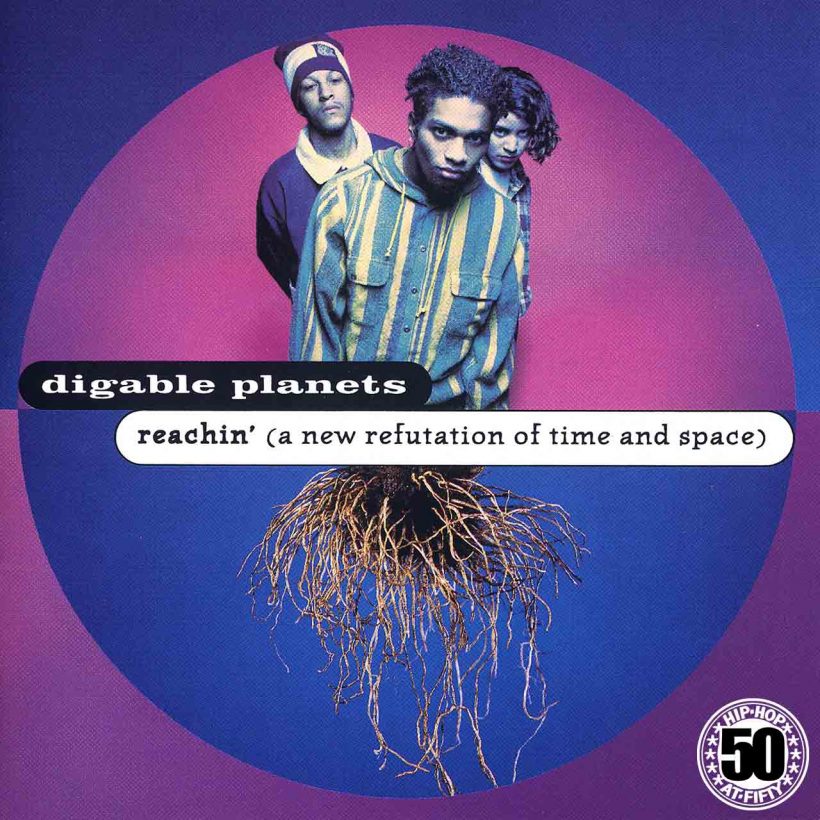 In November 1992, hip-hop trio Digable Planets arrived in style with "Rebirth Of Slick (Cool Like Dat)," a debut single that not only saw them break through commercially – hitting No 15 on the US Billboard Top 100 – but served as a statement of intent.
The single drew from a rich seam of Black music history, using a slowed-down sample of the bassline from Art Blakey & The Jazz Messenger's 1978 track "Stretching" and the irresistibly funky breakbeat from The Honey Drippers' 1973 single "Impeach The President" as a foundation for the kind of cool and enlightened wordplay that became a trademark. When Ishamel "Butterfly" Butler dropped the immortal line "We be to rap what key is to lock," it spoke of a confidence that few artists achieve so early in their career.
Listen to Digable Planets' Reachin' (A New Refutation Of Time And Space) now.
It was no fluke. With the arrival of debut album Reachin' (A New Refutation Of Time And Space) – its full title a reference to an essay by Argentinian writer and theorist Jorge Luis Borges – it was clear that a vital new voice in hip-hop had emerged. The public agreed, as Reachin' also entered the Billboard 200 at No 15. At the first time of asking, Digable Planets had a hit album on their hands.
Digable Planets - Rebirth of Slick (Cool Like Dat) (Official Music Video)
The beginnings of Digable Planets
But while Digable Planets' first offerings to the world might have made it seem as if they'd arrived fully formed, the project had been in the works for years. Butler began recording demos under the name Digable Planets around 1987, inspired by the socially conscious and jazz-influenced antidote to gangster rap coming from the loose collective of acts known as Native Tongues, including De La Soul, The Jungle Brothers, and A Tribe Called Quest.
Craig Irving (AKA Doodlebug) was rapping in the Native Tongues-affiliated collective Dread Poet Society and, after regularly crossing paths with Butler, the two young rappers began collaborating. The line-up was complete when Mariana "Ladybug Mecca" Viera, a member of a hip-hop dance crew, bumped into old friend Irving at Silk City, a Philadelphia acid-jazz club. Irving introduced her to Butler, they hit it off, and when Butler drove Irving and Viera home that night, she rapped for them in the car. The pair asked her then and there to join Digable Planets.
In a way, the story went back even further to Butler's childhood. He was raised on jazz by his father, a history professor – in an interview with Details in 1993 he described a childhood listening to "early Max Roach albums, Diz, Miles, all the Bird bands." In 2018, Butler told DJ and writer Larry Mizell Jr, "When I was about 10, my pop was like, 'C'mon, I'm taking you somewhere.' We go see this cat in this little building, he comes out with a box – it's an alto sax. I'll never forget him putting it together. I'm blowing the shit in the car. I played alto sax all through middle school and early high school."
When hip-hop became the new sound of Black America, Butler started rapping, he had a crew in high school and made demos. From the beginning, he saw parallels with jazz – to him, mixing the musical styles together was the logical next step, as he told Details, "The real deal is that jazz was a constant struggle for the most virtuous and ingenious instrumentalists in America's history. So I think people that know what's going on would realize that mixing jazz and rap is really paying homage. And using the history that we have as Americans and African Americans."
Reachin' (A New Refutation Of Time And Space)
After signing to Pendulum Records in 1992, the trio began work on Reachin'. There was little doubt that it was Butler's vision – he was credited on the album with the production, arrangement, and concept – but engineers and co-producers Shane Faber (A Tribe Called Quest, Jungle Brothers) and Mike Mangini (Run DMC) provided the expertise the studio rookie needed to flourish.
Faber later told The Stranger, "Ishmael conceived that project. And he had mapped the whole thing out in his head." The task was to recreate the vibe of Butler's home demos in the studio, as Faber recalled, "When we started to make the record, we realized that his demo had to be translated now. The record label liked the demo. They liked the whole visual concept that he had in mind. But they said, 'OK, now turn that into songs.' And that was our first challenge. How are we gonna make these into songs?"
Though samples played a part – "Jimmi Diggin Cats" is based on a sped-up keyboard sample from Kool & The Gang's "Summer Madness"; Herbie Hancock's "Watermelon Man" provides "Escapism" with its hook, there are dozens more – Faber and Mangini were also tasked with recreating the sounds in Butler's head. The first sound we hear on Reachin' is a dead ringer for the repeating motif in Herbie Hancock's "Rain Dance," but it was actually created in the studio by Faber.
The results were astonishing. Reachin' is a mellowed-out and wildly creative jazz-rap odyssey that melds 50s hard bop, cool Blue Note vibes, flourishes of psychedelic soul, and space-funk to create a cosmic amalgamation of Black American music. Despite the weight of the influences, Reachin' is a joy from start to end: "Where I'm Free" floats like a feather atop a hook on loan from KC & The Sunshine Band's "Ain't Nothin' Wrong"; "What Cool Breezes Do" slows down a raunchy sax solo from Eddie Harris' 1972 track "Superfluous" for a laidback groove; the unmistakable guitar playing of Curtis Mayfield (from "Give Me Your Love") graces "Nickel Bags."
While the music borrowed from the past, Digable Planets' lyrics dealt with issues of the day. "Hip-hop has to change all the time," Butler told Details, "because the African-American community changes at such a rapid pace. Especially in the use of language. Every year, there's probably 60 or 70 slang words made up. That's the Digable Planets' main thing, man. To manipulate language, to use it, juxtapose it, break it down, set it back. That's the fun part."
Butler's enthusiasm for language informs every minute of Reachin' and further sets it apart from the pack. For much of the album, there is a sense of the trio delighting in introducing the listener to their world and the music, art, literature, philosophy, and fashion they love. "Pacifics" finds Butler extolling the virtues of hip-hop forefathers, psychologists, philosophers, authors of existential fiction, and jazz greats in a breathless few seconds ("Vibing off the jams of the crews on Sugarhill… Checking out some Fromm, some Satre, Camus, Mingus' Ah Um, damn Roach can drum").
Pacifics (From The Original Motion Picture Soundtrack "N.Y. Is Red Hot")
By extension, their pride in their Black cultural heritage pours out of every groove. "Last Of The Spiddyocks" shouts out Bud Powell, Dizzy Gillespie, Eric Dolphy, and John Coltrane while blaming "Uncle Sam" (or white America or both) for the stunting of the potential of these revolutionary artists. "Swoon Units" namechecks Black female writers and activists Nikki Giovanni and Maya Angelou. And "Jimmi Diggin' Cats" takes Butler's reverence for his musical forefathers to a logical conclusion as he ponders what Hendrix would've made of Digable Planets (spoiler: Butler thinks the guitar genius would have dug them).
It's not all pinned to the past. "La Femme Fétal" is a righteous and brave narrative about a young woman who wishes to abort her unborn child ("due to our youth and economic state"). To even include a female MC in the line-up was unusual for the time, to advocate so emphatically for women's rights was virtually unheard of. Butler goes on to suggest that the pro-life movement's motivations go beyond beliefs and are rooted in a desire for control. ("The fascists are some heavy dudes, they really don't give a damn about life, they just don't want a woman to control her body, or have the right to choose, but baby that ain't nothin', they just want a male finger on the button.")
Reachin' was a classic debut and a landmark in hip-hop. It was certified gold on release, but the lasting impact is the influence it has had on future generations, pointing towards a different kind of future for hip-hop. The Fugees, Mos Def, Common, Kendrick Lamar, Tyler The Creator, and many more owe a debt to Digable Planets' groundbreaking first album.
Listen to Digable Planets' Reachin' (A New Refutation Of Time And Space) now.