'Live From Moscow': Behind Elton John's Landmark Russian Concert
The album captured an unforgettable show on Elton and percussionist Ray Cooper's headline-grabbing tour of Russia.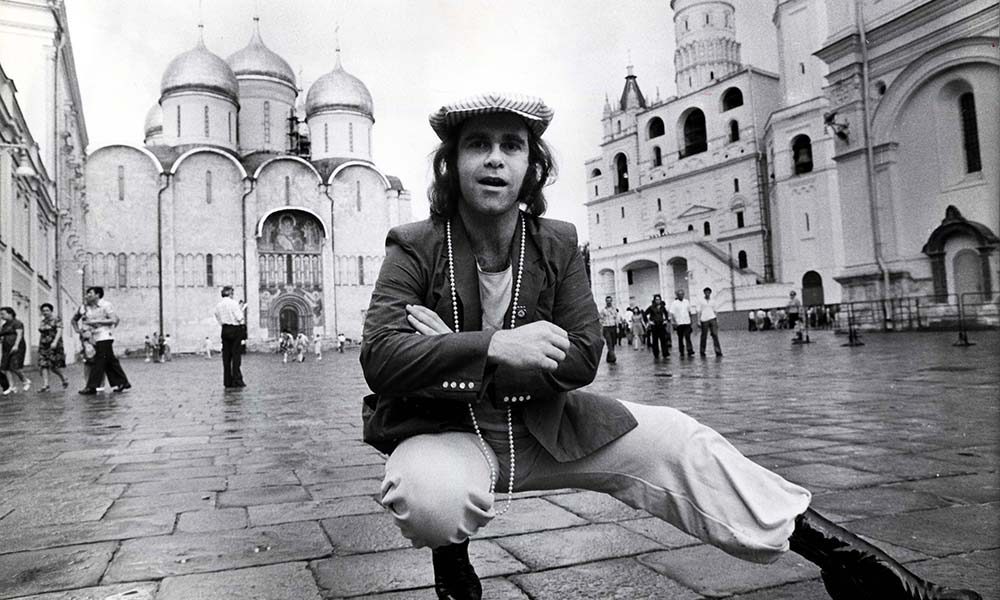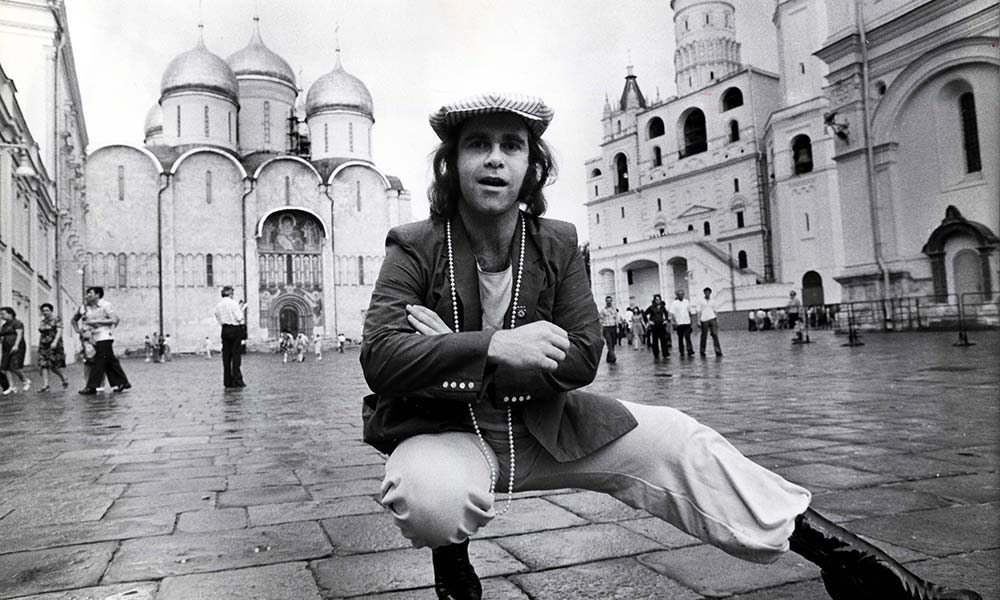 Pop music has few stars more global than Elton John, but sometimes we forget how much the world has shrunk in recent decades. When it was announced in 1979 that Elton and percussionist Ray Cooper would conduct an eight-date tour of Russia – still then called the Union Of Soviet Socialist Republics – it was a huge deal and headline-seizing news.
The closing night of the tour, broadcast on BBC Radio 1 in the UK and later released on vinyl as Live From Moscow, revealed exactly why Elton's jaunt commanded such attention.
Another one for the record books
No artist on Elton's scale had managed to step behind the Iron Curtain, or to get Western culture through customs and into a Communist country so rigidly starved of it. Indeed, his then-current, 12th studio album, A Single Man, had become the first-ever Western pop album to be officially released in the USSR, on the state-owned Melodiya label.
The Russian tour ran over a week in May, with four concerts in Leningrad and four in Moscow. In another one for the record books, the May 28 date at Moscow's Rossiya Concert Hall was chosen for broadcast, in the first stereo satellite connection between the USSR and the West. Those tapes, remastered by Bob Ludwig, made their first commercial appearance as a limited-edition clear-vinyl release for Record Store Day 2019, before receiving a full release on January 24, 2020.
One of Elton's favorite concerts
For those who are catching up with the superstar's sprawling history, in the wake of the Rocketman movie and Me autobiography, the 95-minute Live From Moscow recording is as fascinating as it will be to those who have followed his every move across half a century. This is a record, in every sense, of a landmark event, both culturally and musically, warmly remembered by John himself as "probably one of the best concerts I've ever given in my life."
Of course, he sounds quite different to the latter-day Elton, both vocally and in his approach, which still has the indefatigable vigor of a man not long turned 32. We hear him treating an initially cautious crowd of Muscovites to a full-throttle solo set at the Steinway and the electric Yamaha, before the inimitable Cooper joins him for a second half packed with even more hits, building to a triumphant conclusion.
The sheer novelty of having a Western pop personality in their midst is reflected in the cautious, almost nervous, applause that greets the opening "Daniel." But Elton's supple and gentle tones here, and on one of his own early favourites, "Skyline Pigeon," soon warm the audience – the latter song with some notable and effective echo in the vocals of a charming, formative ballad.
Elton John - Daniel (Rossiya Concert Hall, Moscow 1979)
The solo piano format often emphasises the virtuosic improvisational skills of a Royal College Of Music alumnus, for example on an elaborate, freeform introduction that kicks into the "Take Me To The Pilot" we all know. There's further extemporising in the middle and even a bit of falsetto, in a soulful, crowd-warming rendition. "Rocket Man," which wins applause from its opening words, elongates to seven and a half minutes, and "Don't Let The Sun Go Down On Me" and "Candle In The Wind" are here in their less-is-more, unplugged glory.
An unforgettable touchdown
One of Live In Moscow's real revelations is an exhilaratingly spontaneous interpretation, on the Yamaha CP80, of "I Heard It Through The Grapevine," which runs to nearly 12 minutes. "Funeral For A Friend" cleverly segues not into the usual "Love Lies Bleeding" but the Blue Moves gem "Tonight," before a lively "Better Off Dead." With the crowd now clapping along, Elton fools around on the piano before "Bennie And The Jets" kicks in, with further fuel from Cooper's tambourine and another epic expansion to a dozen minutes.
Saturday Night's Alright (For Fighting) (Live At Rossiya Concert Hall, Moscow / 1979)
"Sorry Seems To Be The Hardest Word" makes for an introverted contrast, before the welcome inclusion of another underrated Blue Moves piece, "Crazy Water," with Cooper bongoing along to manic effect. "Saturday Night's Alright For Fighting" blends seamlessly into "Pinball Wizard," and then a truly momentous shared experience reaches its crescendo with a version of "Crocodile Rock," that morphs into "Get Back" and then, what else, "Back In The USSR."
Listen to the best of Elton John on Apple Music and Spotify.
To paraphrase that song, the audience really didn't know how lucky they were, boy. For everyone else who could only imagine such a portentous occasion, we now have it to keep. As Elton went to Russia with love, at the end of his first decade in residence, it had already been a long, long time, but this was a touchdown that the rocket man would never forget.
Buy or stream Live From Moscow.