Garth Brooks, The All-Time Country Champion
America's top-selling album artist of the SoundScan era goes from strength to strength, on the road and in the studio.
Garth Brooks, the top-selling album artist of the SoundScan era, with US sales alone of over 70 million records, has been reminding us of his enduring popularity in recent times.
Recognised as the first country music artist to amass more than one billion plays on over 2,500 digital radio services, Brooks was back in the album charts late in 2016, with his studio release  Gunslinger, the Ultimate Collection CD set and the Christmas Together record with his wife and fellow star, Trisha Yearwood. The phenomenal ticket sales of his first world tour in 13 years, in 2014, underlined that he remains a massive live attraction, and he's been on the road almost ever since.
In February 2018, just before his 56th birthday, Brooks took to the smallest stage he'd played in some 30 years when he and his band appeared at Layla's, a club amid the honky-tonks of Lower Broadway in Nashville. The event was an invitation-only show for programme directors during Country Radio Seminar. Summer 2018 brought the Triple Live collection, recorded on the road between 2014 and 2017.
By then, he had also released the new single 'All Day Long,' teasing his next studio release, which, in January 2019, he revealed will be titled Fun. It will also include the ballad 'Stronger Than Me,' which Brooks introduced at the 2018 CMA Awards.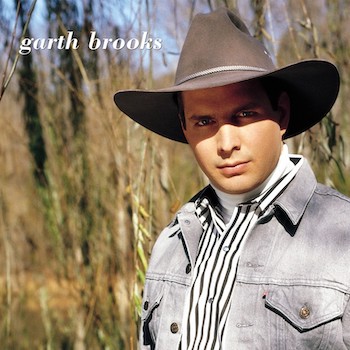 The man from Tulsa, born on 7 February 1962, burst onto the country scene with the 1989 single 'Much Too Young (To Feel This Damn Old),' and a self-titled album that went on to diamond certification for 10 million US shipments. Those sort of telephone-number sales have been a recurring feature in Brooks' unique career, as his record and touring achievements have rewritten the record books. When his sophomore album No Fences came out in 1990, there seemed almost no limit to his commercial potential, as it stormed to 17 million sales in America alone and made him an international star.
In 2014, Man Against Machine — his first LP recording since his last studio set for Capitol Nashville, 2001's Scarecrow — became another country No. 1 and another million-seller. Then late 2016 brought Gunslinger, introduced by the lead single 'Baby, Let's Lay Down And Dance.'
Trisha was on hand to provide backing vocals on one of the album's strongest tracks, 'Whiskey To Wine,' and Brooks himself co-wrote all but one of its ten new songs. The Independent newspaper remarked: "Garth here sensibly celebrates simple good times in songs like the twangsome 'Honky Tonk Somewhere' and its cutting-loose continuation 'Weekend,' where copious location namechecks enthuse that 'it's weekend all over the world.'"
With his Garth Brooks Stadium Tour starting in March 2019 and expected to visit some 30 stadiums over the course of three years, there's no sign of that weekend ending anytime soon.