'Live Baby Live': How INXS Gave London A Night To Remember
The 1991 Wembley Stadium concert captured one of the biggest global sensations at the height of their powers.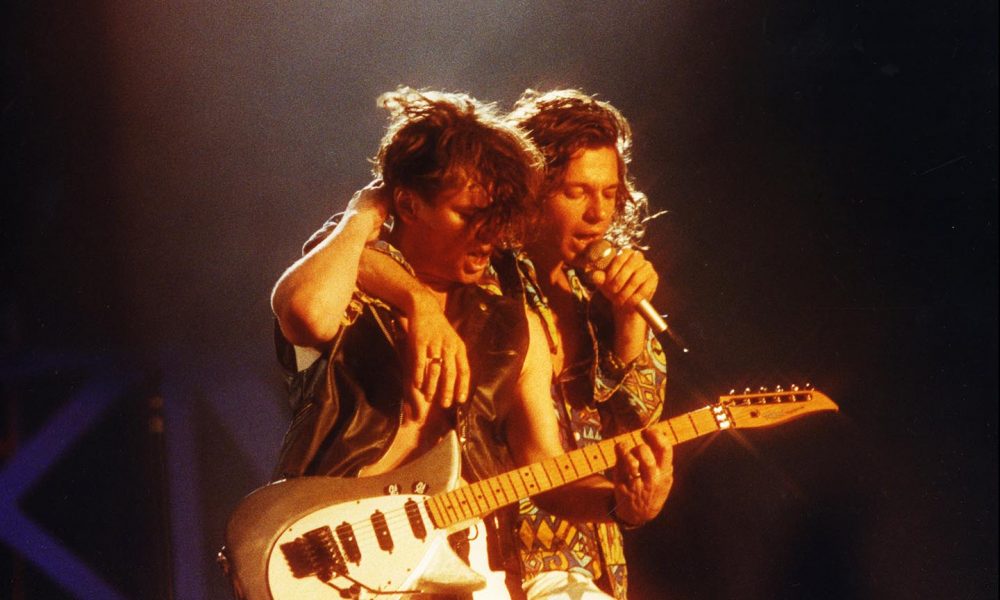 Six years to the day after Live Aid, London's famous Wembley Stadium played host to another concert that would go down in history. On July 13, 1991, Aussie superstars INXS delivered the show of their lives at Wembley, with their career-defining gig captured in all its widescreen glory by a spin-off concert film and live album – both of which were titled Live Baby Live.
At Wembley, INXS surfed the crest of an almighty wave that first started to swell when they released their breakthrough album, Kick, in 1987, and continued to build with 1990's X: another highly polished pop album that yielded multi-platinum sales and thrust the band into rock's premier league.
Listen to Live Baby Live: Wembley Stadium on Apple Music and Spotify.
"The whole band was on fire that night"
INXS' Wembley Stadium date was just one of many stops on their high-profile Summer XS tour of 1991 and — as the original November 11, 1991 edition of Live Baby Live proved — they were on ferocious form. That first edition's 16 tracks were culled from shows in cities ranging from Sydney to Dublin and Rio De Janeiro, and they demonstrated there were few bands on the planet capable of touching INXS at that particular moment.
The Antipodean stars were on a roll when they arrived in Europe. They'd completed the tour's successful "homecoming" leg in Australia during April and May, after which they headlined European festival shows from June 28 through to July 16.
The sellout Wembley crowd that day was precisely 73,791, and the box office gross was £1,426,617. The event took place as INXS continued to enjoy the status of rock giants both in the UK and around the world. Indeed, at the BRIT Awards five months earlier, they had won Best International Group, while frontman Michael Hutchence was named Best International Male Artist.
"A night to remember for all time"
"The whole band was on fire that night", bassist Garry Gary Beers said in 2019, recalling Hutchence's magnetism. "Michael was so good, he sang his heart out and gave every person in the crowd a night to remember for all time. He truly had that amazing ability to make the biggest shows as intimate as the pubs we grew up in musically."
INXS - New Sensation (Official Live Video) Live From Wembley Stadium 1991 / Live Baby Live
INXS needed to be on top of their game that night, not least because they were topping a bill of real pedigree. Their headlining slot was preceded by sets from fast-rising indie-dance outfit Jesus Jones, Irish favourites Hothouse Flowers, San Franciscan modern rock outfit Jellyfish, British soul-rock outfit Roachford and iconic Blondie star Deborah Harry.
However, as director David Mallet's recently-restored Live Baby Live film and its 21-track audio counterpart so vividly reveal, INXS were never going to falter. Michael Hutchence and company may have stepped out in front of an awe-inspiring 74,000 people, but as soon as drummer Jon Farriss hammered out the machine-like rhythm of "Guns In The Sky" and his colleagues locked in behind him, they never once looked back.
"One of the biggest global sensations at the height of their powers"
The night's setlist drew heavily on both Kick and X, with vast swathes of the crowd moving as one to "New Sensation" and hollering back the chorus of the sinewy, blues-based "Mystify." Kicking off six consecutive tracks from X, a tense, measured performance of "The Stairs" ramped up the tension, then gave way to the swaggering, wah-wah-driven "Know The Difference," before a soaring "Disappear" provoked an enormous roar from the crowd.
INXS – The Stairs (Official Live Video) Live From Wembley Stadium 1991 / Live Baby Live
Shrewdly, INXS kept a battery of hits in reserve for the home stretch, which included celebratory versions of "Bitter Tears", "Suicide Blonde" and the biggest, phattest version of their breakthrough hit, "What You Need." The latter song culminated in a lengthy call-and-response workout between Hutchence and the crowd; for all his poise and consummate cool, the much-missed frontman was visibly moved by the love his band received that night. "F__ing hell, it looks like all England's out there!" he said, his voice cracking with emotion as "Suicide Blonde" wound down.
If that wasn't enough, encores including "Need You Tonight," a heartstring-tugging "Never Tear Us Apart" and a seven-minute "Devil Inside" almost brought the venue's famous Twin Towers down. In July 2020, INXS marked the concert's 29th anniversary by sharing "What You Need" from Live Baby Live.
INXS - What You Need (Official Live Video) Live From Wembley Stadium 1991 / Live Baby Live
By the time the Aussie legends finally relinquished the stage, no one present would have quibbled with executive music producer Giles Martin's assertion that they'd just witnessed "one of the biggest global sensations at the height of their powers."
As subsequent albums such as Welcome To Wherever You Are and Full Moon, Dirty Hearts proved, INXS still had plenty of great music to come. Yet the band also felt that Live Baby Live documented them scaling a once-in-lifetime peak: "We were just six blokes from Australia that treated Wembley Stadium like just another pub gig," Tim Farriss said in 2019.
"We went in with a PA and a few lights and played our asses off. No ego ramps, no back-up singers, no props, no grand pianos, just the six of us – and the audience went nuts! That's all we needed!"