'14 Shots To The Dome': LL Cool J's Transitional Fifth LP
Early 1993 was a transition period of sorts for Big Apple hip-hop, including the fifth album from this New York legend.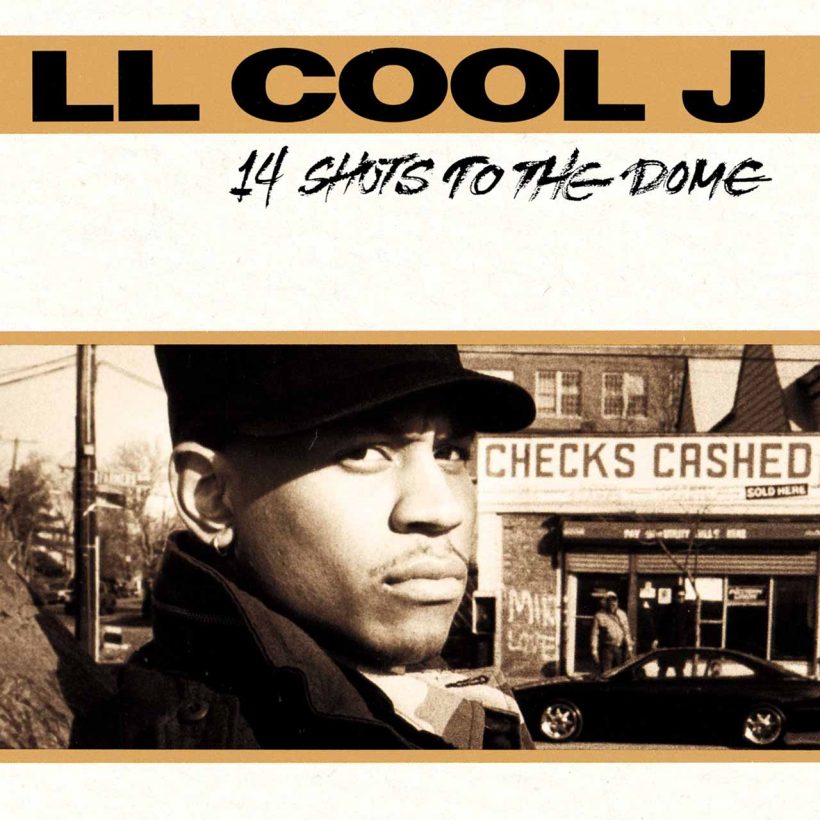 I was 14 years old when LL Cool J's fifth LP 14 Shots To The Dome dropped. It was March 30th, 1993 – the spring of my freshman year at White Plains High School – and I was infatuated with hip-hop music and culture. Though I was still expanding my knowledge base of the genre, LL Cool J was already a household name. I grew up watching his videos on MTV and hearing his songs on the radio, and though I wouldn't say I was a die-hard LL fan, I got open when "Around The Way Girl" came on at school dances, and I knew every word to "Mama Said Knock You Out."
My first recollection of hearing about 14 Shots To The Dome was through an advertisement in The Source. For a rap artist who had recently performed at President Clinton's inauguration and appeared in a major motion picture with Robin Williams, the ad intrigued me. Rather than feeding into his evolving pop culture status, the ad was still gully in nature, featuring LL sporting an all black cap in front of a quintessential Queens check cashing spot. Back then, an ad in The Source was hugely influential – it was often our first line of communication as rap fans with an artist's new album. And from the visuals, it looked as if LL was going to keep it more Hollis than Hollywood on his newest Def Jam joint.
Listen to LL Cool J's 14 Shots to the Dome.
14 Shots To The Dome was titled to coincide with the number of tracks on the album. During an MTV Rockumentary interview leading up to its release, LL was confident about his latest effort, saying, "Competition is definitely getting crushed this year. But they know it. Ask 'em when you see 'em. There really ain't no competition… I don't claim to be the best rapper. That's not what I'm trying to do. I'm just the best at being me. That's why there's no competition. Because there's only one LL Cool J. I don't never have to worry about there being another LL Cool J. Never."
He's right – LL Cool J is an original. There isn't another MC in the history of hip-hop that can so seamlessly rap hardcore and lyrical on one record, then switch it up, lick their lips, and wax poetic about making love on the next. His versatility has fueled his longevity – it's always just been a matter of what direction he wants to take next.
On 14 Shots, LL busted hard out the gate with "How I'm Comin'," the lead single that drew production influence from popular early '90s Dr. Dre and Snoop Dogg records like "Deep Cover." It instantly felt like a continuation of his Grammy-winning hit "Mama Said Knock You Out," with cock-diesel bars over a rugged instrumental that both coasts could ride to. It was clear that even after four platinum albums and a Grammy, LL wasn't satisfied – he was taking no shorts in '93.
It's important to look at 14 Shots to The Dome's release in the context of what was happening at the time in New York. Early 1993 was a transition period of sorts for Big Apple hip-hop. Death Row Records had taken the reigns for the moment, and though artists like A Tribe Called Quest, Pete Rock & CL Smooth, and Grand Puba had great years in '92, the coast-shifting emergence of Nas, The Notorious B.I.G., Wu-Tang Clan, and Mobb Deep had yet to hit. But LL Cool J didn't seem phased by what was happening before or after him. 14 Shots was his moment to fire off his fifth round of raps and do what felt right to him. As he said in an interview with The Source before the album's release, "I didn't compromise nothin' on my album. I made what I feel. I didn't try to make nothin' pop, but I ain't tryin' to stay in a box where someone wants me either."
Which is probably why the most successful single on 14 Shots was "Back Seat," a track where LL raps about swingin' episodes with the opposite sex in his Jeep with humorous lines like, "Don't lie, take it in your eye" that only he could pull off. It's not often that a rap song can be both fly and funny, but somehow LL made it happen. On "Back Seat," his originality took a front seat, and he was able to showcase both his lyrical prowess and sex appeal in one shot.
"Pink Cookies In A Plastic Bag (Getting Crushed By Buildings)" did the same for LL Cool J. It borrowed the "Blind Alley" sample made famous by Big Daddy Kane on "Ain't No Half Steppin," but L flipped it in a way that felt updated and unique. On an album where he's hyped up on a majority of the tracks, it was refreshing to hear him drop an octave or two and cozy into his comfort zone. As for the meaning behind the title, well, that's still open to interpretation. Wink.
14 Shots To The Dome is not the most celebrated album in Uncle L's discography. It's a stepping stone into his more successful sixth LP Mr. Smith, which features hits like "Doin' It," "Hey Lover," and "I Shot Ya." In comparison, songs like "Stand By Your Man," "A Little Somethin'," and "Buckin' Em Down" are less known by the masses, but if you like LL Cool J, that doesn't mean they're not rock solid.
However, there's no debating – whether you're an LL Stan or not – the raps on 14 Shots are sharp, and the funk-heavy production offers a portal back in time for those itching to experience the street essence and nostalgia of NYC in the early '90s, especially on the dancehall-infused cut "Straight From Queens" and the Lords of the Underground-featured "Funkadelic Relic."
No one flexes on a track like LL Cool J, and if you're looking for proof, this album offers 14 examples – straight to your dome-piece, homie.
Listen to LL Cool J's 14 Shots to the Dome.
Editor's note: This article was originally published in 2018.