15 Queer Musicians Making Waves Today
From those crafting futuristic pop anthems to a generation of singer-songwriters forging a new canon of love songs, these are the queer artists to watch long after Pride Month is a wrap.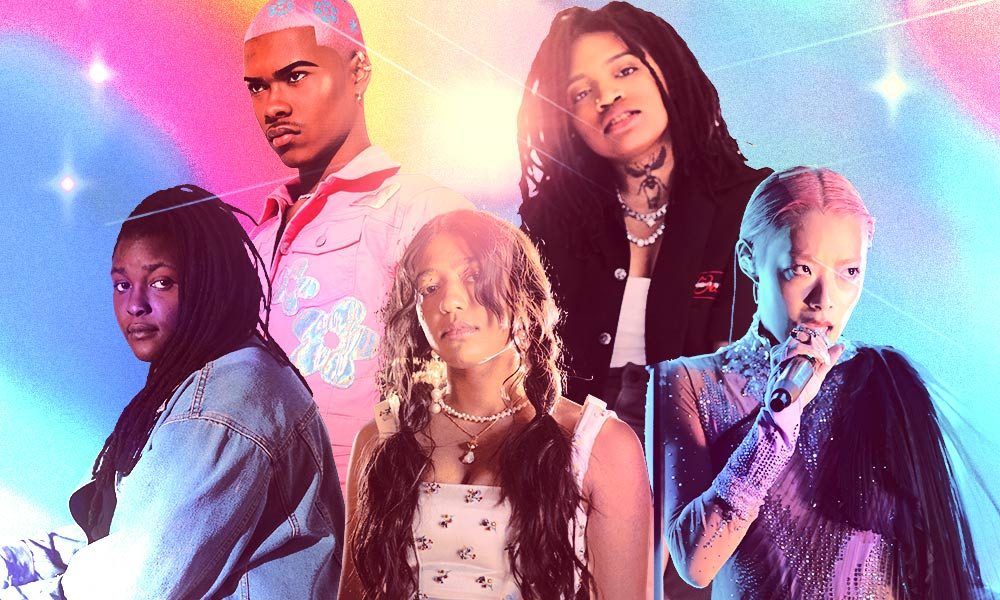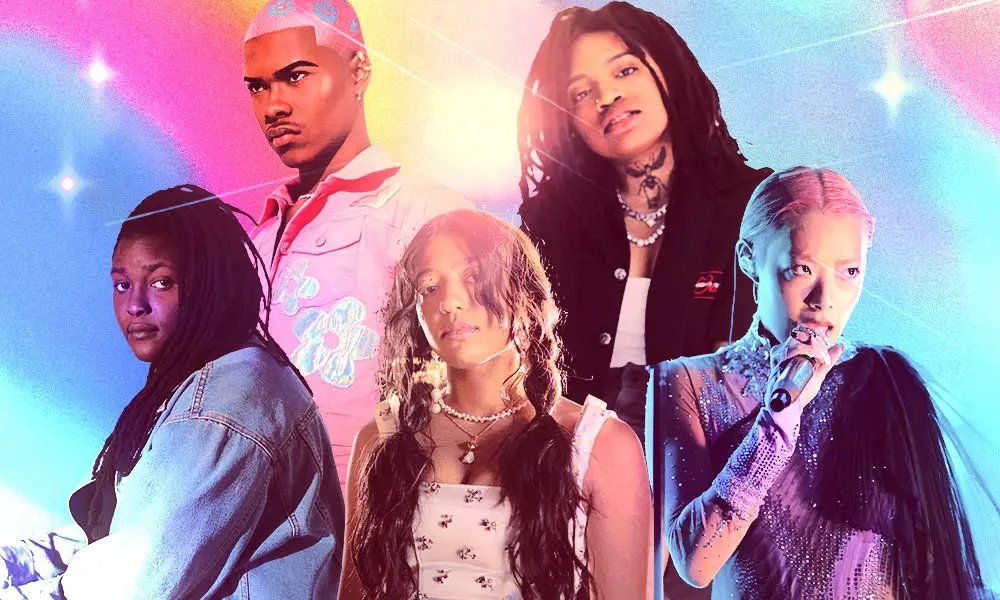 While many artists are celebrated for their allyship, this list highlights the queer musical talents that are carving out space for themselves and creating art that helps the LGBTQIA+ community feel seen and heard in an industry that often leaves them behind. From those crafting futuristic pop anthems to a generation of singer-songwriters forging a new canon of love songs, these are the queer musicians to watch long after Pride Month is a wrap.
Peach PRC
Peach PRC's world is pink, pop-y, and maybe "Perfect For You." The Aussie singer-songwriter's single of that name interpolates Paris Hilton's "Stars Are Blind," inspired by the times Peach and her girlfriend shared their headphones to listen to the 2006 hit. After building up a fanbase on TikTok, Peach dropped her debut EP Manic Dream Pixie, in 2023, showcasing her campy sensibility but serious songcraft. Inspired by early 2000s millennium pop, fans can fall right into Peach's dreamy tunes about the girl she loves.
Check out: 'Perfect For You'
Peach PRC - Perfect For You (Official Video)
Towa Bird
"Throw your lasso / Come and catch me babe / I'm Indiana jones / You're my last crusade," Towa Bird sings with the bravado of a seasoned rock star on her debut single "Wild Heart." Bird might be newer to the music scene, but with "Wild Heart," she's already proven her chops with the guitar are no joke. She shreds again on her second release, "Boomerang," a tribute to her long-distance girlfriend. The Hong-Kong born, London-based singer's debut album is out later this year, set to explore queer love and identity.
Check out: 'Wild Heart'
Towa Bird - Wild Heart [Official Music Video]
Doechii
In 2021, Doechii scored a major TikTok hit with "Yucky Blucky Fruitcake." The track reflects on growing up, with lyrics like "I try to act smart 'cause I want a lot of friends" and "I think I like girls, but I think I like men." Today, Doechii is openly bisexual and one of hip-hop's brightest rising stars, with hits like "Persuasive" and "What It Is." Last year's she/her/black b*tch marked her major label debut, and Doechii continues to express herself through her singular, colorful artistic vision.
Check out: 'What It Is (Block Boy)'
Doechii - What It Is (Block Boy) feat. Kodak Black [Official Video]
Baby Queen
Many listeners were first introduced to Baby Queen's music when she was featured on the soundtrack of Netflix's queer teen love story Heartstopper. The South African singer-songwriter Bella Latham, aka Baby Queen, composed the original song, "Colours of You," based on the protagonist Nick's journey discovering his bisexuality. Since then, the rising singer was named BBC's Sound of 2022 and continues to expand her baby queendom with her dreamy guitar pop sound, including the new single "Dream Girl," off her forthcoming debut album.
Check out: 'Dream Girl'
Baby Queen - Dream Girl (Official Video)
Ethel Cain
Ethel Cain is writing her own American epic, and she's doing it through the eyes of a trans woman raised in the Deep South. The moniker of Hayden Anhedönia is, in fact, a complete character whose story is explored on Anhedönia's 2022 debut album Preacher's Daughter. First cropping up on many fans' radars with the ethereal, just-a-bit-haunted "Crush," it was clear that Cain was bringing something new to the table, which is heard further in the pop-forward "American Teenager," the epic ballad "A House in Nebraska," and the controlled chaos of "Ptolemaea."
Check out: 'A House In Nebraska'
– Hannah Zwick
Ambré
Coming out of New Orleans, Ambré is one of the fresh-faced R&B artists on the scene. The self-taught musician released some of her first music on Soundcloud, which remains a springboard for some of the most exciting underground talent. Soulful, honest, and vulnerable in her own music – Ambré has also collaborated with some of the biggest R&B artists of today, such as H.E.R and Kehlani. Working with the latter would earn her a Grammy award in 2019 for two songs she co-wrote with the artist. She released her critically-acclaimed debut EP, Pulp, a year later, featuring the standout single "band practice." The accompanying video shows a more tender side to queer representation and serves as a great introduction to all things Ambré.
Check out: 'The Catch Up'
Joy Oladokun
"When you listen to me, I want you to feel like you've taken an emotional shower.." says singer-songwriter Joy Oladokun. Well..mission accomplished. "Having trouble giving grace, to every one of my mistakes," she confides on "someone that i used to be," accompanied by a soft piano and the soft timbre of Oladokun's voice, it's easy to see why so many connect to this singular talent. Open about her queerness, mental health, and her mission to be intentional with the music she creates, Oladokun (who was inspired by Tracy Chapman) is making a name for herself in Nashville and beyond.
Check out: 'if you got a problem'
Joy Oladokun - if you got a problem (Official Music Video)
Hope Tala
If I could pick the backing soundtrack to a perfect summer day at the park, where I am entirely in love with myself, and all is right in the world, it would be to a Hope Tala song. She's part of Gen Z, but her influences include 1950s Bossa Nova, 2000s R&B, and a bit of pop, to create music that just makes you feel good. Extremely confident in the art she wants to create and in her queer identity, Tala makes the kind of music that people can find themselves in. Her recent single, "Mad" makes me want to yell at my summer crush, cry about it at the lake, and then dance all the feelings away while I remember how incredible I am.
Check out: 'Lovestained'
Arlo Parks
Sometimes heartbreak needs a soundtrack to help you get through it, and that's where Arlo Parks comes in. Parks' music feels like poetry and encourages you to want to create your own, to explore your emotions, whatever they may be, and be easy with yourself as you do. The indie-pop/folk artist was inspired by poets such as Sylvia Plath, and that inspiration shines through in the sensitive lyrics of songs like "Romantic Garbage" and the recently released "Devotion." Seemingly unafraid to wear her heart on her sleeve, get into this artist when you're ready to learn to do the same.
Check out: 'Sophie'
Ms.Boogie
Ms. Boogie makes music for the person that knows who they are, what they want, and could care less what others think. A confident, smooth and sexy flow — listen to Boogie when you need to be reminded of who you are and what you bring to the table. Boogie is direct in her music, with unabashed sexually expressive lyrics when so often trans performers are discouraged from doing so. The Brooklyn-based rapper is here to change what the hip-hop industry looks like and is unafraid to get political in her music. Her song "Fem Queen" featuring Trannilish was a mega-hit – demanding respect through the lyrics, calling those out who needed to be, and advocating for trans folks all at the same time.
Check out: 'Dickscipline'
Ms. Boogie - Dickscipline
Kidd Kenn
Colorful and energetic, Kidd Kenn's music is as bold as his hyper color fades. His brash flow and lyrical confidence belie his young age, yet the 20-year-old rapper-singer is making quick work of the charts, and he's just getting started. Getting the seal of approval from folks like Kehlani, Rico Nasty, and Saweetie – the "Kenn Effect" is catching everyone's attention. The Chicago native and recent Island Records signee has been anything but quiet about his queerness, encouraging folks in the community to own their identity even in the hyper-masculine world of hip-hop.
Check out: 'Benji'
Kidd Kenn - Benji (Official Video)
Ashnikko
U.S. singer-songwriter and rapper Ashnikko has been around since about 2016, but it wasn't until 2019 when they really blew up thanks to the app that steals everyone's time – Tiktok. Their song "Stupid" with Yung Baby Tate took the app by storm after everyone started using it as a sound, leading to a gold certification in 2020. Ashnikko's sound is a blend of bubblegum pop, a little bit of punk, topped off with hip-hop. They feel like a Tumblr post come to life. Their X has also caught the attention of another genre-bending artist, Doja Cat, who co-wrote the single "Boss Bitch" with them. Ashnikko takes a very Gen Z approach to songwriting, drawing upon real-life experiences and exaggerating them until a song is born. This process seems to be working for the artist so far, as their star continues to rise, collaborating with artists like Grimes and, most recently Princess Nokia on the recent single "Slumber Party."
Check out: 'Slumber Party'
Ashnikko - Slumber Party (ft. Princess Nokia) [Official Music Video]
Rina Sawayama
Futuristic is the first word that comes to mind when thinking of this electropop artist. Model, songwriter, advocate, and actress Rina Sawayama has been working with (and inspired by) her queer community since the start of her career. Her music is multi-layered, often drawing you in with the club-ready beats and quick catchy choruses, then inviting you to stay with her artful and nuanced lyricism. She addresses insecurity, trauma, racism, and more hefty subjects in her music, perhaps to hopefully inspire people to dig deeper and look at themselves and the lives they live. It feels like a lot for an artist to carry, but Rina is a new type of artist that seems willing to make you dance and to make you think.
Check out: 'Comme des Garcons (Like The Boys)'
Rina Sawayama - Comme Des Garçons (Like the Boys)
Evann Mcintosh
Evann Mcintosh makes the kind of music that I like to refer to as "Sweet Sadboi Sounds." The kind of wistful and bittersweet love songs that remind you of the one that got away. Sensual and often a slow burn, your patience is always rewarded by Mcintosh's soulful and clear-eyed vocals. The lyrics always seem like they want to inspire hope – talking about the idea of falling in love or imagining the perfect relationship or partner. Mcintosh embodies the kind of head-in-the-clouds optimism that can only come from youthful abandon. Always hoping for the best, taking what life throws at you, and trying to find the sweetness in it all.
Check out: 'WIYULD'
Evann McIntosh - WIYULD feat. Lil Mop (Official Video)
Destin Conrad
Another artist that comes from the world of social media – Vine in particular – Destin Conrad has grown into both a talented songwriter and a soulful artist. His debut EP, COLORWAY, invites you into his world of sultry R&B, synthscapes, and tight harmonies. It tells the story of someone who has come into himself and is ready to level up in life (and in love). COLORWAY has garnered praise from other notable queer musicians such as CHIKA, Kehlani, and Ambré, who also appears on the album with the song "FRAUD." This album feels like it's showcasing the type of personal growth that as queer people, is often hard to attain – but the encouraging lyrics and honest storytelling on COLORWAY can be used as a tool to inspire us all to try to get there.
Check out: 'EXCITED!'