Pharrell Williams: From Music N*E*R*D To Pop's Top Producer
From his pioneering work with The Neptunes to N*E*R*D and solo albums, Pharrell Williams has become music's top producer, pushing the envelope of pop.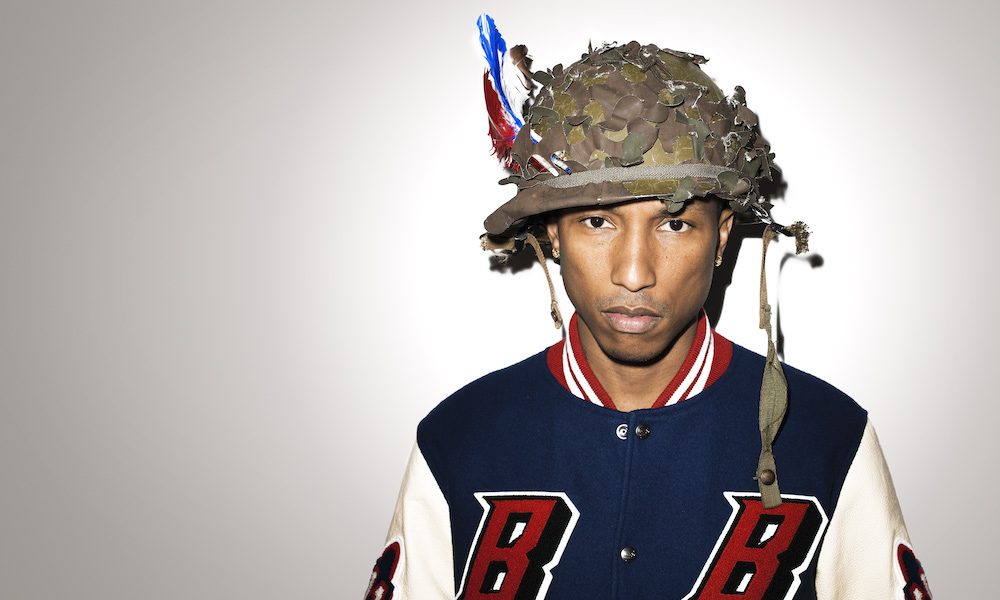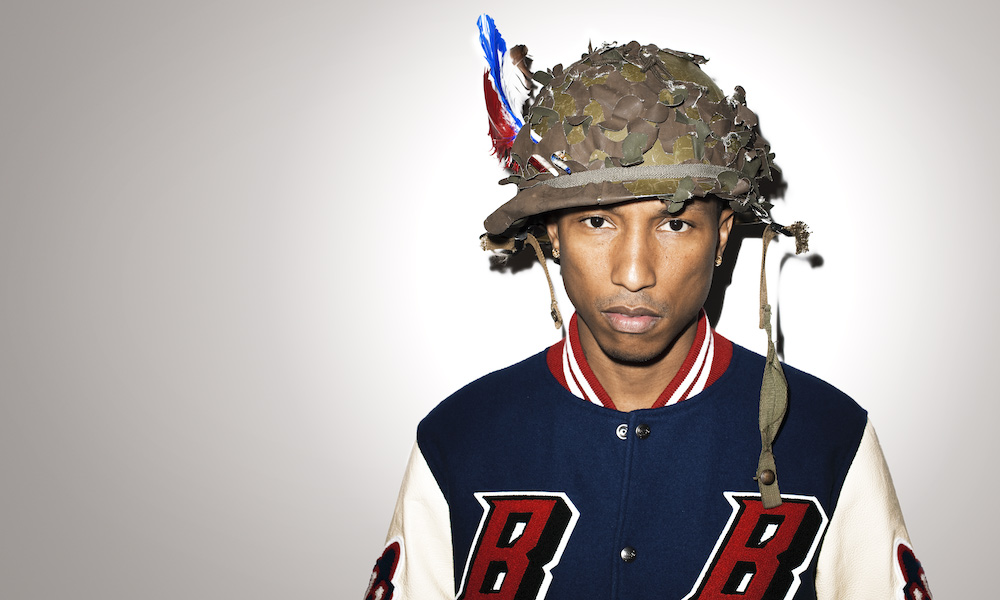 Pharrell Williams' reach seems to extend in all directions. To say he's an icon of hip-hop, pop, art, fashion, and film would dilute his influence. There's no one else like him. When he's not collaborating with Chanel, scoring hit movies, or sporting a Vivienne Westwood hat that launched a thousand memes, he's an in-demand producer for the biggest artists in music.
After spending the early years of his career creating hits for other artists, Pharrell and his cohorts The Neptunes began to mastermind entire careers. Pharrell would push the envelope of his own success further with his involvement in streetwear labels Billionaire Boys Club and Ice Cream. And if all that wasn't enough, he experienced unprecedented success a few years later with some of the biggest collaborations of the decade.
Listen to the best of Pharrell Williams on Apple Music and Spotify.
Teddy Riley's protégée
Pharrell's career began long before skated onto the scene with N*E*R*D. Pharrell and his Neptunes partner, Chad Hugo, were "discovered" by New Jack Swing pioneer Teddy Riley back in Virginia Beach. Riley took the duo under his wing and they became acolytes of the Teddy Riley school of production. Pharrell earned one of his earliest production credits for Wreckx-N-Effect's 1992 hit "Rump Shaker," writing Riley's verse and helping out with production. From then on out, Pharrell would lend his touch to many of Riley's biggest productions including SWV's "Right Here" (those are his backing vocals on the Human Nature Radio Mix) and Blackstreet's "Tonight's The Night."
Imbued with intrigue
Pharrell's career was imbued with intrigue from the moment it began. N*E*R*D's debut album, In Search Of…, is an influential and genre-bending classic. Yet there are two distinct versions of the album – one with electronic production, the other with a rap-rock full-band sound. For obsessives and completists (Tyler, The Creator among them), the ball was already rolling: both were essential to unlocking Pharrell's genius. At the time of the album's release, Pharrell and The Neptunes were also helping to establish the careers of other future legends, including Kelis and Clipse.
In the early part of the new millennium, Pharrell would also work with Scarface, Noreaga, and Britney Spears. He continued to foster relationships with other titans. When Jay-Z was recording his would-be-retirement record, Black Album, he tapped The Neptunes to produce its lead single, "Change Clothes," featuring Pharrell's now-classic vocals on the track. The production duo would also spawn one of the biggest hip-hop records of the early-00s, Nelly's infectious "Hot In Herre," helping to usher in the Dirty South sound in the process. The summer jam went No.1, making The Neptunes became the hottest production team of the era.
Fly-or-die hitmakers
N*E*R*D's second album, Fly Or Die, received a warm reception from both critics and fans, but the group's own singles never charted as high as their efforts for other artists. That didn't stop 2004 from being The Neptunes' biggest year ever.
This meant more exposure for Pharrell, as fellow producer Chad Hugo always preferred to maintain a low profile. Months after Fly Or Die, Gwen Stefani released her debut solo studio album, Love.Angel.Music.Baby, finding her creative muse in Pharrell. After suffering from writer's block during the recording process, the former No Doubt frontwoman heard material from Pharrell's forthcoming solo record and was motivated to create something with more attitude. The resulting No.1 single "Hollaback Girl," co-written by Stefani and Pharrell, was a career-defining moment for them both, and proved Gwen wasn't going anywhere.
Neither was Snoop Dogg. Ten years after the release of his debut album, Doggystyle, Snoop was a veteran. A lot of rappers get dismissed after a decade, but for Snoop, that wasn't the case. This was surely thanks to his larger-than-life persona, but he also had a big assist from Pharrell. Snoop's R&G (Rhythm & Gangsta): The Masterpiece album included four Neptunes-produced tracks. Among them was the legendary "Drop It Like It's Hot," which became Snoop's first No.1 single, 12 years after being in the game.
Like "Hollaback Girl," "Drop It Like It's Hot" became a cultural staple and another notch in Pharrell's championship belt. The song would also be Pharrell's biggest for almost another ten years, even as he continued on his upward trajectory.
Going solo
In 2005, Pharrell released his long-awaited solo debut, In My Mind. he had been teasing the album for years, and even released a prequel mixtape, In My Mind: The Prequel, a few months prior, Pharrell's solo effort failed to make the same impact as the Neptunes-produced singles that established him as a kingmaker.
Over the years, however, the album would develop a cult following, and reveal itself as perhaps more influential than anyone, even diehard fans, had suspected. Self-proclaimed Pharrell superfan Tyler, The Creator has established himself not just as Pharrell's heir apparent (if such a thing exists), but he's enhanced Pharrell's influence through his own work.
For the next few years, Pharrell and The Neptunes would work with everyone under the sun: Kings Of Leon, Lupe Fiasco, Beyoncé, 50 Cent, and Gorillaz among them. Coursing through pop music's 21st-century history, it's near impossible to trace his full range of influence. During this era, Pharrell didn't have the same cultural clout as he did during the early 00s, but he continued to reshape the future sound of pop, hip-hop, R&B, and everything between, quietly behind the scenes.
Stealing the spotlight
Then in 2013, after creating more music in under two decades than most artists do in a lifetime, Pharrell went from being the man pushing buttons behind the scenes to standing front and center, thanks to a trio of career-defining singles.
Daft Punk's "Get Lucky" wasn't just a comeback single for the French electro-pop duo, but a cultural phenomenon with cross-generational appeal. It would never have been possible without the talent involved, including Nile Rodgers' disco bona fides and Pharrell's smooth vocals and production flair. Then came "Blurred Lines," with TI and Robin Thicke. Pop culture was enjoying a very specific wave of nostalgia, and the sound of "Blurred Lines" was a perfect follow-up to Pharrell's Daft Punk collaboration.
With this groundswell behind him, Pharrell finally scored a hit of his own with the smash success of "Happy." The omnipresent earworm became the biggest hit of 2014 and earned Williams a career first: an Oscar nomination for Best Original Song.
Still shaping the future
It's safe to say that Pharrell is the only person beloved by both the godfathers of hip-hop and the little kids buying plush Minions at Target. He hasn't slowed down since his 2013 hat-trick – which, fittingly, he celebrated by wearing a giant hat for most of the following year.
Whether it's mentoring new singers on The Voice or designing collections for Chanel and Adidas, Pharrell is still helping to mold the careers of the biggest musicians on the planet. You wouldn't have Ariana Grande's culture-shifting Sweetener without him, nor Beck's 2019 retro-futuristic reinvention, Hyperspace. The former helped turn Grande into the most dominant figure in pop; the latter took Beck in brand new directions even he had yet to explore. For Pharrell, decades into being a creative mastermind, it's just business as usual.
Looking for more? Discover how Pharrell and N*E*R*D revolutionized hip-hop with In Search Of….