Pino Palladino Interview: Four Decades Of Incredible Bass Playing
The celebrated bass player shares stories from his time accompanying D'Angelo, Erykah Badu, The Who, and more.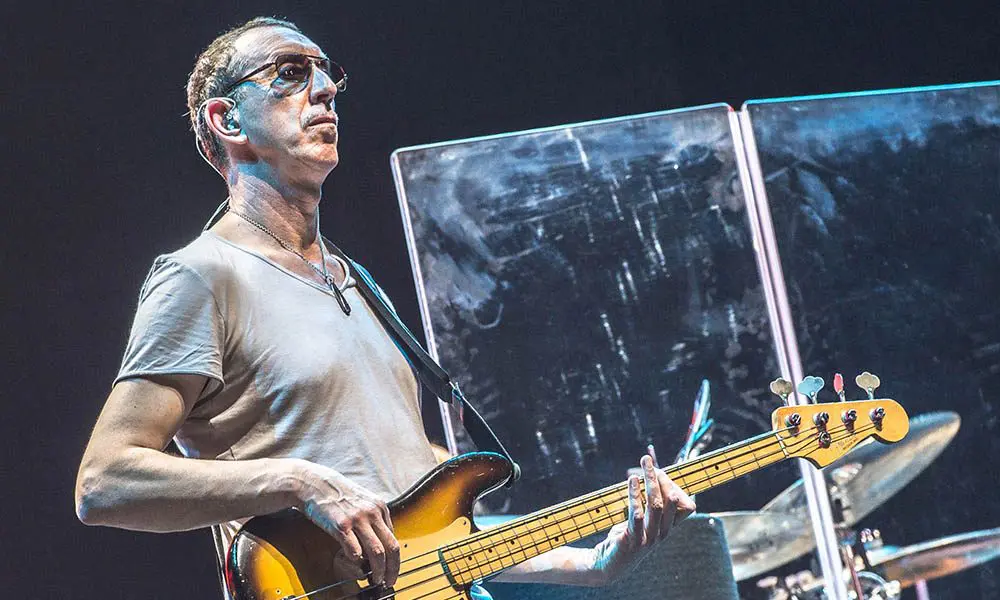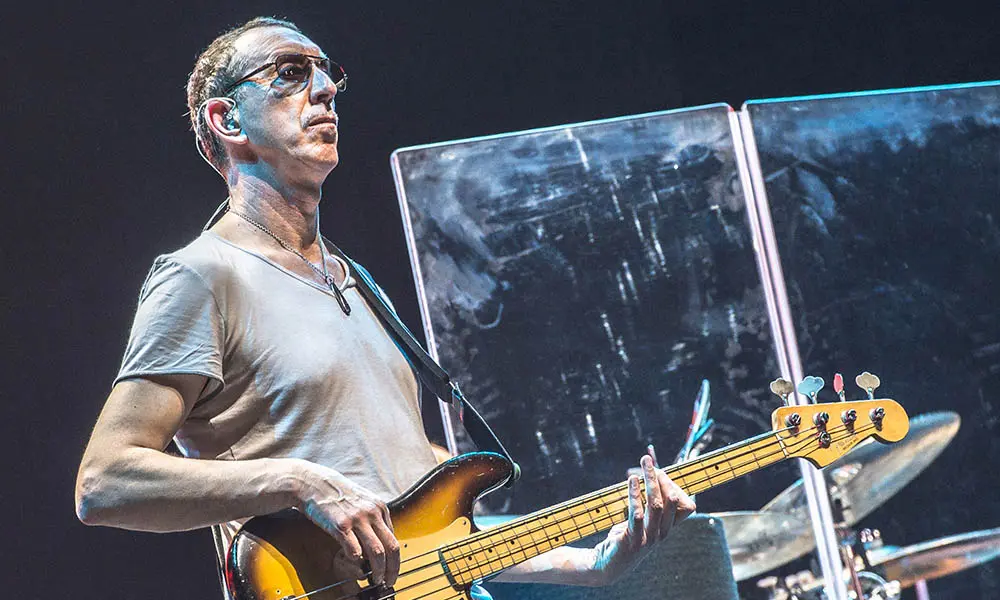 "All musicians are the same, we all think we're rubbish," Pino Palladino told a British television interviewer in 2013, adding a gentle laugh. It was a typically massive understatement from the quietly affable Welsh bassist, among the highest-regarded session players in the music industry. In this case, Palladino was referring to hearing Paul Young's "Wherever I Lay My Hat" on the radio for the first time in 1983 – particularly his casual contribution, one of the most recognizable bass lines of the 1980s. "I was worried that it sounded a bit out of tune," he said.
In a decades-long career, Palladino has not only provided low-end support for several musical revolutions, he's helped stoke a few of them himself, undergirding pioneering sounds in pop, New Wave, neo-soul, electronic, rock, jazz, funk, and even industrial with an ever-inventive foundation. He's widely regarded as one of the most influential bass players ever, with just as much name recognition in certain quarters as the superstars he's backed.
Beginning with Gary Numan in 1982 and continuing through work with artists like Young, Phil Collins, Tears for Fears, Go West, and Chris de Burgh, Palladino helped define the coolly emotive 80s sound with his trademark fretless technique. In the 1990s he backed Elton John, Eric Clapton, Carly Simon, Bryan Ferry, Joan Armatrading, B.B. King, and many more, before joining the legendary Soulquarians artists collective, reviving cosmic soul and funk sounds with Erykah Badu, D'Angelo, Questlove, and J. Dilla.
From there, it was on to stints with Mika, Nine Inch Nails, Adele, Kelly Clarkson, Paul Simon, and Keith Urban, among a wealth of others, as he also embarked on longtime touring associations with Jeff Beck and John Mayer. Palladino's most famous stretch came with The Who, when he stepped in after John Entwistle's untimely death in 2002 to tour and record for two decades, playing probably the most famous bass solo in pop – 1965's "My Generation" – for arena-sized crowds. Most recently, he's played for Harry Styles, Ed Sheeran, Corinne Bailey Rae, and John Legend. You can't talk about Pino Palladino without mentioning a few names.
Now, at last, Pino Palladino is releasing an album of his own, collaborating with guitarist Blake Mills. Called Notes with Attachments, the record summons intimate, cinematic moods, bristling with sophisticated patterns, atmospheric woodwinds, and surprising electronic touches. It's a compendium of several decades' worth of Palladino's compositional ideas, complex, and contemporary yet warm with nostalgia – paying homage to the classic film soundtracks, cool jazz, and Burt Bacharach arrangements he loves.
In honor of the new release, we accompanied the lauded bassist on a trip down memory lane, revisiting some of his best-known album and tour appearances.
Tear for Fears, Seeds of Love (1989)
Pino Palladino: I have a lot of great memories of that album, not least because my daughter Fabiana was born around the time we were recording it. My life was changing in a big way. I had been doing a lot of session work with the French drummer Manu Katché, who toured with Peter Gabriel. We were becoming known as a rhythm section together, and a bit in demand. I believe that's how Roland Orzabal heard of us and invited us onto the album.
The actual recording was unusual for the time; the tracks were cut live with a full band. We holed up together for a few weeks in Townhouse Studios in London, and went through each of the songs, experimenting with instrumentation and arrangement. There were some days when we just jammed and extended parts of the songs. Roland then took the whole bundle and edited it down into what you hear on the album. We must have recorded "Badman's Song" and "Woman in Chains" a dozen different ways with different transitions. Roland's choices and his taste as the composer, defined the amazing end results.
One of my fondest memories: When I first got there, I was going into the control room and I heard this incredible piano-playing in the studio. I was wondering, "Who is that?" I went round the corner and there was Oleta Adams, sitting at the grand piano and singing so beautifully, jamming away on gospel and blues. I'm honored to have played on her solo album Circle of One.
The Seeds Of Love can be bought here.
Elton John, The One (1992)
Pino Palladino: We recorded in Paris at Studio Guillaume Tell. Well, the food in Paris was excellent. We would end every day going out to dinner at high-end restaurants with the table piled up with dishes. It was really something to keep up with…but I rose to the challenge!
Working on that record and spending time with Elton was humbling. I remember one day, Bernie Taupin faxed some song lyrics over in the morning, and Elton took them into the next room and had an amazing song written within an hour…incredible! At this time I was really known for my fretless bass sound, it was something people specifically hired me for. Elton encouraged me to develop my ideas for the basslines and let me do my thing on the record.
Erykah Badu, Mama's Gun (2000)
Pino Palladino: This was during the Soulquarians period, it was a real fun time. I made the connection because Ahmir ["Questlove" Thompson] had called me in to add to one of the songs he was working on. We thought I would just overdub the bass on one track, but it felt really good and we built up a vibe. Erykah had booked time at The Lady and we reconvened at a later date.
Erykah's way of working was refreshing. For Mama's Gun, Erykah had sketched out a couple ideas for the album, and had a vision of what she wanted, but otherwise it was pretty undetermined at that point. We all assembled, the whole band, and Erykah just came around, so cool in her way, and asked "OK, Pino, what you got?" That was it. "What you got?" We played around with some different ideas, and it turned into a collaboration, developing the songs together. I played a bassline I had in my mind for a while, and that became the first song on the album, "Penitentiary Philosophy."
Oddly enough, it reminded me of when I was getting started, working with Gary Numan on the I, Assassin album in 1983. Back then, I showed up and Gary had recorded his songs but didn't have bass parts on them. He wanted me to come up with ideas and gave me complete freedom to compose the parts for the songs. I played my fretless bass and that sound became the sonic signature for the record. What made it different with Erykah, is that this time I got a songwriting and production credit.
D'Angelo, Voodoo (2000)
Pino Palladino: Being a part of that moment when this album and Mama's Gun came out almost back to back was thrilling. After meeting D on a session with B.B. King, he invited me to meet him and his engineer, Russ Elevado, at Electric Lady Studios with a view to me playing some bass on the songs for his upcoming record, Voodoo.
When they played some of the songs for me, I was mesmerized by the unique feel of the grooves and D's otherworldly vocal arrangements. D'Angelo had written the songs for Voodoo at the keyboard and while his left hand would play what would become the blueprints for the basslines, his right hand plays the chords and flourishes that accompany the main melody. It all fits together in such a unique way… The basslines are woven into the fabric of the composition from the start.
Although some songs were established when I got there, others were left more open to develop ideas and for me, some freedom of expression, from adding in passing notes to flurries up to the top of the bass neck to complement his vocals. Because the album is so bass- and rhythm-driven, everything mattered, it was all at the top of the mix, he encouraged me to bring my thing to the music and, through him, I met Erykah, Quest, James Poyser, Roy Hargrove, J Dilla, Common, and all the Soulquarian collective.
Adele, 21 (2011)
Pino Palladino: I was back in London when [producer] Rick Rubin reached out to me about recording a new album for Adele. She had already made a name for herself in the UK before she broke worldwide, so I had heard of her. Rick told me, "I want to get you into this fantastic band, with drummer Chris Dave, Matt Sweeney and Smokey Hormel on guitars, James Poyser on piano, and really give her the strong backing she deserves." I flew out to Shangri-La studios in California where they were recording, and she just killed it on the vocals from the start. I remember hearing her voice for the first time through my headphones and being blown away by how she could sing. The songs were really great and I knew we were recording something special.
Mika, The Origin of Love (2012)
Pino Palladino: Mika has certainly got some incredible energy, he would bounce around the studio with all these ideas. Mika brought a lot of curiosity to the process, he would come up with things while I was playing. He was interested to hear fretless bass on some of the songs and liked how it fitted in. I believe I was hooked up with him through Nick Littlemore from Empire of the Sun. Working on a more electronic-oriented pop album was interesting. It's great to get the opportunity to expand what you do, and try out different directions.
Nine Inch Nails, Hesitation Marks (2013)
Pino Palladino: Trent [Reznor] reached out to me, out of the blue, and asked if I would be interested in collaborating on a couple of tracks for the album. I was really curious how I would fit in with his sound. Trent is a very good communicator, with clear ideas. He is a fan of Voodoo and of Gary Numan, so for me that was interesting as I could maybe bring two different sides of my playing to the music. I played a couple of takes on each song and just did my thing. Later, Trent's manager called and asked if I would be interested in touring. It turned out that the band had already been rehearsing for a month. It was a real challenge to learn the songs in a short amount of time before we went on the road. And I had no idea how his fans would react to me. But Trent gave me a lot of room, and that ended up being a memorable tour. The whole band was so tight, and the light show, along with the visual effects, was on another level from anything I've been a part of.
The Who, Endless Wire (2006) and touring after John Entwistle's death
Pino Palladino: In 2002, I was working on Common's Electric Circus album and I was about to fly home to London from Philadelphia, when my wife called me at the hotel and said, "You just got a call from the Who's management" She gave me the tragic news that John Entwistle had just died, and they wanted to know if I could step in so they could continue the tour. There was going to be a concert at the Hollywood Bowl a few days later. After speaking to their management, I flew to LA later that day to rehearse for the gig and the following tour.
I had spent some time with John. He was smart, funny, charismatic. He was a superstar. And, of course, an idol as far as bass-playing goes. I had worked with Pete [Townshend] as well, and Roger [Daltrey]. When I flew into LA, Pete was waiting for me at the hotel with a stack of CDs. "Just learn what you can," he told me. Stylistically, I was not in that space at all at the time – I was doing hip-hop, funk, soul. So it was a complete reset for me. The first thing I did was change the strings on my bass to get a brighter sound, like John had. I pretty much didn't sleep that night, and learned as much as I could. I think I pulled it off, because they kept me on!
I just worked on their recent record [2019's WHO]. Endless Wire was the first studio record they made after John's tragic death, and that was less of a "band" experience. Pete had done a number of demos, obviously some with John in mind to a certain degree. I'd ask Pete if I was doing all right, and he would turn to me and say, "Play more." He didn't elaborate, just "play more." And I understood. Some people would think of it as overplaying, but the classic sound of The Who is Keith Moon on drums and John Entwistle on bass just making this unholy racket. So that's what I aimed for.
Harry Styles, "Watermelon Sugar" (2020)
Pino Palladino: I was rehearsing with John Mayer at Henson Studios in Hollywood, which was the former A&M Studios, and before that the Charlie Chaplin Studios. Beautiful history there. Harry was recording in the same studios, down the hall. John knew him and introduced me to Harry. Harry and his producers played me a few songs to see which ones I felt I could add to, including "Watermelon Sugar." If you listen to the bass line in that song, it's very well-defined and echoed by the guitar line. There wasn't really a lot of room to move. Well, I started getting a little free with it, trying stuff, and Harry jumped up and said, "That! Can you do more of that?" It's an honor that I get invited to play on these songs. It's going to be a hit with or without me. So I feel very fortunate to be asked to contribute.
Pino Palladino and Blake Mills, Notes With Attachments (2021)
Pino Palladino: This record is a culmination of what I've been thinking about through much of my career. I've been recording many of these ideas over a long period of time as I've toured and collaborated with many musicians and artists that I admire. What interested me in making my own album was having the chance to focus on compositional elements, rather than the bass taking the lead. Maybe some listeners have been surprised that there are woodwinds and other instruments in the foreground. It's not me showing particular prowess on my instrument, but to define the role of the bass as a signature part of a song is the challenge I enjoy. I've always loved instrumental music, from jazz to film soundtracks. I want my music to invoke some of those qualities.
Some of the ideas on the album evolved from my time touring with D'Angelo and the Soultronics, that kind of beat-driven music, but with beautiful elements and touches, but also from many other types of music that I love. When I played some of these ideas originally for Blake, he was very encouraging and, as we started working on the songs, it quite naturally became a collaboration. Blake, along with all the incredible musicians on the record, have all given so generously to the project, I'm very fortunate to have had the opportunity to make this album. It's a very interesting process for me, having my own music released. It feels like part of my DNA is suddenly out there. The album was recorded two years ago. But people have told me that it speaks to the moment, that they're listening to it through this complex time and enjoying it. That's really nice to hear.
Listen to Pino Palladino and Blake Mills' Notes with Attachments here.