"Organic Is What Mattered": Behind Rory Gallagher's Electric Guitar Sound
From blues to punk rock, spy novels and live spontaneity, many influences went into Rory Gallagher's electric guitar sound, as Dónal Gallagher reveals.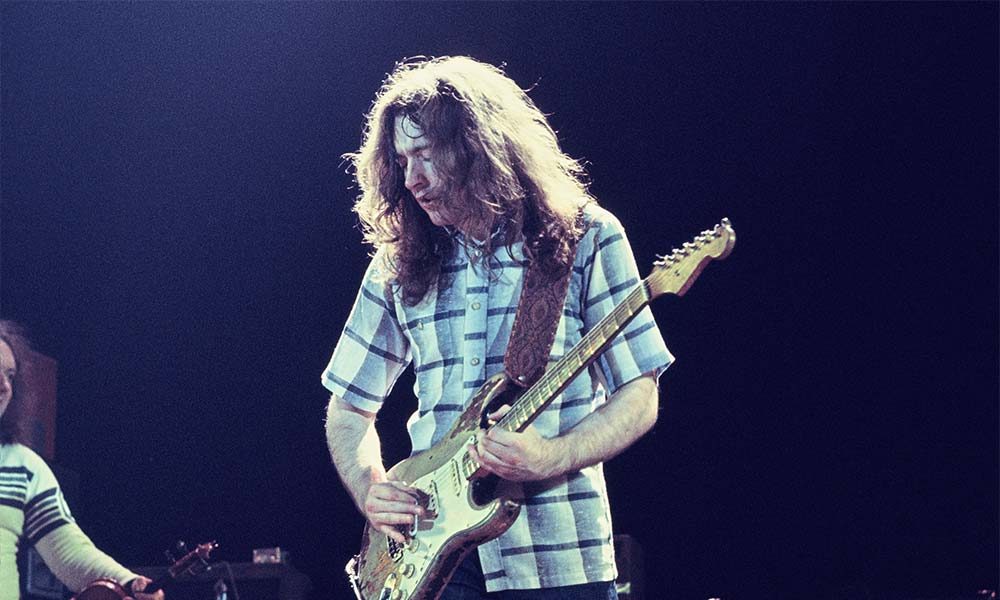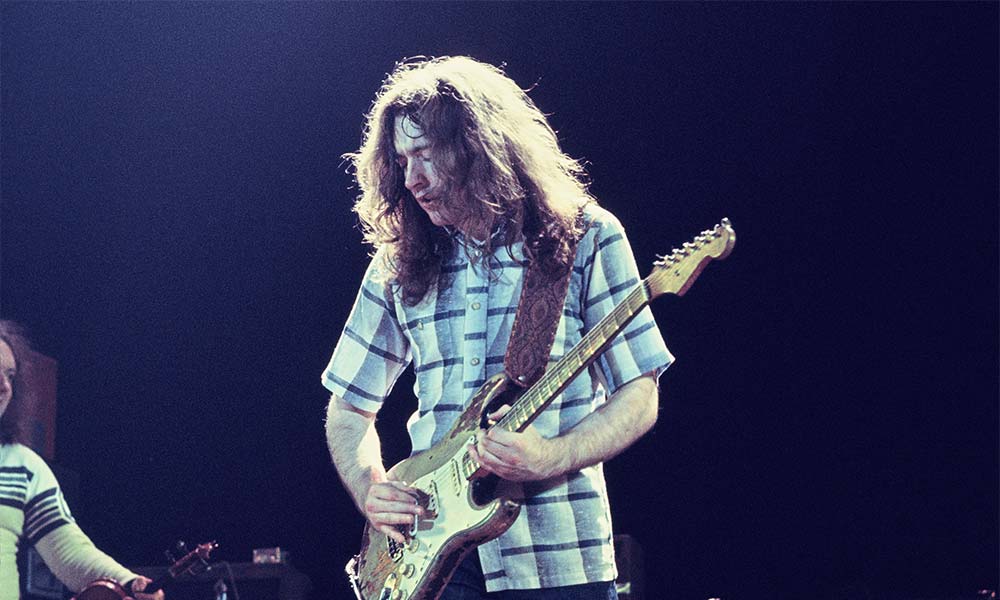 In full electric mode, Rory Gallagher was a force of nature. Open to all influences – notably, the blues, a lifelong passion that's celebrated in a recently released collection, simply titled Blues – he made them coalesce into a unique guitar sound you couldn't find anywhere else. But as several staggering live performances on Blues reveal, inspiration sometimes came from unlikely places.
Indeed, as the much-missed musician's long-term manager, his brother, Dónal Gallagher, reveals to uDiscover Music, rip-roaring tracks such as 'Messin' With The Kid' and 'Tore Down', culled from late 70s shows in Sheffield and Newcastle, crackle with an energy and excitement which show exactly why Rory Gallagher was one of very few established rock'n'rollers readily embraced by the punks.
"The anarchy and vibe made an impact"
"He was certainly galvanised by punk," Dónal reflects. "At least mentally, I think Rory was struggling with the album he was making at the time with [The Band/Neil Young producer] Elliot Mazer in San Francisco [later issued posthumously as Notes From San Francisco]. During that period, he went to see Sex Pistols at Winterland in January '78 and it did make an impression on him.
"I remember him saying that he couldn't decide if it was the best or the worst show he'd seen," Dónal laughs. "He said that the American audience were so hostile and [the Pistols] really couldn't play, but at the same time, the anarchy and the vibe made an impact.
"Punk fashion meant nothing to Rory, but he did hold onto that 50s, Eddie Cochran-style ethos: that garage-rock approach which dictated that you should just make the music and not worry about whether you're good enough. He'd written [Photo-Finish's] 'Brute Force And Ignorance' before then, but that song represented Rory's idea of being in a three-piece band, showing up in any town you like and causing chaos. He liked that kind of spontaneity, so in terms of attitude, punk made sense to him."
Brute Force And Ignorance
"If punk was a reaction against the overblown pretentiousness of so much contemporary rock music, then Rory was as much of a punk as anybody," Leigh Heggarty, guitarist with influential London punks Ruts DC says. "I can't think of a more down-to-earth musician. And he's still the best guitarist I've ever seen."
"Spies and detective fiction were very much his passion"
Elsewhere on Blues, a previously unreleased acoustic take of the John Lee Hooker-esque 'Secret Agent' also reflects another of Rory Gallagher's passions dating back to 50s American culture. The singer/guitarist's love of both spy novels and detective fiction has been well-documented and, as songs such as this and Top Priority's 'Philby' reveal, it often provided him with inspiration for his most memorable material.
"Yes, and don't forget [Defender highlight] 'Continental Op', too. That's based upon the Dashiell Hammett book of the same title," Dónal adds.
"But that's right, spies and detective fiction were very much his passion. Rory had an ability to read and self-educate, basically. He loved everything about the cinema, too – the B-movies, anything with Humphrey Bogart in it, and he could converse knowledgeably about French and Polish cinema, and more besides.
"It was all part of the 50s American culture he absorbed and loved so much when we were growing up. Both cinema and literature were a really big deal to Rory – as I sometimes discovered to my detriment on the road. He had all these globe-trotter suitcases and you had to be very careful if you chose to unload them at the airport. I remember putting my back out more than once when I elected to pick his cases up. They were always laden down with books!"
"The spontaneity of radio sessions appealed"
As Dónal hints here, much of Rory Gallagher's working life was spent on the road, and as he didn't favour recording singles, Rory's best shot at mass communication often came through the medium of radio.
UMC previously reissued the superb Rory Gallagher BBC Sessions collection in 2018, and Blues presents a further selection of tracks recorded for a variety of shows, including RTÉ's Dave Fanning Show and a belting 1972 session for WNCR in Cleveland, Ohio. As Dónal says, his brother was always grateful for any such exposure, while recording live to air often brought out the best in him.
"Going right back to the start, to when we came to the UK with Taste, we knew the only way we could get mainstream exposure was through John Peel," he elaborates.
"In fact, John Peel was the compere when Taste supported Hendrix at Woburn Abbey in 1968. I remember afterwards, we were trying to work out whether we could afford a cup of tea at Scratchwood motorway services or whether we should try to pool what cash we had for petrol. We were freezing cold, so we decided on teas, and John Peel was ahead of us in the queue. He introduced himself to Rory and insisted on paying for the drinks. As a result, we had enough money to get back to London and, shortly after, we got our first Peel session. John became a real champion of Rory's music.
"Also, I think the spontaneity of the BBC sessions appealed to Rory," Dónal adds. "You'd only have a couple of hours and I remember Rory became good friends with some of the engineers. Trevor Horn, who later made his name producing Frankie Goes To Hollywood, worked as a BBC engineer in his early days and he hit it off with Rory. The other engineers wouldn't let you back into the studio to do a second take, but even then Trevor understood the possibilities of the studio, so to his credit he bent the rules a little."
"He always wanted to keep it as live as possible"
The analogue approach Rory Gallagher favored during his career has since come back into fashion, with vinyl again staking its claim for the future, despite the encroachment of the digital age. If Rory Gallagher were still around, what would he make of a world where something as elemental as the blues can now be streamed or downloaded?
"I'm not sure how to answer that, as I remember Rory didn't even like CD as a medium, because he felt it was too clinical," Dónal considers.
"He really liked the old analogue consoles and one thing that links a lot of his albums is he was often the last person to record in a lot of London's old analogue studios, like Olympic, or Redan up in Queensway, before they closed down. When he made Deuce, for example, he used an old studio, Tangerine, built by Joe Meek: an old 16-track next to a bingo hall in Dalston, which had fallen out of favor commercially. In the early 70s, you were taking your life in your hands going up there!
"But Rory always wanted to keep it as live as possible, so he favored those last places that still had valve desks before they were computerized," Dónal adds.
"He understood the value of vinyl and the analogue way of working, which of course now loads of people are espousing again. Rory liked it organic and that was what mattered. If there was a little buzz or hum or a bit of feedback in there, it would only have enhanced it for him."
This interview originally took place in 2019. We are re-publishing it today in celebration of Rory Gallagher's birthday. Blues is out now and can be bought here.