Rory Gallagher's Blues Influence: 'He Was Always Looking For Something'
Rory Gallagher's brother, Dónal, reveals how one of Ireland's greatest rock exports was a gifted musician influenced by the blues as much as anything else.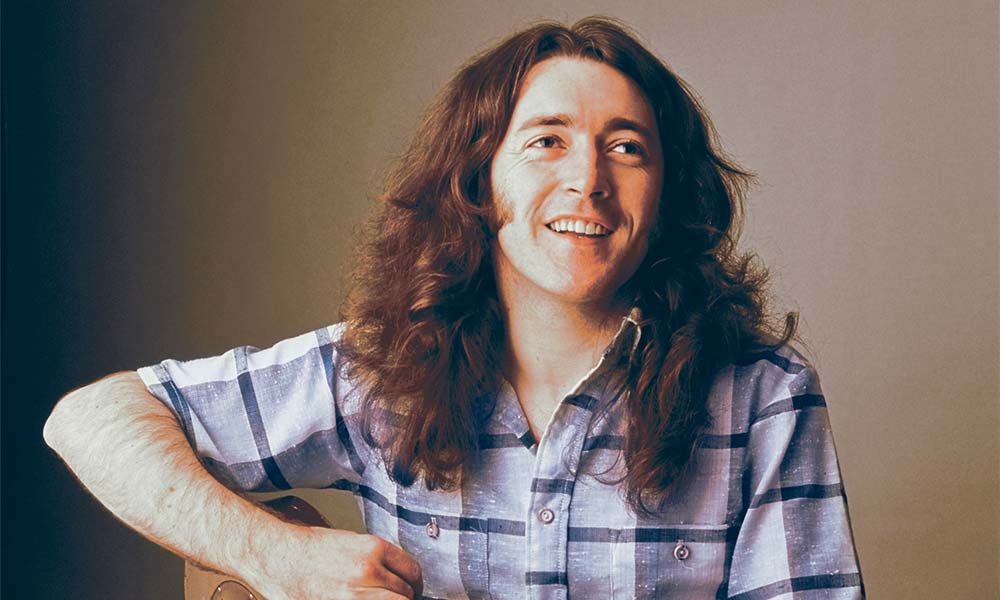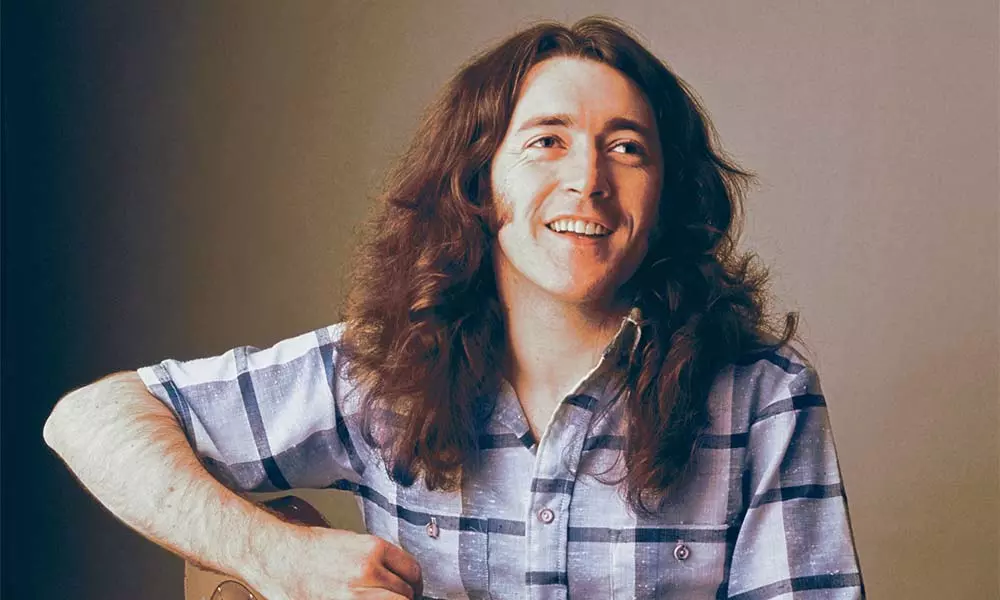 Though he will always rank among rock's most iconic performers, Rory Gallagher's first, and most enduring, influence was the blues. "I suppose the ultimate dream, aside from wanting to be a good player or having a good band, is that in 50 years' time, one of your songs matched a blues classic," he once said. "It would be something for your tombstone – that would be smashing!"
It's a quote that displays the typical humility of this singular musician, who left us all too soon when he died, aged just 47, in June 1995. However, as his brother and manager, Dónal Gallagher, tells uDiscover Music, Rory would never have seen himself as the iconic figure who continues to inspire seminal guitarists ranging from Brian May to Slash and Johnny Marr.
"What you saw was what you got with Rory," Dónal says. "He was a huge music fan. He was an avid record collector and he adored other musicians, so the bond between him and his audience was also very, very strong.
"For example, Rory would never have asked a favor of a promoter. He'd always buy his own ticket. You could easily have been standing in the queue next to Rory if you were buying tickets for a show at the Hammersmith Odeon or wherever. The blues really spoke to him and he wasn't the type who wanted to be driven around in limos or have VIP passes for everything. He hated that bulls__t."
'He was looking for something else'
Rory Gallagher's connection with the blues is all the more remarkable when you consider that he was born and raised in post-war Ireland, thousands of miles from the Mississippi Delta. Though usually regarded as a Cork man, Gallagher first entered this world in the appropriately named Rock Hospital in Ballyshannon, County Donegal, in 1948. Soon after, his father moved the family to Derry, where Rory's younger brother, Dónal, was born. The fact the American navy had control over the city's port to monitor Soviet fleets during the Cold War's early years inadvertently gave the boys a head start in their future careers.
"The Americans built a huge FM station mast and in the early days of radio we had one of the first ones, which was the size of a car battery," Dónal recalls with fondness. "But when our parents were out of the house, Rory would feverishly twiddle the radio dials in the same way a kid now would surf the internet, and he'd tune into the jazz hour on the American Forces Network.
"As a young kid, Rory understood [Irish] traditional music, but he was already looking for something else," he continues. "He latched onto the jazz hour and the Chris Barber BBC programme, and he'd hear all these now-legendary names like Sister Rosetta Tharpe, Sonny Terry, and Muddy Waters. Of course, he also discovered Lonnie Donegan, who was originally Chris Barber's banjo player before they fell out."
Often referred to as "The King Of Skiffle", Lonnie Donegan made a profound impression on the young Rory Gallagher. With 31 UK Top 30 hits to his name, Donegan was Britain's most successful and influential recording artist prior to The Beatles, and Rory later appeared on his star-studded 1978 album, Puttin' On The Style. One of its best tracks, 'Drop Down Baby', is reprised on Blues.
"Rory had mega respect for Lonnie," says Dónal, who later became firm friends with the late skiffle star.
"He was the perfect tuition guy to learn from. Rory started playing in earnest after he got his acoustic guitar, and all Lonnie's songs, like 'Grand Coulee Dam' and 'Cumberland Gap', had such a strong sense of rhythm, so they were ideal fare for a young guitarist learning his craft. Significantly, the songs Lonnie covered introduced Rory to Leadbelly and the blues on one hand, and Woody Guthrie on the other, so for Rory, two really influential strands were pulled together there."
'Rory was really a gifted multi-instrumentalist'
Rory Gallagher has long since been championed as one of rock's pioneering electric guitarists. However, while Blues features numerous examples of him in full electric mode at Glasgow's Apollo, Sheffield's City Hall and other landmark concerts from the 70s and 80s, it also focuses on Rory the acoustic troubadour, pulling in fascinating outtakes from key studio albums such as 1971's Deuce and 1973's Tattoo. This pastoral side of his brother's art is also showcased in Blues, something that Dónal Gallagher is happy about.
"Rory loved playing music acoustically and when he came to following up [his final studio album] Fresh Evidence, his ambition was to make an acoustic album parallel with a rock album, with the two being released simultaneously," he reveals.
"Sadly, it didn't happen, though the Wheels Within Wheels album became a kind of posthumous version. But Rory was really a gifted multi-instrumentalist, which maybe Blues highlights a bit more, with things like the Peter Green tribute, 'Leaving Town Blues', where Rory plays mandolin, like he did on 'Going To My Hometown'.
"There's a live version of 'Goin' To My Hometown' on Wheels Within Wheels, with Lonnie Donegan guesting, and I always considered the song to be Rory's homage to skiffle. I still feel Lonnie could have had a hit single if he'd officially covered the song."
'It turned into this phenomenal all-star jam'
Elsewhere, while Blues includes tracks featuring Rory playing alongside his early heroes Lonnie Donegan and Chris Barber, a swinging, brass-enhanced version of Willie Dixon's 'I'm Ready' is reprised from his work with Chicago blues colossus Muddy Waters on the latter's much-lauded The London Muddy Waters Sessions album.
As Dónal confirms, Rory first saw the legendary blues man perform in 1969, at Ungano's, in New York City, while on tour with his first band, Taste, who were supporting Blind Faith. That night, the musicians in the audience outnumbered the club's regular paying punters – but they weren't just any old musicians.
"We had a night off and the Blind Faith guys, plus Delaney And Bonnie, who were also on the tour bill, headed down to see Muddy," Dónal recalls. "We got there and there were only six or seven paying customers, but then Jimi Hendrix turned up, and Steve Marriott from Small Faces, so all Muddy's faithful were there. I remember Buddy Miles was sitting in on drums and it turned into this phenomenal all-star jam. Just incredible!"
With a little help from another much-respected blues legend, Alexis Korner, Dónal and the terminally shy Rory were then introduced to Muddy Waters in London, in 1970, but then, in December 1971, Chess Records called to ask if Rory would like to be part of the session band that sat behind Muddy on The London Muddy Waters Sessions.
That group found Gallagher joining other pedigree musicians from the UK, including Steve Winwood, Mitch Mitchell and Family/Blind Faith bassist Ric Grech, in addition to Chicago blues veterans such as guitarist Sam Lawhorn, drummer Herbie Lovelle and saxophonist Seldon Powell. Spread across just a few days, the sessions were hectic, as Rory was also gigging around the UK in support of his superb second album, Deuce.
'Muddy had a glass of champagne waiting for him'
"It was done at very short notice and I remember Rory was doing the first session after a gig in Leicester," Dónal reveals. "Of course, he should have been offstage at ten, but he overran and did several encores. Eventually, we got in the car and I drove like the clappers, breaking just about every speed limit possible, to get to the studio in London.
"It was well past midnight when we got there and Rory was really panicking and thinking he'd get fired," he smiles, "but Muddy Waters was really gracious about it. Not only had he held up the session, but he even had a glass of champagne waiting for Rory. He completely understood what being a working musician meant and he told Rory there was no absolutely no need to apologise."
Muddy Waters also loved Dónal's car, the Ford Executive, Zodiac V6 ("He said it was the first European car he'd encountered that was like an American car, so we really hit it off") that inspired the future Gallagher classic 'Souped-Up Ford' from the Against The Grain album. When he looks back, Dónal believes the experience was also one of the high points of his brother's storied career.
"I would have thought Rory gained a lot from playing with Muddy, he would have studied every finger movement and all his methods," he reflects.
"Muddy Waters was an absolute gentleman and, of course, The London Sessions went on to win a Grammy Award. I know Rory was as pleased as punch. In retrospect, that record really was quite something to have been involved in."
This interview originally took place in 2019. We are republishing it today in celebration of the birth of Rory Gallagher. Blues is out now and can be bought here.